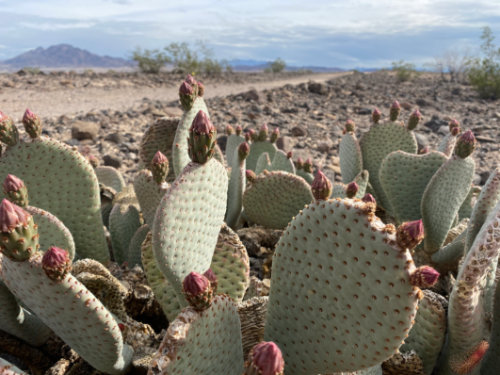 The 5 Best Hikes Near Las Vegas
Last Update on
October 05, 2022
Every year Vegas gets thousands of travelers from all around the world not to see the strip, but to see the world-famous natural sites around Vegas, like the Grand Canyon and Antelope Canyon.
The natural side of the American Southwest is something any traveler and explorer would go crazy about.
What most travelers don't realize, is that there are magnificent hikes even before you even leave Las Vegas Valley!
So here are the top 5 hiking trails around Las Vegas, to give your journey in the natural southwest some extra flavor.
1. City View Trail
In the suburban neighborhoods of Henderson, 20 minutes south of The Strip, lies this short trail that winds its way up one of the local mountains.
City View Trail is properly named, as upon reaching the top, there is a jaw-dropping view of the Las Vegas Strip and its surrounding suburbs.
This trail is the shortest one on our list at about 1.5 miles (2.4 km) long. But there is an option to keep going past the set trail and further up the mountain.
You can find many interesting species of Cactus growing near the bottom of the mountain, and see many lizards and birds as you get higher up.
Hiking Tip!: This trail is lined with loose gravel and rock. It can be a bit slippery, so make sure you have proper footwear!
2. Shaded Canyon Trail
Also in the neighborhoods of Henderson is the Shaded Canyon trail, which is a unique part of the larger Amargosa trail, which runs through all of Henderson.
What is unique about the Shaded Canyon Trail is that it is a "Power Corridor Right-of-Way Trail", which means that it follows some of the major power lines that run through Las Vegas Valley.
These Trails, which have become a common practice throughout America, follow the power line corridor and keep all of the local plant and wildlife untouched, also creating a great, peaceful hiking environment for the people.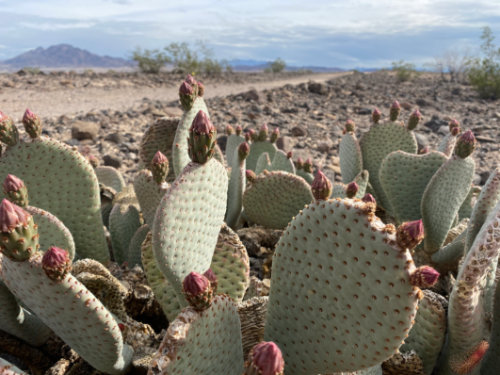 Shaded Canyon also provides a great view of the city, but from a different angle than City View. This hike is on the more challenging side, as it has quite a few ups and downs.
Hiking Tip!: This trail is perfect for sunrise/sunset, with a good view of the city and its surrounding mountains. Despite its name, there are no real canyons to go through on this trail.
3. Historic Railroad Trail
About 30 minutes away from the strip, in Boulder City, nicknamed "home of the hoover dam", is the most historically significant trail on our list. We drive by this trail every day on our Grand Canyon Tours from Las Vegas.
Standing out as one of Southern Nevada's most unique trail experiences, the Railroad Trail, as its name suggests, gives you a chance to hike along an abandoned railroad trail that brought concrete and other materials from Boulder City to the Hoover Dam during its construction in 1931.
Not only does this trail give you the opportunity to walk though massive railroad tunnels and see discarded dam equipment off pits to the side, but also winds alongside the unbelievably scenic and photogenic Lake Mead and its surrounding mountain landscape.
This trail is quite long at 3.5 miles (5.6 km), and can get pretty busy during weekend days.
If you are visiting the Hoover dam for the first time, this could be a great way to get there, as the trail ends at the Hoover Dam visitor center and the dam itself!
Hiking Tip!: This trail has lots of shaded areas off of the main trail and into some of the rock outcrops. Great place to stop for some water and snacks.
4. White Owl Canyon
Many people coming to Las Vegas to take the trip out to Antelope Canyon don't realize that about 30 minutes from the strip lies one of Southern Nevada's own slot canyons!
White Owl Canyon still hasn't gained much popularity, which is great because the crowds here never go above seeing a few other hikers on the trail.
Inside of Lake Mead National Recreation Area there are many trails that have been made as a result of the water receding and the lake floor becoming exposed.
One of the cooler portions of these trails is the White Owl Canyon, a wide-set slot canyon that winds its way through the valley.
On this trail you make your way through the canyon and even hike through some large tunnels that were once used for water drainage purposes.
If you look carefully on some of the canyon walls, you can find little mini-boneyards, which are traces of White Owl Nests!
Spotting the Owls themselves though proves to be quite a rarity. To spot owl nests, look for the white owl droppings on the canyon walls.
But wildlife at the White Owl Canyon doesn't stop there. This area of Lake Mead is also known for having daily sightings of Bighorn Sheep, Coyotes, and Eagles.
Hiking Tip!: For a quick, relaxing morning, just go out and back through the canyon. For experienced hikers, a 3.6 mile loop can also be made back to the parking lot.
5.Fire Wave Trail
This trail is the farthest away from the strip on our list at just around an hour away.
Among the many hiking trails located inside of the Valley of Fire State Park, this trail is top rated by hikers and photographers alike.
Valley of Fire has enough trails to keep you busy for quite a few days, but if you only have time for one, the Fire Wave Trail has all the best of what Valley of Fire has to offer.
Hiking 1.5 miles out and back across red, orange, and pink sandstone that has been shaped to resemble ocean waves, you won't believe your eyes and will be itching to see what's around the next bend.
The trail is equally balanced with well-paved and lined trail and some wild portions across big expanses of rock.
Hiking Tip!: In the summer, temperatures in southern Nevada (and especially the Valley of Fire) can reach well over 100 degrees Fahrenheit (37 Celcius). If hiking in the summer, make sure to get a very early start.
For more hiking tips, read our post on the best hikes at Red Rock Canyon.