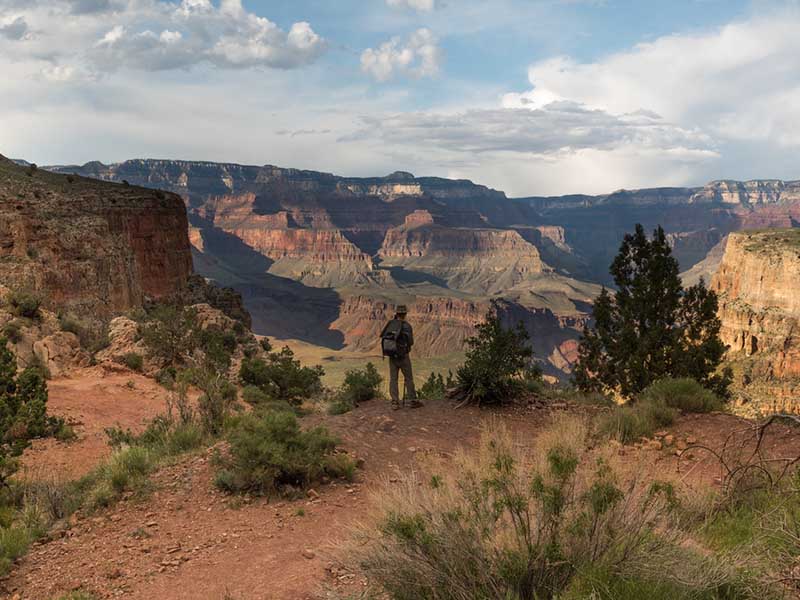 Can You Do the Grand Canyon in 3 Days?
Last Update on
June 25, 2023
Don't have much time and wondering whether you can truly experience the majesty of the Grand Canyon in just three days?
Short answer: A resounding yes! You can do the Grand Canyon in three days.
Long answer: Three days is usually ample time to explore the Grand Canyon, but it may require careful planning and a well-crafted itinerary. Depending on what you're interested in at the canyon, it may also be too little or too much time for you. 
Don't want to hassle with all the planning? Check out our 3-Day Grand Canyon Tour.
How Much Time Do You Need at the Grand Canyon?
The answer to the question of how many days you should spend at the Grand Canyon varies depending on your preferences and interests.
If you're a nature enthusiast who loves hiking, wildlife spotting, and immersing yourself in stunning landscapes, you could easily spend a week or more exploring the various trails and viewpoints.
However, if you're on a tight schedule, rest assured that three days can provide a more than fulfilling experience.
What to Include in a 3-Day Grand Canyon Itinerary
While three days may not be enough to see everything, it is sufficient to enjoy the best activities and experiences that the Grand Canyon has in store. Here are some highlights to include in your itinerary:
Bright Angel Trail: This iconic and challenging trail takes you deep into the canyon, offering an unforgettable experience and stunning views along the way. Remember to pace yourself and bring plenty of water and snacks, as the trail can be strenuous.
Grand Canyon Village: At the historic Grand Canyon Village, you can visit the Grand Canyon Visitor Center, learn about the park's history at the Kolb Studio, and marvel at the impressive architecture of the El Tovar Hotel. It's also a great place to grab a bite to eat or shop for souvenirs.
Desert View Drive: Take a scenic drive along Desert View Drive, which offers picturesque viewpoints and the iconic Desert View Watchtower. This drive allows you to witness the changing landscapes and appreciate the vastness of the canyon.
Helicopter or Boat Tour: For a truly unforgettable experience, consider taking a helicopter tour over the Grand Canyon, or a boat tour over the Colorado River. These adventures allow you to witness the canyon's grandeur from unique perspectives.
Hike to the Bottom: Hiking to the bottom of the Grand Canyon is on many a traveler's bucket. Note, however, that this is a full-day or even multi-day activity, so you might not be able to add many other activities to your itinerary if you choose to do this.
Tips for Spending 3 Days at the Grand Canyon
To make the most of your three days at the Grand Canyon, here are some helpful tips:
Plan Ahead: Research and plan your itinerary before visiting, and book your tour in advance. This way, you can make the most efficient use of your time and make sure you get a spot on a tour that suits you.
Be Prepared: The Grand Canyon is an outdoor destination, so come prepared with comfortable walking shoes, appropriate clothing for the weather, sunscreen, and plenty of water. It's also a good idea to bring a map, camera, and binoculars for an enhanced experience.
Start Early: The Grand Canyon can get crowded, especially during peak tourist seasons. To beat the crowds and have the best chance of enjoying the viewpoints and trails in peace, start your day early.
Stay Overnight: Consider staying overnight within the park. This will allow you to catch sunrise or sunset views, when the canyon takes on a whole new level of beauty.
Final Thoughts
It's certainly possible to have a full experience of the Grand Canyon within three days. By focusing on the highlights, planning ahead, and making the most of your time, you can immerse yourself in the grandeur of this natural wonder.
So, go ahead and embark on your three-day adventure, and get ready to create unforgettable memories!