How To Get To Antelope Canyon
Last Update on
October 18, 2022
Among the most visited, most photographed, and most fascinating sights in the American Southwest, Antelope Canyon deals almost exclusively in superlatives. With its gorgeous sandstone corridors, spiral rock arches and surreal light shafts, this slot canyon has become a regular feature on travel bucket lists. And like most places worth visiting, planning a trip here asks for a bit of homework. While it doesn't have the perfect weather conditions of Las Vegas,  here is a quick guide on how to get to Antelope Canyon from Las Vegas, Phoenix, and parts of California.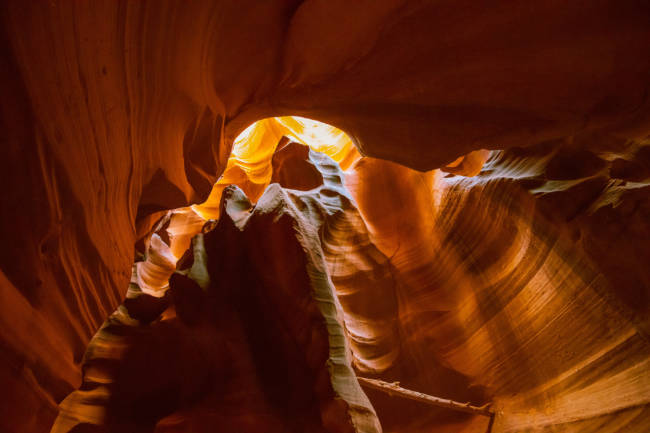 A discrete setting
The enigmatic Antelope Canyon is hidden away amid the desert landscapes of Navajo Nation. This expansive protected area belongs to the Navajo Native Americans and occupies parts of Arizona, Utah, and New Mexico. Antelope Canyon, located in the Arizona section, isn't a landmark that visibly declares its presence. You can't take a commercial flight to get to it, or have GPS guide you to its entrance. You're even required to be in the company of a Navajo tour guide when you visit.
If you're wondering how to get to Antelope Canyon, you basically have two choices. You could opt for a pre-planned Antelope Canyon tour that takes care of the logistics and leaves you free to immerse yourself in the sandstone splendor of the canyon. You can also drive there yourself.
In either case, a road trip through scenic deserts and idyllic towns is pretty much the only way to get there and the experience is totally worth the drive.
How to Get to Antelope Canyon From Las Vegas
Las Vegas is a popular starting point for Antelope Canyon tours. The distance between the two locations is just short enough for a day trip. Whether you are flying or driving into Vegas, you do, however, need to brace yourself for a 4.5-hour drive each way. The route is picturesque, presenting beautiful desert scenery that goes through subtle changes in form and color as it weaves through Nevada, Utah, and Arizona. 
Page, Arizona, the closest town in the vicinity of Antelope Canyon, is a little over 270 miles from Las Vegas. You'd need to make an early start in order to reach Antelope Canyon before mid-day when its light is at its spectacular best. Plus, setting out before sunrise will get you back to Las Vegas by evening, and help you avoid negotiating poorly lit roads at night.
Start your trip from Las Vegas by taking I-15 and heading northeast to cross over into Arizona through Mesquite. After this, a scenic drive up the Virgin River Gorge will take you into Utah. There's an interesting change of scenery here as you move towards "Little Hollywood" Kanab. The landscape suddenly takes on color, transforming into a mix of pink cliffs and sand dunes that have inspired their fair share of filmmakers. In our one-day tour of Antelope Canyon and Horseshoe Bend, we make it a point to halt at Kanab and give our guests a chance to admire its surreal environs.
Page is just about 75 miles east of Kanab via US-89. A town bustling with tourists, especially during the summer, Page serves as the basecamp for a whole bunch of sightseeing excursions. Antelope Canyon and Horseshoe Bend are by far the most popular, though the area has plenty of other options. If you're torn between exploring slot canyons, taking helicopter rides, or enjoying a boat tour at Lake Powell, consider spending the night at Page and heading back to Las Vegas the next day.  This will give you more time to explore Lake Powell, Lone Rock, Toadstools, and more in the area surrounding Page.
That said, there's a lot that you can manage to see even if you're short on time. Our one-day trip from Las Vegas to Antelope Canyon and back, includes an immersive guided tour of both sections of the slot canyon, plus a hike to Horseshoe Bend and a stop at Lake Powell, all interspersed with delicious meals and in-car refreshments, and all wrapped up by dinner time.
Reaching Antelope Canyon from Phoenix
Phoenix, Arizona, is another popular starting point for excursions to Antelope Canyon and Horseshoe Bend. The northward drive from Phoenix, via I-17 and US-89, takes about 5 hours. During the peak season (May-October), this route is dotted with RVs heading up to the canyons and the 'grand circle' of national parks that are all just a few hours away. Summer does offer perfect weather conditions for visiting most of these places, but fall could also be a good choice, especially if you're only visiting Antelope Canyon and would like to avoid the Arizona heat.
Once again, aim for an early start so you get to see the slot canyon at its glorious best. Take I-17 and head north for a little over 140 miles, at which point you'll arrive at Flagstaff. Tourists with time on their hands often make a stop here to visit the Meteor Crater. Flagstaff also serves as a popular basecamp for tourists on weekend trips including both the Grand Canyon and the Antelope Canyon.
You can avoid halting at Flagstaff if you're on a tight schedule. Instead, take US-89 and drive another 50 miles north to arrive at Cameron. This tiny town hosts large numbers of tourists on their way to see the canyons. You can spend a half-hour here to stretch your legs, grab a bite, and browse through Native American arts and crafts at the Cameron Trading Post.
From Cameron, the drive to Page covers about 80 miles. In the interest of time, it may make sense to explore Lower Antelope Canyon first when you take this route. Don't skip Horseshoe Bend, and make sure you save some energy for all the gorgeous sunset shots that await you on your drive back to Phoenix.
How about California?
For visitors trying to figure out how to get to Antelope Canyon from California, we generally recommend setting a few days aside and including the Grand Canyon or Zion National Park in their itinerary. 5-6 days are all you need for a fascinating road trip from Los Angeles, covering Las Vegas, Hoover Dam, Antelope Canyon, and the Grand Canyon. Shorter weekend getaways are also an option. Flying to Las Vegas from California and renting a car is a great way to save some time. 
No matter where you're based in California, the idea is to fly or drive down to Las Vegas, spend the night there, and make an early morning start for Antelope Canyon. Because you'd be embarking on a rewarding but exhausting road trip, make sure you add enough overnight stays to your itinerary. Also, make sure you're at Antelope Canyon before mid-day, because that's when you'll get the best photos of the colorful canyon. 
Have questions about how to get to Antelope Canyon? Ask us in the comments below or send us an email here.
ABOUT THE AUTHOR
Matthew Meier
World Traveler. Mandarin Speaker. Founder of MaxTour.