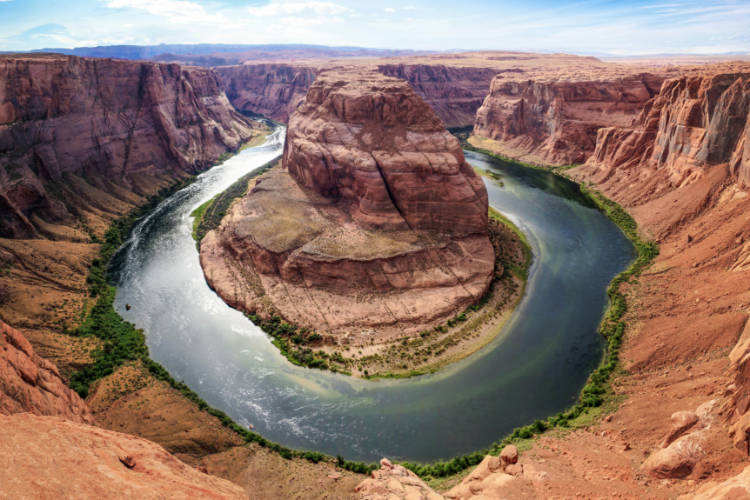 Is Horseshoe Bend Open for Tours?
Last Update on
July 06, 2022
The best Antelope Canyon tour from Las Vegas is incomplete without a trip to Horseshoe Bend. In this post, we'll share some Horseshoe Bend basics, talk about its tours, and give you some tips on what to keep in mind while visiting.
What Is Horseshoe Bend, and Why Should You Visit?
Horseshoe Bend is a U-shaped meander in the Colorado River. It is located near the town of Page, Arizona, about five miles downstream from Glen Canyon Dam and Lake Powell. It's accessible via a 494 mile drive from U.S. Route 89.
The place got its name because its shape resembles a horseshoe, and it's one of the most photographed places in Arizona. If you're visiting the Grand Canyon, then you shouldn't miss out on this destination.
Is Horseshoe Bend Open?
Yes, Horseshoe Bend is open for tours. There are many tour operators that tourists can hire, but it's best to book your tour in advance because the park can get crowded during peak season. If you can, plan your tour during the off season, between October and February.
How Much Does It Cost to Visit?
The national park charges visitors no fees to visit Horseshoe Bend; however, you'll need to pay for parking, which is $10 per vehicle and $5 per motorcycle. In addition, you'll have to pay any tour companies you hire for your trip.
What to Keep In Mind When Visiting
When visiting Horseshoe Bend, there are a few things you should keep in mind:
Wear comfortable shoes: The hike to the Horseshoe Bend is not a difficult one, but it's still a hike. Make sure to wear comfortable, closed-toe shoes.
Bring plenty of water: It can get hot in Arizona, especially during summer. Be sure to bring plenty of water with you to stay hydrated–you should ideally pack one liter per person for every two hours of your trip. In addition, remember to pack the right food. This includes snacks that are high in energy but low in weight, such as nuts and dried fruit.
Wear sunblock: Arizona gets hot–don't forget to put on some sunscreen to protect yourself.
Bring a hat: A wide-brimmed hat is always a good idea when spending time in the sun.
Choose the right time: Does Horseshoe Bend get busy? Absolutely. As we mentioned before, the best time to visit the Horseshoe Bend is during the off season. However, if you can't make it during that time, try to avoid visiting between 10:00 AM and 4:00 PM, when the sun is at its strongest. From 4:00 to 7:00 PM, the park tends to be more crowded, so if you're trying to avoid people, try and aim for early morning.
Keep your distance from the edge: Horseshoe Bend is a spectacular place, but it can also be dangerous if you're not careful. Be sure to keep your distance from the edge and never climb over the railings.
Bring a wide-angle camera: Horseshoe Bend is a photographer's dream, so make sure to bring a wide-angle camera to capture the stunning landscapes. However, keep in mind that drones are not allowed.
Final Thoughts
Horseshoe Bend is a must-visit place when you're in Arizona–it's a place of natural beauty that will leave you speechless. Just make sure to follow the safety guidelines and enjoy your time.
Exploring the area and wondering how far Vegas is from Antelope Canyon? Check out our recent article for more travel tips!