Tickets for Antelope Canyon
Last Update on
July 28, 2022
Antelope Canyon is one of the most stunning geological formations in the Southwest U.S. Once a hidden gem, the canyon is now incredibly popular. People come from around the world to see the vibrant colors of its twisting rock formations.
However, unlike many natural wonders, you cannot just walk into Antelope Canyon. You can be frugal and try the cheapest way to visit Antelope Canyon, but there's no way around buying a ticket.
Let's take a more in-depth look at this beautiful place and how to get tickets for Antelope Canyon.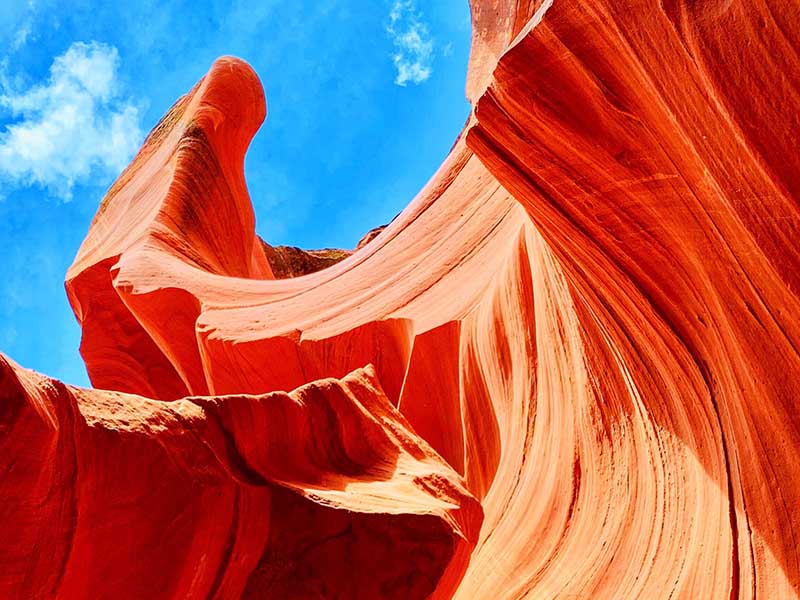 What Is Antelope Canyon?
Antelope Canyon is a sandstone slot canyon located in the Navajo Nation near Page, Arizona. Slot canyons are incredibly narrow canyons that are cut deep into softer types of rocks. They can be found all around the world but the Southwest U.S. has some of the most stunning ones.
Antelope Canyon is by far the most famous slot canyon in the world, thanks to its beautiful colors, relatively easy access, and natural beauty. It is also a bit deceptive. You can stand near the top of some areas without even realizing the canyon is there!
There are two main sections of Antelope Canyon: Upper Antelope Canyon and Lower Antelope Canyon. The Navajo names are more inspiring. Upper Antelope Canyon is known as Tsé bighánílíní, meaning "the place where water runs through rocks." Lower Antelope Canyon's name is Hazdistazí, meaning "spiral rock arches."
After learning those names, it's probably not surprising to learn that Antelope Canyon was formed by rainfall and flash floods over the course of millions of years. The rain gradually cut away at the sandstone. The result is a canyon that is 120 feet (37 meters) deep in some places. Even today, rainwater cascades rapidly through the canyon, continuing to slowly carve it.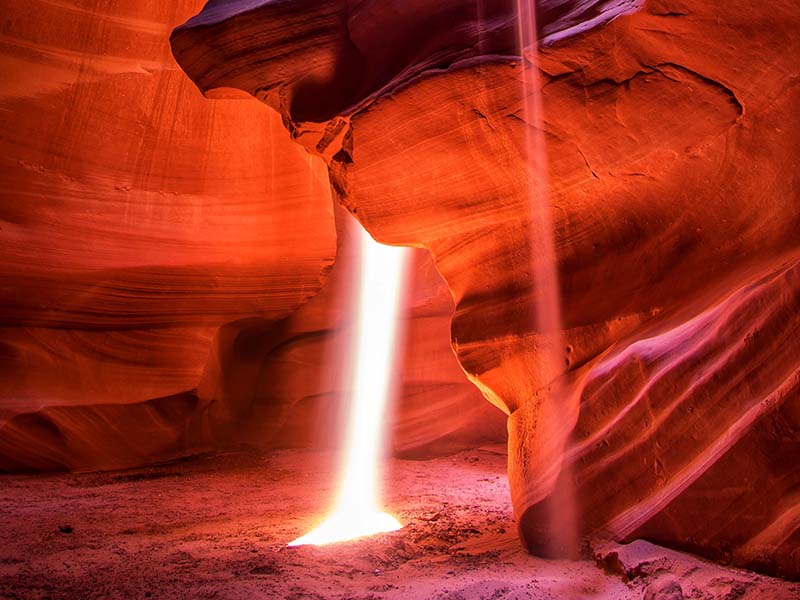 Why Is Antelope Canyon Famous?
Antelope Canyon is famous for the beautiful photographs that have been taken here over the years. Photographers flock to this location for the perfect photo.
Photos of the geologic wonder have been seen in magazines like National Geographic as well as on wallpapers for Windows computers. Even if you've never been to Antelope Canyon, you have probably seen it but just didn't realize it.
Antelope Canyon got its name from the herds of antelope that once grazed in the area many years ago. Occasionally, an antelope would venture too close and fall into the canyon, trapping it.
Which Canyon Should I Visit?
Each section of Antelope Canyon has its distinct features. Upper Antelope Canyon is known for the beams of light that penetrate it. It is shaped like an A (or an inverted V), narrow at the top and broader at the bottom.
This means that when the sun is positioned directly above the canyon, thin light beams will shine into the canyon floor, making great opportunities for photos. However, keep in mind that these beams can only be seen in just the right conditions.
Because of this particular effect, this is the more popular canyon for professional photographers. It's also the more popular section in general, due to both its light beams and the fact that it's easier to traverse.
Related Reading: Which Antelope Canyon Tour Is Easiest?
Lower Antelope Canyon was the first portion of Antelope Canyon to be discovered. It has a V-shape, meaning that it is very narrow at the bottom and wider at the top. This allows for maximum sunlight, revealing beautiful colors in the rock. Lower Antelope Canyon also has a number of famous formations. The most striking ones include the Shark, the Lady in the Wind, and the Lion.
A final benefit of Lower Antelope Canyon is that it is less popular, meaning you typically have more time to explore and can frequently get photos without others standing in them.
This section is slightly more difficult to traverse but it's so stunning. In our opinion, it's the better one to visit by far — it's the one we include on our Antelope Canyon tour from Las Vegas.
Why Do I Need Tickets for Antelope Canyon?
Antelope Canyon is located on Navajo land and is a sacred site for the Navajo people. In fact, the canyon is blessed periodically in order to give thanks to the elements that continue to form it.
Due to its sacred status, no one is allowed to enter the canyon unless they are accompanied by a Navajo guide. Simply entering the canyon is viewed as a spiritual act.
Admission is also needed in order to ensure that this landmark is preserved and appropriately enjoyed by all. As the canyon has become incredibly popular, limited tickets prevent too much traffic from damaging it. Controlling the number of visitors also ensures that those who visit can get the best experience.
A major benefit of this process is that the tours provided by your Navajo guide are very interesting, helping you see every aspect and learn about the canyon firsthand from those who cherish it the most.
Making an Antelope Canyon reservation is the most important part of your trip; you can't see this amazing slot canyon without one. Book very early to secure your spot!
How Do I Get Tickets for Antelope Canyon?
Tickets operate on a first-come, first-served basis. Visitors must book with a certified Navajo tour group. There are currently five groups that provide tours for Upper Antelope Canyon and two groups that provide tours for Lower Antelope Canyon.
In addition to booking directly with a tour provider, you can get tickets for Antelope Canyon by booking a tour with MaxTour. We partner with Ken's Lower Antelope Canyon Tours to ensure that our guests have the best possible Antelope Canyon experience.
Whether you just want to visit the canyon or would prefer to do a larger tour that includes stops at places like the Grand Canyon, Zion National Park, and Monument Valley, we have the perfect tour for you.
Conclusion
Antelope Canyon is one of the most popular landmarks in the Southwest U.S., so tickets sell out fast. It's important to book your tickets (or book a tour through which you'll get tickets) as early as you can. And if you find that Antelope Canyon tickets are sold out, don't panic.
The first step is deciding which section you want to visit: Upper Antelope Canyon, Lower Antelope Canyon, or both of them.If we had to choose, we would go with the Lower Antelope Canyon tour, particularly the one offered by Ken's Tours. However, the two sections are amazing, so it really doesn't matter which Antelope slot canyon tour you choose!
ABOUT THE AUTHOR
Sunny Samaroo