One can't label the Grand Canyon as just another sightseeing destination in the American Southwest.
And if you're a traveler who's observed the Colorado River's fascinating handiwork from up close, you'll know that one can't sum up its climate in a single generic description.
The different reaches and ranges of the Grand Canyon have almost unbelievably varied microclimates and ecosystems.
Weather conditions tend to be starkly different in the North, South and West Rims at the same time of the year. And the South Rim itself can be a climatic shape-shifter of sorts.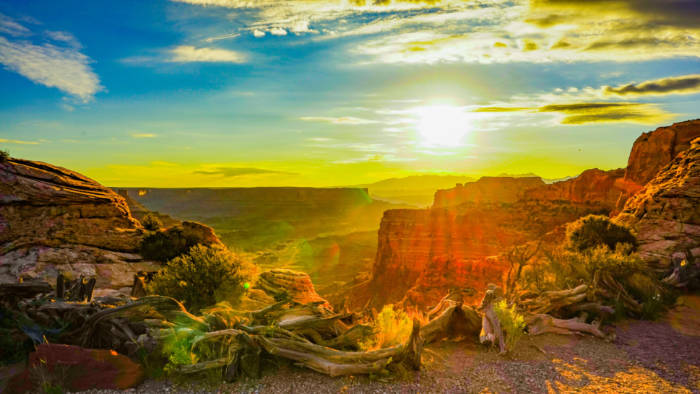 One thing's for certain, though – the South Rim will always find a way to delight you, no matter when you visit.
Offering pleasant summers, winters caressed with snow, and spring and fall seasons that are a nature lover's dream, the South Rim receives the bulk of the tourist footfall at the Grand Canyon National Park.
Weather conditions are drier, warmer and less hostile here than at the North Rim, which can only be accessed during the summer months.
Even so, the South Rim has enough seasonal variations to flummox the unprepared traveler, so if you have a visit coming up, here are a few basics that'll help you plan ahead and pack right.
The General Rule: Expect Variations
Dramatic heights, cuts, and crevasses make temperature and precipitation variations the norm pretty much everywhere in the Grand Canyon.
Days can be 30 degrees warmer than nights, snow can melt before it gets to the lower ranges, and clear mornings can quickly give way to rainy afternoons.
These fluctuations hold true for the South Rim as well, so no matter when you visit, layering your clothes and hiking gear would be in order.
Having said that, there are some weather patterns that are specific to spring, summer, fall, and winter at the South Rim, transforming it into a different world every season.
The Peak Season: Summer (June through August)
Summer is a time when campsites and lodges in and around the South Rim are chock-full of tourists.
During these three months, days are typically warm and sunny, with temperatures anywhere between 70F and 85F (21C and 29C).
At night, these temperatures dip to below 50F (10C), making the wee hours of the morning rather chilly.
Later in the day, as the sun beats down on the lower ranges of the Canyon, updrafts of warm air race to the top of the South Rim, often leading to sudden and powerful thunderstorms around afternoon.
These thunderstorms become a somewhat regular feature from July through September, resulting in a "monsoon" season of sorts.
Travelers heading to the Grand Canyon South Rim in summer are advised to wear enough layers to withstand a windy sunrise and gradually shed them over the day.
Sunscreen, hats, and sunglasses are absolute must-haves, especially if you're going down to any of the popular Inner Canyon trails, where midday temperatures can rise to unbearable limits.
Carrying water sandals in addition to your hiking boots would come in handy if you hike down to the bottom of the Canyon and wade in Bright Angel Creek.
The Shoulder Seasons: Fall (September through November) and Spring (March through May)
The South Rim is a treat for the eyes during the spring and the fall, both of which mark the appearance of gorgeous blossoms in and around the region.
Spring is the season of delightful wildflowers, which can cover the entirety of the Kaibab Plateau (after a particularly rainy winter. Fall brings with it golden aspen, which looks spectacular when bathed in the autumn sunlight.
The South Rim is far less crowded in spring and fall than it is during the summer months, giving you a chance to appreciate the gorgeous scenery in a more peaceful environment.
These seasons are also great for a trek down to the Inner Canyon trails which are usually too hot in summer. If you prefer ranger-led walks and guided tours but would like to avoid peak-season crowds, the second half of each shoulder season (April or October) would be perfect for a visit.
A variety of peak-season programs and free shuttle bus services become available during these times.
Through the shoulder seasons of spring and fall, average temperatures at the South Rim hover between 50F and 60F (10C and 15C) by day, and approach freezing temperatures by night.
Both spring and fall bring unpredictable weather to the South Rim.
The odd speckle of snow isn't uncommon, nor is an unseasonably warm afternoon or an unexpected spell of rain.
As such, your shoulder season travel gear should include a mix of summer and winter clothing which you can layer to battle warm, cold, wet and dry conditions.
Winter (December through February)
Winter is a particularly enchanting time at the South Rim of the Grand Canyon.
Crowds thin down to a trickle, temperatures drop to around 40F (4C) by day and below freezing by night, and a fine layer of snow covers the textured rock faces.
Mornings are usually crisp, clear and sunny, making for pleasant hikes and trails, provided you're adequately bundled up from head to toe.
And while it may seem counterintuitive, sunscreen remains a travel essential at this time of the year as well, even if it's only for your face.
Days are shorter during these winter months, so you'd need to plan them well.
Snowstorms are rare but spectacular to behold.
And if you make your way down to the bottom of the Canyon, you can suddenly find yourself in spring-like weather.
A Word About Wind
No matter the season, it can get windy at the Grand Canyon.   
While the temperature may look pleasant and warm, the strong bursts of wind on top of the Grand Canyon can cut through your clothes and chill you on what looked like a warm and sunny day.
 Always be prepared for a windy experience at the Grand Canyon.
So is there an ideal season to visit the Grand Canyon's South Rim?
No, and that's one of the main pulls of this fascinating rock-cut realm.
It has something in store for every kind of traveler and welcomes you in new and surprising ways every season.
Take your pick of its wide variety of one-of-a-kind experiences, from spending summer nights at buzzing campsites, to catching spring wildflowers in full bloom, to having a snow-specked wonderland all to yourself.
Just remember – layers and sunscreen are your best friends.
Ready to experience the weather at the Grand Canyon yourself? Check out our Grand Canyon Antelope Canyon Two Day Tour.
Looking for more detailed info on weather at the Grand Canyon? Click here.