Las Vegas to Seven Magic Mountains Tours
5-Star Service, Direct Hotel Pickup, Spectacular Destinations
Are You Looking for a Seven Magic Mountains Tour?
Seven Magic Mountains is only 21 miles from the Las Vegas Strip, making it the perfect opportunity to get out of the city and explore the Mojave desert at this colorful piece of artwork created by renowned Swiss-American artist Ugo Rondinone. There is interpretive signage at the installation, and a Guide-By-Cell guide in both English and Spanish for a deeper understanding. Call 702-381-5182 and follow the prompts to learn about the Ugo Rondinone, Seven Magic Mountains, and other land art projects in Nevada.
The entrance fee to Seven Magic Mountains is completely free, as is parking. You can find many tours for $99 per person to take you out to visit the colorful rocks, however, if you just want to see Seven Magic Mountains at your own pace, it is usually a better deal to take UBER or Lyft out there. By doing this you can save a lot of money, an average ride is going to be $30 there and about the same coming back.
If you are looking for a longer adventure, a trip combined with the Hoover Dam, the Grand Canyon, and the Welcome to Las Vegas sign could be just what you are looking for. For $169, you get picked up directly from your hotel and shown a day full of sights and adventure with one of the best tour companies in Las Vegas.
Our Seven Magic Mountains Tours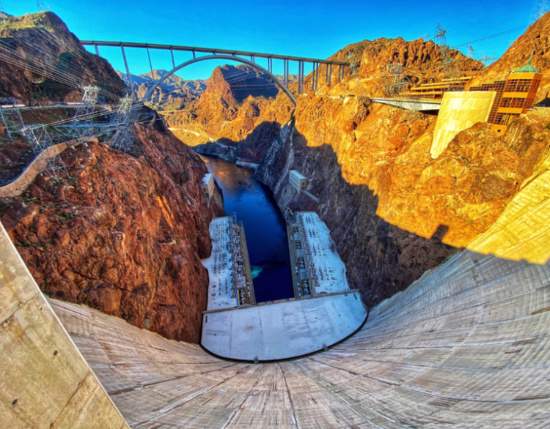 Pick Up from Your Vegas Hotel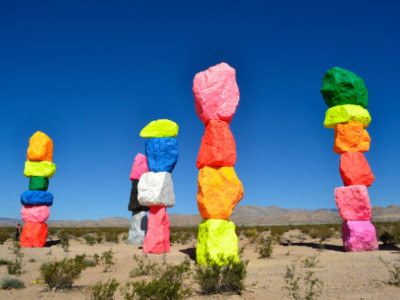 Pick Up from Your Vegas Hotel
Why Visit Seven Magic Mountains?
Built in 2016 as an art project in the middle of the desert, the popularity of this social media friendly location led it to being extended through at least the end of 2021. With seven 30-35 foot dayglow towers made of painted, local rocks, Seven Magic Mountains lies just off of Interstate 15 and is becoming a must stop for anyone traveling between Las Vegas and Los Angeles.
Why Take a Tour to Seven Magic Mountains?
If you just want to visit Seven Magic Mountains, there is no need to take a tour. Many companies will try to charge you $99 A PERSON to drive you 20 minutes out into the desert. Seven Magic Mountains is free to enter, and you can take a UBER or Lyft there for under $100 roundtrip.
If you want a real tour, our $59 tour of Hoover Dam, and Seven Magic Mountains includes a full 5 hours of sightseeing. We pick you up directly at your Las Vegas strip hotel and drop you off there too. This is the tour to take if you want a tour of Seven Magic Mountains.
What's to See on The Best Tours of Seven Magic Mountains from Las Vegas?
Seven Magic Mountains is in the middle of the Mojave desert, making it the perfect place to see the desert Las Vegas calls home.
The bright colors of the painted rocks will pop against the drab background of the desert, giving you photos that will stand out among your many vacation photos.
The desolate desert is a striking contrast to the bright lights of Las Vegas, and Seven Magic Mountains is a fun place to get away from the city.
Welcome to Las Vegas Sign
All of our Seven Magic Mountains tours make a photo stop at the Welcome to Las Vegas sign.
What is the meaning of these rocks in the desert? See them for yourself and try to interpret the artist's true vision
Seven Magic Mountains has quickly become a don't miss stop on any travelers' trip to Las Vegas
The trip from Las Vegas to Seven Magic Mountains
When joining our Grand Canyon West, Hoover Dam, and Seven Magic Mountains Day Tour, we will visit Seven Magic mountains early in the morning as the second stop on the tour, after the Welcome to Las Vegas sign. Visiting early in the morning is preferable in both summer (escape the blistering heat) and the winter (avoid the afternoon crowds).
From the Welcome sign, it is only 19 miles or 26 minutes to this land art installation in the desert. We will cruise through the Mojave desert in our tour vans with tall viewing windows, allowing you to soak in the view as we leave the city and enter the untouched desert landscape that surrounds Las Vegas.
Upon reaching the world-famous art installation of 7 Magic Mountains, we will give you 30 minutes to roam the towers. Your tour guide will know the best spots and angles to help you get the perfect shot, use their help or wander on your own. Photos of both the towers and the desert will come out great with the help of your tour guide.
A visit to 7 Magic Mountains is just the start of the fun when joining our full-day tour. From here your tour guide will take you to a bonus stop where you will search for big horn sheep while enjoying an included continental breakfast with sweeping views of Lake Mead. And from here there are still two amazing stops: Hoover Dam and the Grand Canyon! See more on this Grand Canyon tour than any other Grand Canyon tour, including the only tour to visit both Seven Magic Mountains and the Grand Canyon in one day!