$379-$699
Price(Includes Hotel, All Meals, National Park Fees)
6 AM from Las Vegas
Depart
For some, visiting Las Vegas is strictly an indulgence of city folk: bright lights, chiming slot machines, magical shows, high quality cuisine, and the other "endearing" qualities that lend to its Sin City reputation. For others, Vegas is just a stepping stone to elsewhere. They're the nature-loving, adventure-seeking, Insta-editing, cliffside-dwellers of exploration. It's you we've had in mind when we designed our newest expedition. We'll hit all, and only, the major Southwestern stops in just 72 hours. There's lots to see and nothing to be missed! Hop in!
Day 1
No need to taxi to a meetup point, nor prepare your own breakfast. We'll pick you up from the lobby of your strip hotel and have our famous MaxTour continental breakfast ready to go along the way. We're headed out first to southern Utah to enter the valley of Zion National Park, where the beauty of towering red rock and the Virgin River might make you contemplate a career change to a national park ranger.
Following lunch, we'll continue traveling east to Bryce Canyon National Park, where the radiance and awe of crimson hoodoos make its visitors feel as though they've been transported to a distant planet. At elevations of over 9000 ft (2743 m), take a deep breath of crisp, clean air as you sit aside one of nature's greatest works of art. 
3 Day Grand Canyon, Bryce, Zion, Antelope Canyon, Monument Valley Tour from Las Vegas
DEPARTURE/RETURN LOCATION

Las Vegas

DEPARTURE TIME
6:00 AM
INCLUDED

| | |
| --- | --- |
| 2 Nights Hotel | Hotel Pick Up and Drop Off |
| National Park Fees | 3 Breakfasts,3 Lunches, 2 Dinners |
| Horseshoe Bend Fee | Water, Drinks, Snacks |

NOT INCLUDED
Monument Valley Jeep Tour ($70)

Tour Guide Gratuity
Antelope Canyon Ticket ($55)
Personal Expenses
Day 2
Wake up in Page, Arizona, perhaps America's most charming remote desert town. Surrounded by Navajo Nation, Page offers two of America's most desirable hidden gems: Antelope Canyon and Horseshoe Bend. With combined visitor numbers exceeding six million people per year, we've reserved your spot long in advance. Take the guide-led journey through the marvel of Antelope Canyon. Feel its smooth walls, listen to its light winds, and capture the many characters of its formation.  Once your stomach has settled, you'll likely feel a bit hungry. We've got a great spot planned for lunch in Page.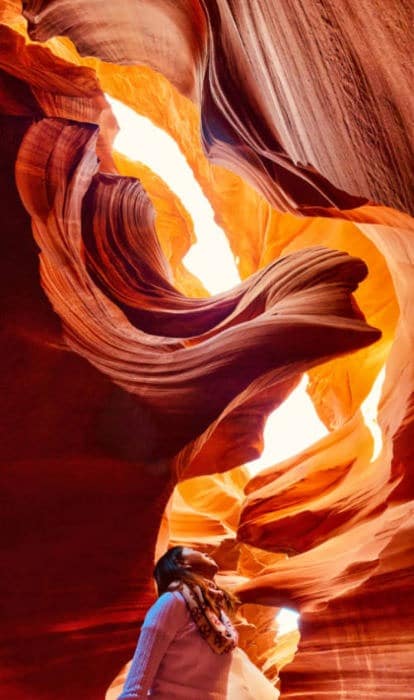 Next, we'll be peering up 1000 ft, gaping at the steep sandstone buttes of Monument Valley. A destination from all your favorite Western films, Monument Valley is also one of the most photographed and iconic points on Earth. You'll be guaranteed to capture a frameable classic.
Day 3
From here we will follow the Colorado River downstream to it's greatest creation.  At 277 mi (445 km) long, 18 mi (29 km) at its widest, and a max depth of over 6000 ft (1850 m), it's no wonder the Grand Canyon is among the greatest wonders of the world. Sit at its edges, walk its trails, and let us show you its beauty from some of our favorite paths and points less traveled. We'll then stop along Route 66, drive its history, and add a few more iconic photos to our collection.
Drive along Route 66 and visit a historic Route 66 small town.  From here, enjoy the view on the drive back to Las Vegas, where you will be dropped off back at your hotel around 8 PM.
We only book high-quality 2.5-star hotels that are new and clean for your comfort. For this tour, you will stay at the Comfort Inn and Suites in Page, AZ for two nights, all included in the price of your tour.
To help our guests have a memorable experience, this tour includes all meals during the trip. We want to keep our focus on the amazing parks you will visit, so the less time we spend in restaurants eating is more time we get to spend inside places like Bryce Canyon National Park and the Grand Canyon.
5 Star Service Guaranteed
See Our Other Tours
Day 1
Start with an early morning pickup from your Las Vegas hotel.  Pickup is offered for all hotels within 2 miles of the Las Vegas Strip or Downtown Las Vegas

Enjoy your included continental breakfast as we drive through the Arizona desert, up the Virgin River Gorge, and into the great state of Utah.

The first stop is Zion National Park. Have time to explore Zion Valley, including Emerald Pools, Weeping Rock, and the Temple of the Sinawawa. 

Enjoy an included picnic lunch and get some rest as we drive to our next destination

Spend 3 hours exploring Bryce Canyon National Park. Walk along the rim trail or take a walk down into Bryce Canyon to get a up-close view at the otherworldly hoodoos.

Drive to our hotel in Page, AZ for the night.
Day 2
Day two starts with an included breakfast at the hotel.

The first stop is the world-famous Lower Antelope Canyon. Visit in the morning to get the best light on your photos as the suns rays bounce around the canyon walls

Grab a quick lunch at one of Page's best restaurants. 

Drive 2 hours through the Arizona desert to our next destination.

Monument Valley.  Hop on a 4×4 vehicle to get an in person view of the towering monuments at Monument Valley.

Return to our hotel in Page for the night.
Day 3
Enjoy an included breakfast at your hotel.

First stop: A short hike out to the sweeping view at Horseshoe Bend

Drive 2 hours to one of the 7 wonders of the natural world: Grand Canyon National Park. Your guide will take you to 3 of the best overlooks of the canyon: Lipan Point, Grandview Point, and Yavapai point.

Have a quick lunch outside the Grand Canyon.

Make 2 stops at Historic Route 66 on your way back to Las Vegas.

Get dropped off back at your Las Vegas hotel around 8 PM