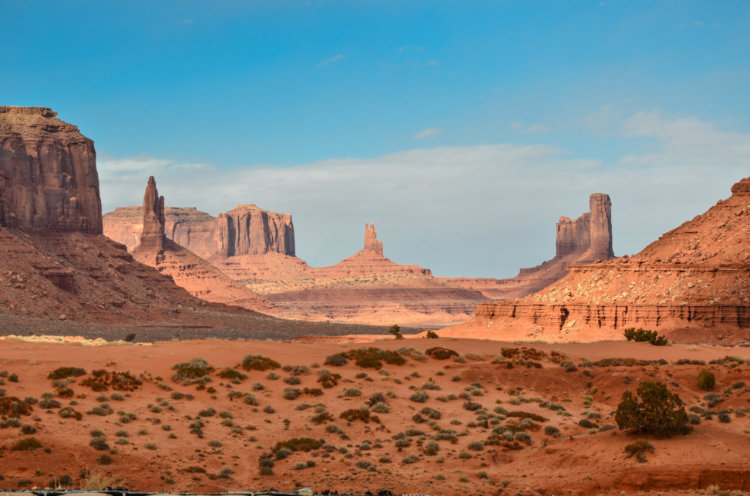 Can You Tour Monument Valley on Your Own?
Last Update on
February 15, 2023
Yes, you can tour Monument Valley on your own. This entails driving the 17-mile loop and planning your own itinerary. Alternatively, you can book a tour that will take you around the area.
The unique, red rock formations of Monument Valley make it easy to see why it's so popular with tourists. Like a Bryce and Zion tour, a visit to Monument Valley will let you see some of the most iconic and breathtaking landscapes in the world.
In this article, we'll show you how to enjoy Monument Valley on your own, discuss tips on what to do if you're planning to drive, as well as share the benefits of booking a guided tour.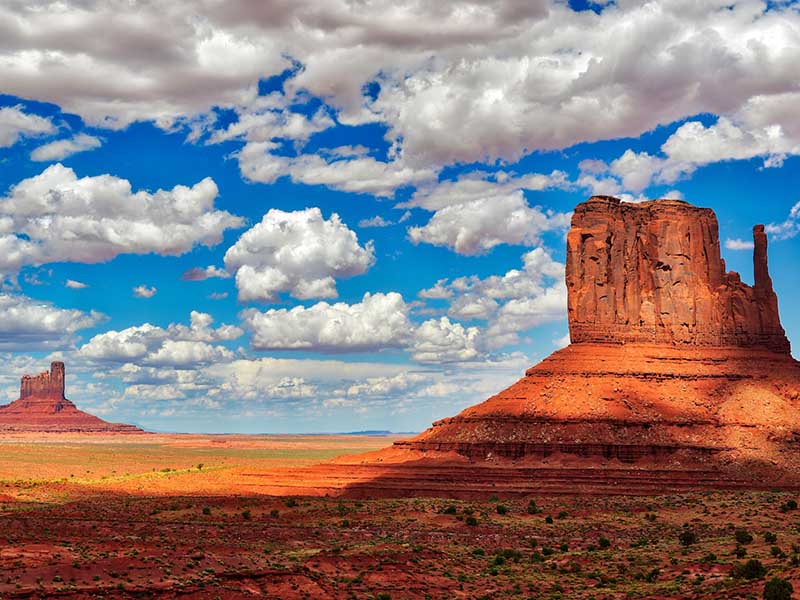 How to Tour Monument Valley
If you're planning to drive, the 17-mile loop is the driving trail of Monument Valley. It's also called Valley Drive or the Tribal Park Loops. It takes you to some of the most scenic attractions within the valley (more on those in the next section).
You will need to pay an access fee of $20 per vehicle, which will also get you a map that lays out the route to see all of the attractions. It's important to note that the 17-mile loop is a one-way road.
The road is unpaved and pretty bumpy. Regular cars can take it but it can be a bit challenging if it'll be your first time driving in this area. Check out this blog post about driving through Monument Valley for tips on how to be prepared for your driving tour!
If you're not comfortable driving on unpaved roads or want to save yourself the hassle, then we recommend booking a tour from a reliable tour company like MaxTour. All the transportation will be taken care of for you and you'll be taken to all of the best spots!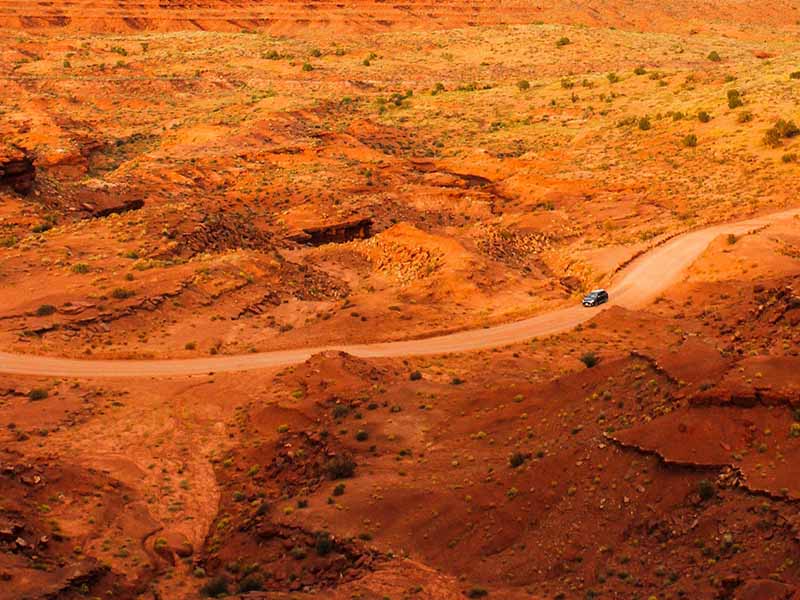 Things to Do on a Self-Guided Monument Valley Tour
At first glance, it might seem like there's not much going on here. Make no mistake, though — there are so many things to see in Monument Valley!
The highlights of Monument Valley are, of course, the towering rock formations known as buttes. These natural sculptures come in all shapes and sizes. The most famous of them all are the two Mittens Buttes and the Merrick's Butte. Another popular trio is the Three Sisters. The oddly-shaped Elephant Butte is yet another must-see attraction.
To get out of the car and stretch your legs, take on the Wildcat Trail. This hiking trail is just over 3 miles (about 5 km) long. It's a loop that takes you around the West Mitten Butte.
During the summer. the Haskenneini restaurant within the visitor center is open for business. They serve up a fine selection of both Navajo and American cuisine. If you're a history buff (or a lover of Westerns), consider a visit to Goulding's Trading Post Museum!
If you're only interested in the few most popular sights, touring Monument Valley will take you about two to three hours. If you have the time, though, you can spend a whole day here and experience everything the valley has to offer!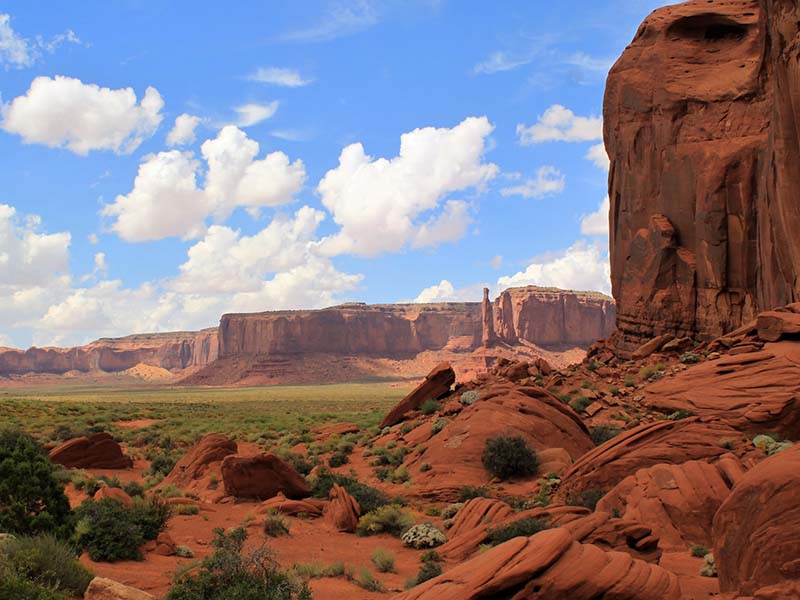 Reasons to Tour Monument Valley on Your Own
Move at Your Own Pace
Guided tours will have some flexibility but, for the most part, they'll be working at a set schedule. The biggest advantage of touring Monument Valley independently is being able to take things at your own pace.
If you want to be in and out within an hour, you can do so. If you want to stay in the valley all day, you can do that, too! Change your mind about your plans halfway through the day? No problem.
Plan Your Adventure the Way You Want It
Everyone has different things they want to see at Monument Valley. Attractions like the Mittens and Merrick Buttes will be on most people's itineraries but even those will vary.
Some people want to hike all day. Others want to see every single exhibit at the museum. Many people visit the valley just for landscape photography and plan their whole visit around that.
Rather than sticking to a predetermined itinerary, touring Monument Valley on your own enables you to do things your way!
Spend Quality Time with Loved Ones
Group tours, especially small group tours like those offered by MaxTour, offer a great opportunity to meet new people and broaden your horizons.
Some people, however, simply prefer for themselves and their companions — whether friends, family, or a partner — to make the trip independently.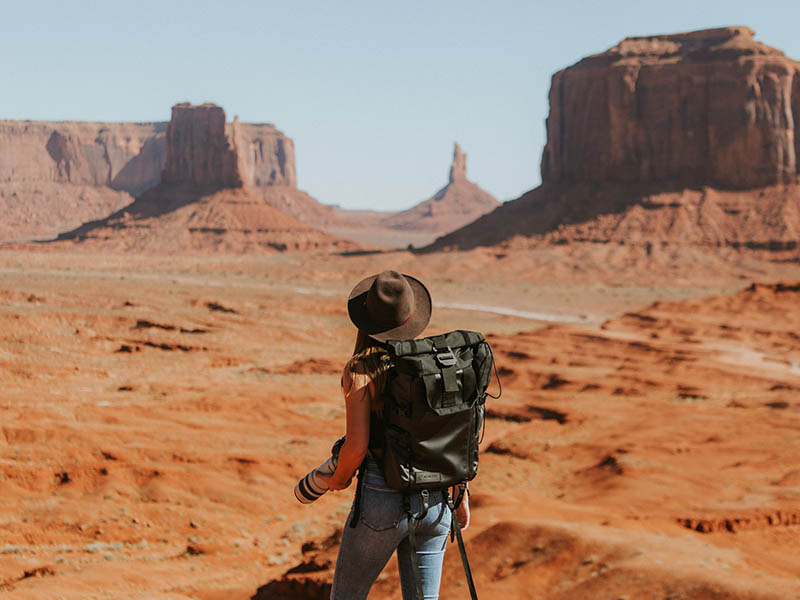 Reasons to Book a Guided Monument Valley Tour
Get a More In-Depth Experience of Monument Valley
Tours can be a great way to learn about an area, especially if you have a knowledgeable guide. They can share interesting facts and stories that you might not otherwise hear. They can also provide you with expert knowledge of the area to help you understand the history and culture of the region.
Relax and Enjoy the Views
A trip to a national park can be stressful, especially if you want to visit multiple places and have limited time. When you take a guided tour, you can relax and enjoy the sights without worrying about planning, transportation, or finding your way around.
A guide will ensure you make the most of your time by prioritizing what you should see and how much time to spend at each stop.
Visit Areas That Aren't Accessible to the General Public
While the general public is welcome to explore most of the valley, some areas are off-limits to all but guided tours. These areas include sensitive ecological habitats and private property.
By taking a guided tour, visitors can ensure that they can see everything the valley has to offer without damaging delicate ecosystems or trespassing.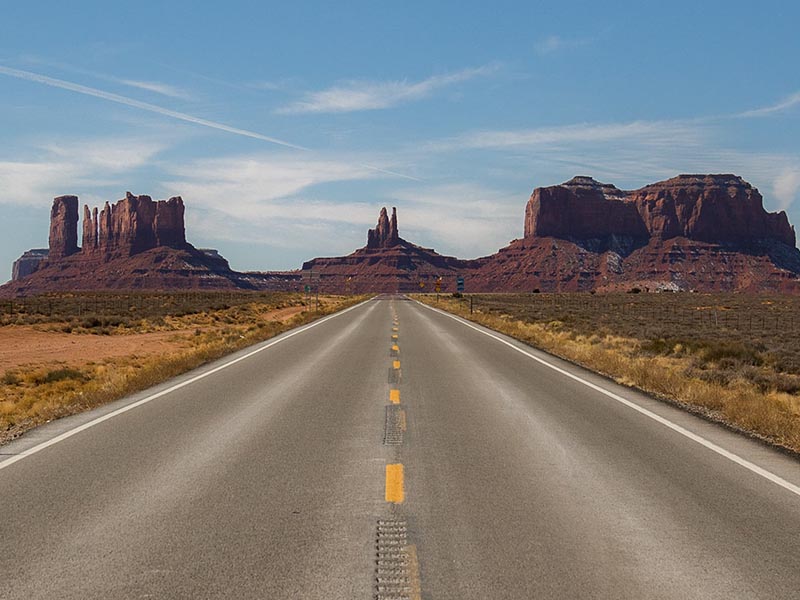 In Summary
Guided tours from MaxTour provide an opportunity to learn about the area from knowledgeable guides. You'll get the chance to sit back, enjoy the experience, and meet other travelers without worrying about logistics.
However, if you're short on time and in for more adventure, driving through the park on your own can still be a great way to see its amazing landscapes. No matter how you choose to enjoy the park, there's no doubt you'll be amazed by its natural beauty!
If you'd love to visit Monument Valley but you're actually not sure how to even get there in the first place, check out our post on how to visit Monument Valley!