The Truth about Resort Fees in Las Vegas
Last Update on
April 26, 2021
Resort fees have become ubiquitous along the Las Vegas Strip, with every major hotel and resort charging a resort fee. The highest among these charges over $50 a night for their resort fee.
We, along with everyone else, absolutely hate resort fees. They are deceptive, a bad business practice, and an ugly stain on our fantastic tourist destination: Las Vegas.
There used to be a time when Las Vegas was known for free drinks, comped rooms, and $9.99 steak and lobster. Unfortunately, it is now just as likely to be known for resort fees, $16 Bud Lights, and poor gambling odds.
While we are against all attempts to nickel and dime visitors to our city, it is resort fees that get most of the attention and draw the most criticism.
During our extensive research project to find the best hotel in Las Vegas, we learned a lot about the ways hotels price their rooms and the ways they use resort fees as part of their pricing strategy. Here is what we found out:
1. Resort Fees are Highly Deceptive
2. Hotels that don't charge a resort fee are not cheaper than hotels that charge them.
3. The hotels won't drop resort fees, but the government might eliminate them
How Resort Fees are Deceptive
Let's run through the multiple ways that resort fees deceive customers during the shopping and buy process.
The initial price says nothing about a resort fee.
When scrolling through a booking site like Booking.com for a room, they list the rooms and show the standard booking rate. Nowhere on this page do they show anything about resort fees.
Taxes, fees, shipping charges and the such being added to our cart at checkout is typical for Americans. But rarely will you see the original price more than double at checkout, and that happens a lot in Las Vegas' lower-end hotels. That $38 Treasure Island room above comes out to $87 at checkout.
The hotel websites are not any better, here is the initial price that Caesars Palace shows, of course, there is no mention of resort fees anywhere on the page.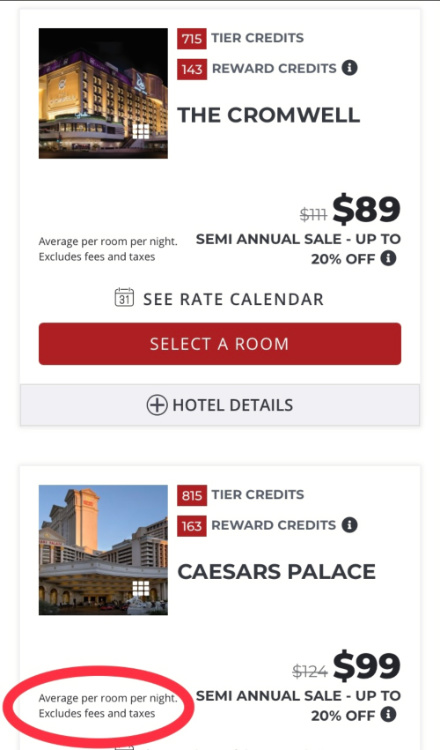 A trick of psychology makes people pay more than they think they are paying
Later in the booking process, all major third-party booking sites like Hotels.com and hotel sites like Ceasars.com state that the initial listed price is not inclusive of the resort fee and they disclose the total cost for booking a room. By this point, it is too late though.
According to this great article in Psychology Today, because of the way the brain processes prices, people are more likely to underestimate a total price when it is broken down into parts and overestimate a price if it is given altogether.
When you see a room for $79 and later in the booking process are hit with a $44 resort fee, you have already made up your mind that $79 is a great deal.
If the original price had shown as $123 it would turn many people away. By getting them to click through at that initial lower rate, the hotels are using psychology to get people to pay more than they think they are paying for a room.
Calling resort fees a hidden fee is a stretch, it is hard to miss the total amount when checking out. Calling them a deceptive business practice is the truth and deceiving your customers at the start of the relationship is just as bad as charging them hidden fees.
You Don't Save Money By Staying at Hotels Without Resort Fees
During our massive research project on the Best Hotels in Las Vegas, we came across some interesting data points regarding resort fees. As our research below will show, avoiding resort fees won't necessarily save you money.
While researching the prices of hotels for our huge Best Hotels in Las Vegas study, we had a chance to see what hotels were comparable to each other. This allowed us to see what prices for hotels with resort fees were like against hotels without resort fees.
The hotels without resort fees were actually more expensive than comparable hotels. This disproves one of the biggest misconceptions about resort fees: They are costing you money.
If the state of Nevada ever gets its act together and bans resort fees, rates at Las Vegas hotels will not drop by $50 all around. In fact, they would probably go up to account for the extra commission that hotels pay the major online booking sites.
It is a common misconception that travelers are getting ripped off or fleeced by resort fees, when really they are being deceived. Let's look at the data:
The Marriott Grand Chateau is the biggest name hotel near the Las Vegas Strip to not charge a resort fee.
Based on our research, the closest 2 hotels to them in terms of price, location, entertainment, and reviews are the Luxor and Harrahs.
In all three categories, with all taxes and resort fees added together, Marriott Grand Chateau is the more expensive option.
Hotel
Price Metric (Higher Score is Cheaper)
Yearly Average Price:
Total Price Including Taxes and Resort Fee
Lowest Price of the Year:
Total Price Including Taxes and Resort Fees
Harrahs
(Resort Fee)
68.97
$167.92
$70.29
Marriott Grand Chateau
(No Resort Fee)
57.44
$205.13
$140.59
Ballys
(Resort Fee)
72.07
$156.76
$80.50
In this case, if you are trying to get a good deal on your room, it would be better to stay at Ballys or Harrahs and to pay the resort fee rather than avoid it and stay at Marriott Grand Chateau.
Another hotel on the Strip that doesn't charge a resort fee is the Best Western Casino Royale. This is an underrated Strip hotel that has a fantastic location. The two hotels that came in nearest to them in our final rankings are The Strat and Excalibur.
If you are booking at Casino Royale to avoid paying a resort fee, you will end up paying more on average than if you had stayed at similar level hotels with resort fees.
A chart showing comparing three price metrics, including taxes and resort fees
Hotel
Price Metric( Higher is Cheaper)
Average Yearly Price
Lowest Price of the Year
Casino Royale
(No Resort Fee)
19.30
$151.47
$78.23
The Strat (Resort Fee)
21.55
$115.76
$66.89
Excalibur (Resort Fee)
21.70
113.58
64.62
If you are staying at a hotel that doesn't charge a resort fee to save money, double-check the final price math to see if it will save you money. If you are staying at a hotel that doesn't charge a resort fee out of principle, rock on.
Is there hope on the horizon?
Without outside intervention, the hotels in Las Vegas will not only continue to charge resort fees but will continue to raise them to add profit to their bottom line.
With all major hotels on the Las Vegas Strip charging a resort fee, and all major hotel booking sites not disclosing resort fees on their initial search page, a move by one hotel or booking site would put them at a disadvantage against their competitors.
Sure, it is a standoff of their own making, yet a standoff it is. The only way we see out of this mess is legislative action. Encouragingly, there is some good news on this front. In 2019 the Hotel Advertising Transparency Act was introduced in Congress. It would outlaw resort fees once and for all.
There are also lawsuits filed against Marriott and Hilton in Nebraska and Washington DC, and many other states are in the middle of investigations on the practice of resort fees.
Why do Las Vegas resorts charge resort fees?
The question of why Las Vegas hotels started charging resort fees doesn't have a simple answer.
Why Las Vegas hotels charge resort fees in 2021 is simple: They work. They lead to more bookings and more revenue generated for the corporations that run the hotels and casinos. People whine and complain, but until they voice their concern with their wallets, the practice will continue. 
Now that the resort fee money is flowing for these corporations, it will be hard to turn off. While they would undoubtedly gain a lot of positive press for canceling resort fees, their revenue and bookings would most likely plummet. They would have to raise their standard rate to compensate for losing resort fee revenue.
This would immediately put them at a disadvantage on the major hotel booking sites, as their rooms would appear to be much higher than their competitors. And as we described above, people don't calculate prices well when the parts are separated.
These hotels are in a bit of standoff with each other regarding resort fees, and nobody can afford to blink.
We reached out to all the major hotel groups in Las Vegas regarding their pricing practices for our research project, and they all declined to comment.
ABOUT THE AUTHOR
Matthew Meier
World Traveler. Mandarin Speaker. Founder of MaxTour.