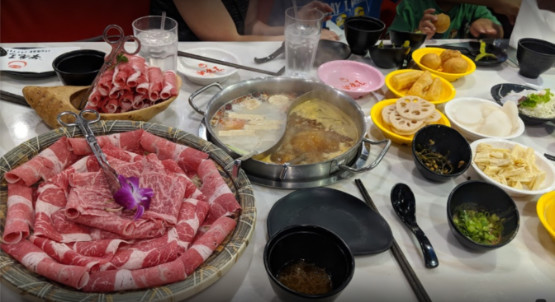 Our Favorite Chinese Restaurants in Las Vegas Chinatown for 2021
Last Update on
January 07, 2021
We can find some of the best dining establishments in Las Vegas in Chinatown.
Although there has been a recent uptick in restaurants that specialize in cuisines outside of the Chinese category, today, I would like to introduce you to the best Chinese restaurants in Las Vegas's Chinatown for 2021. I lived in China for 5 years, and my wife is Chinese, and these are the places that nail the authentic taste of great Chinese food. After one of our fantastic tours to the Grand Canyon from Las Vegas, I often drop my guests off directly at one of these tasty restaurants.
Chengdu Taste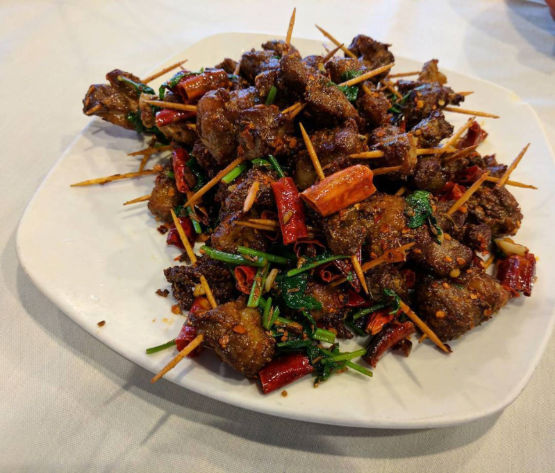 The champion and the king: Chengdu Taste. This iconic Szechuan food spot from Los Angeles reigns supreme in Las Vegas's Chinatown.
It is the winner of many awards and is our go-to for authentic Chinese food in Las Vegas.
An unassuming interior doesn't match the complexity of Chengdu Taste's dishes.
Most dishes are blazing spicy, so if you can't handle the heat, stay away from this kitchen. But if you like numbing your mouth with chilis and peppercorns, this is your place.
This spot is as hot as the food, so lines can get long here; be prepared to wait.
Don't miss these dishes: toothpick cumin lamb, sautéed eggplant with spicy garlic sauce, Szechuan tan tan noodles, diced rabbit with Younger Sister's Secret Recipe, and couple's sliced beef in chili sauce.
Chengdu Taste is excellent for takeout or dining in; they do not offer delivery.
Chengdu Taste
Lunch 11 AM to 2:30 PM daily
Dinner 5 PM to 9:30 PM daily
3950 Schiff Drive
Las Vegas, NV
702-437-7888
https://www.chengdutastelasvegas.com/
Hong Kong Garden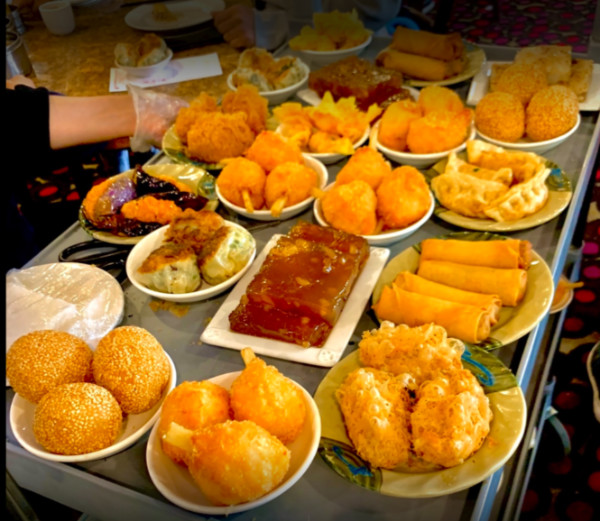 Hong Kong Garden has a truly impressive menu of over 300 dishes and serves up some of the best and most affordable Dim Sum in Las Vegas, while not being too far from the main Las Vegas resorts.
Some of our favorites include the fried chicken wings, all of the items on the dim sum cart, the rice in banana leaf, and the salt and pepper calamari.
Hong Kong Garden
Open 9 AM to 10:30 PM daily
5300 Spring Mountain Rd, Las Vegas, NV 89146
https://www.hkgardenlasvegas.com/menu
Chubby Cattle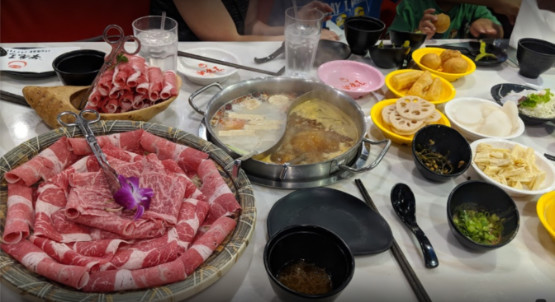 To get the best Chinese food in Las Vegas, you need to go to Chinatown; and for the best hotpot in Chinatown, you need to go to Chubby Cattle.
The restaurant's TVs sometimes feature an episode of Bizarre Foods where host Andrew Zimmerman samples Chubby Cattle's fare, so to say Chinese hotpot is as well-known in the United States is untrue.
But this eatery is known for reforming traditional Mongolian cuisine, and it's sure to keep you coming back for more.
A combination of rich broths and high-quality beef products that are hand-picked by the restaurant owner makes this the finest hotpot in Las Vegas.
A big deal has been made of the novel conveyor belt that transports the food around to guests, but we find that there is so much more to this restaurant than conveyor belt-delivered hotpot meals.
While we were living in China, hotpot was always marked by making our own blends of beautiful dipping sauces, but the broth at Chubby Cattle is so rich and flavorful that we end up not needing the sauces at all! The tomato pot, in particular, is not to be missed.
Chubby Cattle
5 PM to 11:45 PM, Monday–Thursday
12 PM to 11:45 PM, Friday–Sunday
3400 South Jones Boulevard
Ste 15
Las Vegas, NV
702-868-8808
https://www.chubbycattle.com/chubby-cattle-las-vegas/
Asian BBQ and Noodle
Walk into Asian BBQ and Noodle and you'll notice one thing: everyone speaks Cantonese. For a dive that serves food from the Cantonese-speaking region of China, nothing could be sweeter on the ears.
The food here is equally sweet on the palate and revolves around barbeque, hanging meats, and a variety of noodle dishes.
We love to order the BBQ 3 Combo Platter with roasted duck, barbeque pork, and roasted pork belly.
For noodles, the roasted duck wonton noodle soup is amazing, as are the shrimp wonton noodles.
One small caveat: This establishment accepts cash only. But for authentic Chinese Cantonese street food, it's worth the bit of trouble.
Asian BBQ and Noodle
Open from 10 AM to 9 PM, Saturday–Thursday
3400 South Jones Boulevard 5C
Las Vegas, NV 89146
702-202-3636
http://www.asianbbqnoodle.com/
Ping Pang Pong
While not technically in Chinatown, Ping Pang Pong is too good to leave off of this list. Rated by Travel + Leisure magazine as one of the top ten best Chinese restaurants in the United States, this local favorite is located only two blocks away from Chinatown inside the Gold Coast Hotel and Casino.
Ping Pang Pong specializes in dim sum, which is served by traditional pushcarts for diners to see, smell, and explore.
Aside from the dim sum, there is an impressive variety of other Chinese food; the roasted duck, sweet and sour pork, walnut prawns, and Taiwanese-style three-cup chicken are among the menu's standouts. Book in advance if you are coming—lines form every day!
Please be aware that they only serve the dim sum pushcart for lunch between the hours of 10 AM and 3 PM.
Ping Pang Pong
Lunch from 10 AM to 3 PM daily
Dinner from 5 PM to 3 AM daily
Gold Coast Hotel & Casino
4000 West Flamingo Road
Las Vegas, NV
702-247-8136
https://www.yelp.com/biz/ping-pang-pong-las-vegas
Meet Fresh
We saved dessert for last. For the best jellies, shaved ice, and bubble tea in Las Vegas, Meet Fresh is the place to go.
Meet Fresh originated in Taiwan and now boasts additional locations in Singapore, Australia, New Zealand, Canada, and the United States. After a splendid dinner at one of the above restaurants, pop in to Meet Fresh for dessert. You won't be disappointed.
This establishment prioritizes traditional Taiwanese desserts that highlight tastes of the uppermost quality.
While the drinks and desserts are great, the service can be slow; come in with a relaxed attitude and you'll be all set.
Meet Fresh
Open 12 PM to 12 AM daily
3930 Spring Mountain Road
Las Vegas, NV
702-478-9188
Had enough to eat and want to burn off some of those calories? Check out the top natural attractions around Las Vegas.
ABOUT THE AUTHOR
Matthew Meier
World Traveler. Mandarin Speaker. Founder of MaxTour.