5 Reasons Why You Should Not Drive from Los Angeles to Las Vegas
Las Vegas is a logical next stop following Los Angeles. Almost all of our international guests end up visiting Las Vegas, Los Angeles, and San Francisco. The two most popular routes between these 3 cities are Los Angeles-Las Vegas-San Francisco and San Francisco-Los Angeles-Las Vegas.
Both of these routes have the same Los Angeles to Las Vegas leg. We get many guests asking us if they should drive or fly from LA to Vegas. We always have the same answer: Fly.
Despite our advice, we talk to many travelers in Las Vegas who drove from Los Angeles. We like to ask them why they drove instead of flying. They usually respond with some form of saving money/ having a driving experience in the United States.
We are here today to tell you why you should almost always fly to Las Vegas from Los Angeles. Here are 5 reasons we recommend flying to Las Vegas from Los Angeles.
Traffic
When people talk about driving from Los Angeles to Las Vegas, they often cite 4 hours as the driving time. This is technically correct, but it is rare to make it in such a short amount of time.
The traffic in Los Angeles is some of the worst in the country. Depending on when you leave, you can encounter some major traffic just trying to get out of Los Angeles.
Once you get out of LA, your traffic problems are not over. Accidents often snarl the traffic flow on Interstate 15 between Los Angeles and Las Vegas. If traveling during a holiday, a weekend, or during a special event, you can find multiple points along the route that get backed up with traffic.
So if you are lucky, including stops you can make it in under 5 hours. Come at the wrong time and your 5 hour trip might double to 10. Avoid all the hassle by taking an Uber to the airport and a quick flight over to Vegas.
The Road isn't Interesting
The drive to from Los Angeles to Las Vegas is not very special. The initial part of the drive trying to get out of the Los Angeles area is pure concrete jungle. Mile after mile of seeing the real suburban Southern California landscape is enough to make you forget the gentle sea breeze you experienced in Santa Monica.
After you escape from the traffic and concrete of the city, it is on to the desert. The desert on this stretch of road has some beauty in spots but on the whole is barren and repetitive.
There are not many interesting places to stop. The road is not particularly fun to drive on. The cities you pass have little appeal as tourist destinations. All in all, the drive from Los Angeles to Las Vegas isn't great.
If you want to have an American driving experience...
There are better drives to experience the American open road
There are over 4 million miles of road in the United States. There are some spectacular drives that can be taken. The drive from Los Angeles to Las Vegas isn't one of them.
To be qualified as a great drive, most of the interstate highways are out. And the drive from Los Angeles to Las Vegas doesn't leave the interstate until you reach the Las Vegas Strip.
There are countless better drives, but here are two that we can recommend:
Option 1:
Start in San Francisco and take 2 days to drive down the Pacific Coast Highway to LA. This iconic drive down Highway 1 is beautiful and fun. You should take 2 days to do the trip so you have plenty of time to stop at all the scenic pullouts. Want to learn more about this drive? Read here.
Option 2:
Instead of driving to Las Vegas from Los Angeles, book an early morning flight to Las Vegas. At the airport rent a car and drive out to Death Valley National Park. The drive is about 2 hours and has some pretty sections once you get closer to the park. The drive is easy without much traffic and the driving in the park is great. Make sure you take your rental to the top of Dante's View, it is not to be missed. Come back to Vegas in time for dinner. All in all a much more enjoyable day than the one you would have spent battling the traffic from LA to Vegas. For a more laid back alternative to driving, check out one of our Hoover Dam Tours, we will pick you up and do all the driving.
Related Reading:
The Top 10 Websites and Apps to use While Traveling in the United States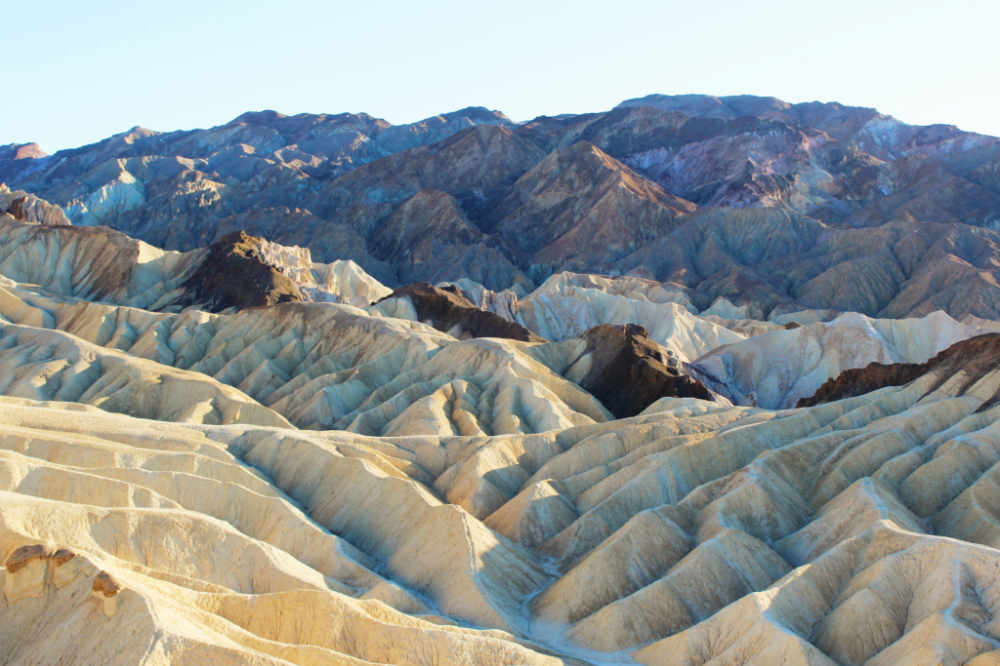 Flights are Cheap
Flights from Los Angeles to Las Vegas are among the most affordable in the United States. A one-way flight can usually be booked for around $50. To be fair, it will probably cost you more to fly then to rent a car and drive yourself.
But given the opportunity costs related to driving, we think spending a little bit extra to give you more time in Sin City is an absolute bargain.
Saved time means more fun
During your trip to Las Vegas, there will be too many fun things to do and there certainly isn't time to do and see it all. Here are some experiences you could try with the added half-day you will have by not driving to Las Vegas: enjoy a world-class brunch buffet, watch one of the amazing Cirque du Soleil shows, tour world-famous national parks, bargain hunt at the Las Vegas Premium Outlets, indulge in a spa treatment in your hotel spa, or test your tolerance for heat with a lunch banquet at Chengdu Taste. These are just a few of the things we would rather be doing than be grinding out the miles on the interstate between LA and Vegas.
Have questions about driving or flying from Los Angeles to Las Vegas? Feel free to ask in the comments or email us here!
Page, Arizona, is a great hub for a wide variety of activities.
While most people who travel to Page end up visiting Antelope Canyon, Horseshoe Bend, and Lake Powell, there are countless other sights to enjoy.
Monument Valley, the Glen Canyon, and Grand Staircase Escalante National Monument are all well worth your time during a visit to Page.
After a long day of hiking and exploring, you'll end up looking for restaurants in Page, AZ.
Luckily for you, I have made hundreds of trips to Page, AZ, and have ttried all the places to eat in Page. I am confident that below are the best restaurants in Page, AZ
(Note: Be careful about opening and closing times—many places in Page close for the winter, are closed on Sunday or Monday, and close early for the night.)
Birdhouse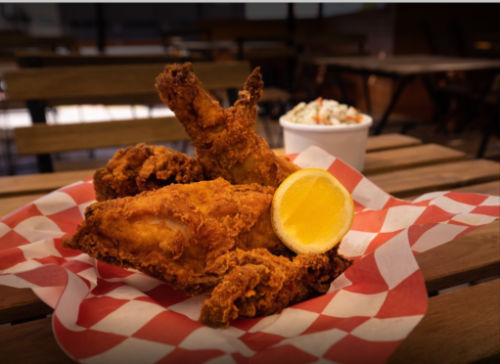 Birdhouse is a newer addition to the Page dining scene, and they have landed with a splash.
Owner and chef Eddie Chou serves up a simple menu centered on a great recipe for fried chicken.
The house specialty is the Chicken Box. You can choose two or three pieces of Birdhouse's fried chicken, a side, and a drink.
The chicken at Birdhouse comes in three flavors, original, honey butter, and spicy. We love them all, but honey butter seems to be the most popular. Order a three-piece meal and you can try all three flavors.
The sides include mac and cheese, chicken rice, coleslaw, broccoli salad, and homemade pickles.
Other menu items include a fried chicken sandwich and a fried chicken salad. Wash your chicken down with homemade lemonade, iced tea, or a craft beer from their wide selection.
Birdhouse
707 N. Navajo Dr., Page, AZ 86040
Monday-Saturday, 11:30 a.m.-9 p.m.
Closed Sunday
(928) 645-4087
Slackers

Slackers is a local fast-casual burger joint serving up the best burgers in Page.
The menu revolves around a variety of burgers, from the standard bacon cheeseburger (recommended) to the exotic buffalo burger.
A cheeseburger, fries, and drink will run you around $11. For smaller appetites, the jr. cheeseburger still makes a sumptuous meal.
They round the menu out by several sandwiches, fried items like fish and chicken strips, and a few salads. The salad of the day (recently a chicken-mango salad) is highly recommended. The daily soup can also make a great starter.
Slackers
635 Elm St., Page, AZ 86040
Monday-Saturday, 11 a.m.-8 p.m.
Closed Sunday
(928) 645-5267
http://www.slackersqualitygrub.com/
Related Reading: Lower vs Upper Antelope Canyon-2020 Update
Big John's Texas BBQ

Many people consider Big John's the best restaurant in Page. Serving up big plates of smoked meats, Big John's Texas BBQ is definitely the most fun place to eat in town.
Big John's is a casual BBQ joint—you eat at picnic tables, a roll of paper towels on your table replaces napkins, and buckets of peanuts make tasty, free snacks.

The menu includes BBQ staples like ribs, brisket, pulled pork, and hot links. Your best bet is to order a few meat plates, a few sides, and a salad, and dine family style. We recommend the ribs, the hot links, the cowboy beans, and the potato salad.

During the warmer months, you can sit outside and enjoy live country music in the evening. If the weather is not suitable for patio dining, the indoor dining room is also charming, offering lots of Texas and Southwest memorabilia to immerse you in Texas BBQ culture. On your way out, check out the huge barbeques at the front of the restaurant for a fun photo op.

Big John's Texas BBQ
153 S. Lake Powell Blvd., Page, AZ 86040
Tuesday-Saturday, 11 a.m.-9 p.m.
Closed on Sunday and Monday—closed in the winter
(928) 645-3300
El Tapatio
Mexican food abounds in Page, but we are partial to El Tapatio when craving a south-of-the-border taste.
The quality at El Tapatio doesn't quite match the eateries above it on this list, but consistent food and convenient hours are enough to earn it the fourth slot. Open seven days a week until 10 p.m., this is the best option for dining later at night or on a Sunday.
For people not accustomed to Mexican food, the Fajita Trio is a fun dish best shared. Other standouts include the Enchiladas Trio, the Mazatlan Burrito, and the Tacos El Pastor. A smaller lunch menu includes many of the same dishes as the dinner menu, but at a discounted price.
El Tapatio
25 S. Lake Powell Blvd., Page, AZ 86040
Monday-Sunday 11 a.m.-10 p.m.
(928) 645-4055
http://tapatiorestaurants.com/
Safeway
Safeway is a supermarket chain. It says a lot about the dining options in Page that Safeway made this list, yet here it is.
Pros: open seven days a week until 11 p.m. The prepackaged food isn't the best, but the fresh-made sandwiches at the deli are our go-to item here.
Unfortunately, the deli stops making sandwiches at 6 p.m., but salads and chicken from the deli make a good meal to take back to your hotel.
There are lots of fruit and veggie plates, and prepackaged salads. And you can always stock up on instant noodles for an easy meal at your hotel. Another bonus: the only Starbucks in town is located inside Safeway if you need a fresh coffee fix.

All in all, Safeway is a convenient place to get food and supplies and can be helpful when every other place in town appears to be closed
Safeway
650 Elm St., Page, AZ 86040
Monday-Sunday, 5 a.m.-11 p.m.
(928) 645 8155

Among the most visited, most photographed, and most fascinating sights in the American Southwest, Antelope Canyon deals almost exclusively in superlatives. With its gorgeous sandstone corridors, spiral rock arches and surreal light shafts, this slot canyon has become a regular feature on travel bucket lists. And like most places worth visiting, planning a trip here asks for a bit of homework. Here's a quick guide on how to get to Antelope Canyon from Las Vegas, Phoenix, and parts of California.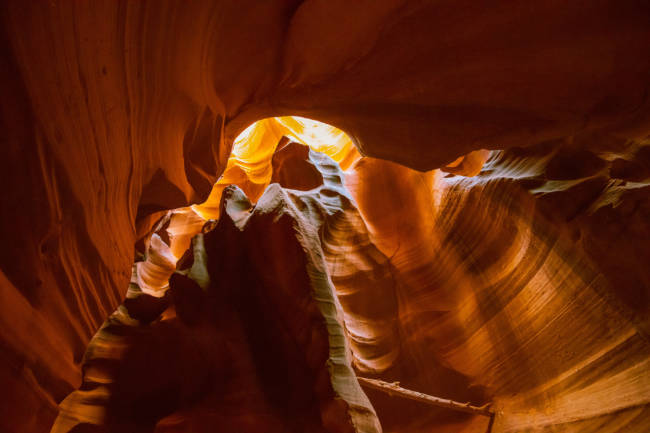 A discrete setting
The enigmatic Antelope Canyon is hidden away amid the desert landscapes of Navajo Nation. This expansive protected area belongs to the Navajo Native Americans and occupies parts of Arizona, Utah, and New Mexico. Antelope Canyon, located in the Arizona section, isn't a landmark that visibly declares its presence. You can't take a commercial flight to get to it, or have GPS guide you to its entrance. You're even required to be in the company of a Navajo tour guide when you visit.
If you're wondering how to get to Antelope Canyon, you basically have two choices. You could opt for a pre-planned Antelope Canyon tour that takes care of the logistics and leaves you free to immerse yourself in the sandstone splendor of the canyon. You can also drive there yourself.
In either case, a road trip through scenic deserts and idyllic towns is pretty much the only way to get there and the experience is totally worth the drive.
Reaching Antelope Canyon from Las Vegas
Las Vegas is a popular starting point for Antelope Canyon tours. The distance between the two locations is just short enough for a day trip. You do, however, need to brace yourself for a 4.5-hour drive each way. The route is picturesque, presenting beautiful desert scenery that goes through subtle changes in form and color as it weaves through Nevada, Utah, and Arizona.
Page, Arizona, the closest town in the vicinity of Antelope Canyon, is a little over 270 miles from Las Vegas. You'd need to make an early start in order to reach Antelope Canyon before mid-day when its light is at its spectacular best. Plus, setting out before sunrise will get you back to Las Vegas by evening, and help you avoid negotiating poorly lit roads at night.
Start your trip from Las Vegas by taking I-15 and heading northeast to cross over into Arizona through Mesquite. After this, a scenic drive up the Virgin River Gorge will take you into Utah. There's an interesting change of scenery here as you move towards "Little Hollywood" Kanab. The landscape suddenly takes on color, transforming into a mix of pink cliffs and sand dunes that have inspired their fair share of filmmakers. In our one-day tour of Antelope Canyon and Horseshoe Bend, we make it a point to halt at Kanab and give our guests a chance to admire its surreal environs.
Page is just about 75 miles east of Kanab via US-89. A town bustling with tourists, especially during the summer, Page serves as the basecamp for a whole bunch of sightseeing excursions. Antelope Canyon and Horseshoe Bend are by far the most popular, though the area has plenty of other options. If you're torn between exploring slot canyons, taking helicopter rides, or enjoying a boat tour at Lake Powell, consider spending the night at Page and heading back to Las Vegas the next day.  This will give you more time to explore Lake Powell, Lone Rock, Toadstools, and more in the area surrounding Page.
That said, there's a lot that you can manage to see even if you're short on time. Our one-day trip from Las Vegas to Antelope Canyon and back, includes an immersive guided tour of both sections of the slot canyon, plus a hike to Horseshoe Bend and a stop at Lake Powell, all interspersed with delicious meals and in-car refreshments, and all wrapped up by dinner time.
Reaching Antelope Canyon from Phoenix
Phoenix, Arizona, is another popular starting point for excursions to Antelope Canyon and Horseshoe Bend. The northward drive from Phoenix, via I-17 and US-89, takes about 5 hours. During the peak season (May-October), this route is dotted with RVs heading up to the canyons and the 'grand circle' of national parks that are all just a few hours away. Summer does offer perfect weather conditions for visiting most of these places, but fall could also be a good choice, especially if you're only visiting Antelope Canyon and would like to avoid the Arizona heat.
Once again, aim for an early start so you get to see the slot canyon at its glorious best. Take I-17 and head north for a little over 140 miles, at which point you'll arrive at Flagstaff. Tourists with time on their hands often make a stop here to visit the Meteor Crater. Flagstaff also serves as a popular basecamp for tourists on weekend trips including both the Grand Canyon and the Antelope Canyon.
You can avoid halting at Flagstaff if you're on a tight schedule. Instead, take US-89 and drive another 50 miles north to arrive at Cameron. This tiny town hosts large numbers of tourists on their way to see the canyons. You can spend a half-hour here to stretch your legs, grab a bite, and browse through Native American arts and crafts at the Cameron Trading Post.
From Cameron, the drive to Page covers about 80 miles. In the interest of time, it may make sense to explore Lower Antelope Canyon first when you take this route. Don't skip Horseshoe Bend, and make sure you save some energy for all the gorgeous sunset shots that await you on your drive back to Phoenix.
How about California?
For visitors trying to figure out how to get to Antelope Canyon from California, we generally recommend setting a few days aside and including the Grand Canyon or Zion National Park in their itinerary. 5-6 days are all you need for a fascinating road trip from Los Angeles, covering Las Vegas, Hoover Dam, Antelope Canyon, and the Grand Canyon. Shorter weekend getaways are also an option. Flying to Las Vegas from California and renting a car is a great way to save some time. 
No matter where you're based in California, the idea is to fly or drive down to Las Vegas, spend the night there, and make an early morning start for Antelope Canyon. Because you'd be embarking on a rewarding but exhausting road trip, make sure you add enough overnight stays to your itinerary. Also, make sure you're at Antelope Canyon before mid-day, because that's when you'll get the best photos of the colorful canyon. 
Have questions about how to get to Antelope Canyon? Ask us in the comments below or send us an email here.
On a trip to Las Vegas, there is so much to see, eat, and do.  It would take you many trips to master the ins and outs of such a vast city.  Lucky for you, we live here and have compiled a list of tips that only a Las Vegas Insider would know. For example:
Save Money and Eat Better Off the Strip
Las Vegas Boulevard is affectionately known as The Strip.  The strip is home to the biggest and most famous hotels. It is also home to a slew of outrageously priced restaurants.  Even the supposedly moderately priced normal restaurants will cost you a pretty penny, and a meal at one place with a celebrity chef could blow your budget for the entire trip. The way to avoid this? Eat off The Strip.  It comes as a shock to many, but there is life off The Strip. All of our favorite restaurants are off the strip. Even factoring in the cost of an Uber or Taxi, you can have an amazing meal for a fraction of the cost of a meal on the strip. Don't believe us? Check out these cheap and delicious off-strip restaurants.
 Don't Pay for Parking
One of the most frustrating developments of late in Las Vegas is the implementation of paid parking.  While parking used to be free in all Las Vegas hotels, most of them will now charge up to $30 a day to park in their garages. Valet parking also used to be free, but most major hotels on the Las Vegas Strip charge for valet parking.  With so many of our guests driving in from Los Angeles, we are always on the lookout for ways to avoid these outrageous extra fees. How to avoid them? Park in hotels that still offer free parking. We like Treasure Island and Planet Hollywood for free parking, but for an updated list of where to park for free, check here.
Go to the Top of the Stratosphere for Free
If you want to get the best view in Las Vegas, head to the top of the Stratosphere. If you want to do it for free, read on.  The cost to go to the observation deck ranges between $20-$25 depending on when you go. There is another option: The 107 Skylounge.  This is the bar on the 107th floor of the Stratosphere Tower. They have a great happy hour from 4 to 7 with half-price appetizers and 2-for-1 drinks. How to go for free?  Take the elevator to the bar, walk around a few times, take in the view, decide you don't want to buy anything, then take the elevator back down. If you do stay for some drinks and food, get the info here.
 Taking a Taxi from the Airport? Don't take the highway
Despite the relative closeness of the airport to the Strip, getting to your hotel can still be a pain.  The most convenient option is to exit your airport terminal, step outside, and jump in the taxi line. We usually recommend on using Uber or Lyft to get around Las Vegas, but getting from the airport is one place we recommend taking a taxi.
When you take a taxi to the Strip from the Airport, there are two routes.  One of them is twice as long as the other, and it involves driving on the highway. The taxi drivers are always eager to take you on the highway to drive up the fare.  When getting in your taxi at the airport, your driver may ask you if you want to take the highway or the local roads. Don't answer highway! It may sound faster, but it is about the same time but a much greater distance. If they don't ask you this question, tell the driver "Please use local roads and avoid the tunnel and highway"
Read more about long hauling here.
At MaxTour we spend hours every week booking travel and searching for the best deals for our guests. As the travel industry has moved online, we have been right there with it, using a variety of online tools and websites to help give our guests amazing experiences here in the United States. Below are some of our favorite websites and apps we use for traveling around the US. If you are planning some travel in the United States, use the resources below to help you get started. If you are a travel veteran, let us know about your favorite travel websites and apps in the comments!
Accommodation
We like Hotels.com for a variety of reasons. They have a wide selection of hotels at reasonable prices. Their booking terms are favorable. For most properties, you can book now and pay when you check in. They usually give you free cancellation up to 24 or 48 hours before you check in. If you start to book rooms using Hotels.com, make sure you sign up for their rewards program. It is free to sign up and after booking 10 rooms you will get a room free.
There are many websites available to book homes for your vacation, but we like AirBnB the best. Airbnb offers a diverse selection of accommodation options, the most popular being entire homes, as well as single rooms for rent in other peoples homes. Booking homes with Airbnb works best for families or people traveling in groups. For families or groups, using Airbnb can save you a decent amount of money compared to booking many separate rooms in a hotel. Also, you can cook meals at the house, saving money on big restaurant bills.
If you have never used Airbnb before, there are some things you need to know before making your first booking.
Be careful about extra fees. Many places can have a low per night cost but after cleaning and service, fees can double the price. So always ask about extra fees before deciding on a place or booking one.
Never book a place that doesn't have any reviews. We recommend at least 4 reviews on a property before booking. Check reviews carefully before booking to make sure you are getting the quality you are looking for in your rental.
If you are concerned about being cheated or scammed, Airbnb has some measures in place to protect you. After you book, your money is held with AirBnB until 24 hours after you check in. If there is a problem you can contact the company to resolve it.
When using AirBnB, remember that it is NOT a hotel. You are renting someone's home and the service is different than a hotel. Don't expect someone to make up your bed every morning. Try to keep your scheduled time of meeting your host. Treat the rental with the respect you would give to a friend's home. If you keep all of this in mind and follow these tips, we think you can have a fun and rewarding experience staying in a local's home while saving some money in the process. Have questions about using Airbnb? Feel free to reach out in the comments below.
Flights
Google Flights is our go-to website for searching for flights. They are consistently able to find the cheapest fares, along with providing a few other tools that make shopping for a flight easier. One of our favorite tools is the ability to find the cheapest flight spread out over a period of time. Let's say you want to book a flight from Las Vegas to New York. You know you want to go next month, but aren't sure exactly when you will go. With Google Flights, you can enter you the cities you want to travel to and see a calendar showing the cheapest tickets between these cities going forward for months. This is just one of many features that make Google Flights our go-to website when booking flights.
Insider Tip: Always search for flights using your browser's private or incognito mode. Flight searching software is known to track your searches and show you higher prices the second and third time you search. They intend to trick you into thinking the price is going up so that you buy quickly.
Southwest is one of our favorite airlines in America. 2 free checked bags and no charges for flight changes are just two of the reasons we love to fly using Southwest. They don't put their flights on the big flight searches like Google Flights and Expedia, so the only way to check their prices is to visit their website. Las Vegas is one of their main hubs, making travel particularly convenient for us here in Sin City.
Insider Tip: Southwest doesn't allow you to preselect your seats. Instead, they put you in boarding groups, A, B, and C. A boarding group boards the airplane first, followed by B, then C. To get in the highest boarding group possible, set a reminder for exactly 24 hours before your flight is scheduled to depart. Then go to Southwest.com and check in for your flight. You will probably get put in the A boarding group, with a high B boarding group at worst. And you will avoid the dreaded C boarding group.
Deals
Flying internationally can be expensive. What's more, tickets between two destinations can vary widely in their prices depending on the time of year. If you are flexible with your travel plans, we highly recommend Scotts Cheap Flights. Scotts Cheap flights searches the internet everyday for the best and cheapest international flights. They then send them to you in an email. Some examples of great deals they have found : San Francisco to Bali for less than $400. They have found flights from Shanghai/Beijing to the United States west coast for less than $500.
Insider Tip: They have a free and paid version of the email. Unless you like to travel internationally many times a year, the free version works fine.
Travelzoo
Travelzoo is an email deals newsletter we have been using for more than 10 years. They scour the internet every week for the absolute best deals in travel. They have deals for hotels, vacation packages, dining, and activities. You can choose your region and city to get deals that are localized for your area. It is very simple. Sign up with your email, enter your region and city, and wait for the deals to roll into your inbox.
Local Transportation
Uber
Uber is a must have app for the modern traveler. Use it to conveniently get around in cities that may be unfamiliar to you. We always recommend that our users use Uber instead of local taxis.
Google Maps for Public Transportation
Public transportation can be a great way to see a new city and save money at the same time, but can be confusing if you don't know how it works. Enter your destination in your Google Maps app and press the blue circle. If it isn't already chosen, look at the top for an icon of a train and press it. This will show you the fastest options to reach your destination via public transportation.
You can also use Google Maps to help you walk around a new city. Instead of using the train icon, use the walking person icon to learn the best walking route to your destination.
Finding Restaurants
While we love using apps to find hot new places to eat, word of mouth recommendations are our favorite method for getting good food. For example, Chengdu Taste is probably the best Chinese restaurant in the city, and yet they are rated 4 stars on Yelp and 8.2 on Foursquare. So if there is someone you trust, take their recommendation over that of strangers on an app. If you are new to a city and don't know anyone, check out these apps:
Yelp is the most popular app/website for finding good places to eat. They rate restaurants on a 5 star rating scale, so 0 stars is the worst restaurant and 5 stars would be the best. We usually recommend that our guests stick to restaurants rated 4.0 or higher. There are a lot of bad restaurants in the United States, and using Yelp can make sure you don't end up eating at one.
Foursquare is similar to Yelp. We like their rating system better. It runs from 0 to 10, and it uses the decimal system so you can see the difference between a restaurant rated 7.1 and 7.9. Yelp doesn't have the decimal system and you end up with a ton of places rated 4 stars and it's hard to get a true reading on which one is better. We also like Foursquare when we travel internationally as it rates restaurants in almost every country. When evaluating restaurants on Foursquare, a 9.0 or higher rating is usually an amazing place to eat, 8.0 and higher is a good place to eat, 7.0 or higher can be good if it is the only option. We rarely go to places rated below 7.0