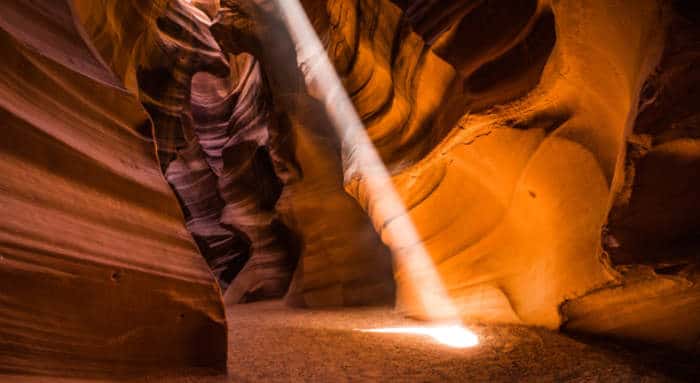 Lower vs. Upper Antelope Canyon-2021 Update
Last Update on
August 11, 2019
Antelope Canyon is a magical place. This slot canyon in northern Arizona is situated on land owned by the Navajo Nation. It's divided into two sections: Lower Antelope Canyon and Upper Antelope Canyon.
The two sections are similar but bear some important differences. One of the main questions we get from our guests is, What is the difference between the two — and which one should I choose?
The answer depends on the experience you are looking for.
Read more to see whether Upper Antelope Canyon or Lower Antelope Canyon will better suit you.
Where is Antelope Canyon?

Antelope Canyon is located in northwest Arizona, just outside the city of Page.
It's quite a drive from all major cities, clocking in at five hours from Las Vegas, four hours, 15 minutes from Phoenix, and six hours from Salt Lake City.
The airport in Page has flights to and from Phoenix and Las Vegas.
What are the similarities between Lower vs Upper Antelope Canyon?

Before we talk about the differences, it's important to keep some similarities in mind.
They are both part of the same canyon and were formed in the same way. Neither of them can be visited independently — to see the canyon you will have to join one of the tours hosted by a few local Navajo tour companies.
Both the Upper and Lower Canyon are quite popular, and tickets can be hard to find during holidays, weekends, and the high season from April to September.
What are the differences between them?

One main difference is how you enter each section of the canyon.
You must descend four sets of stairs to reach the bottom of Lower Antelope Canyon.
There is a separate exit that goes out the back of the canyon, so the hike though Lower Antelope is a one-way journey.
Upper Antelope Canyon has a large canyon mouth leading straight into the canyon. This mouth is also the exit, meaning you backtrack and exit the same way you came in.
This means Upper Canyon is more crowded than Lower Antelope Canyon because it's done as a loop, there are people doubling back to leave the canyon at the same time people are walking through the canyon. Lower Antelope Canyon is one-way, so there will be fewer people at any one time.
At 1,335 feet long, Lower Antelope Canyon is more than double the length of the Upper Antelope's 660 feet. However, Upper Antelope Canyon is wider.
Guests who have trouble navigating stairs usually prefer Upper Antelope Canyon. It is more accessible, having no stairs or elevation changes.
At more than double the length, Lower Antelope Canyon takes much longer to walk through, but you get to see much more. Every turn brings a different curve in the wall or a new rock formation to take in.
With the stairs, elevation changes, narrow passages and overall length, a tour of Lower Antelope Canyon is more physically demanding — and also more fun and adventurous.
Are you looking for personal or landscape photos?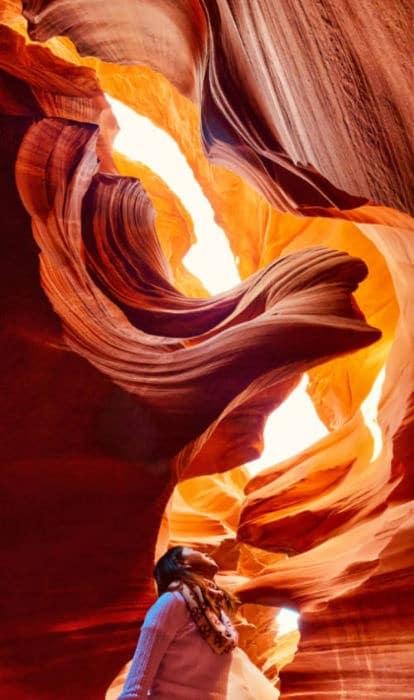 In 2018, Lower Antelope Canyon stopped running photography tours. As of December 2019, Upper Antelope Canyon also stopped operating their photo tours.
With no options for photography tours, all photos will have to be taken on the move without tripods. There will be other people to contend with and the time will be short.
To get great photos of you inside the middle of the canyon without other people in your shot, Lower Antelope Canyon is your best bet. See the above and below photos for an example, these were taken on my last visit to Antelope Canyon in December 2019.
For pure landscape photos of Antelope Canyon, Upper Antelope Canyon is a better choice, the wider canyon comes out better in landscape photos.
What about those famous light beams?

The light beams shooting from the sky are one of the most recognizable images of Antelope Canyon. Many people are interested in taking photos of them.
The light beams can be seen best at Upper Antelope Canyon.
It's possible to get a photo of the light beams, but to get the best shots, you should join a tour between 11 a.m. and 1 p.m. in May, June, July, August, or September.
With photo tours no longer operating, it will be hard to get a full shot of the light beam. The classic photo that you have seen of the light beam is created by tour guides throwing dust into the air. It is this dust that catches the light coming from the sky to create the famous photos with that distinct "beam" look. On the normal sightseeing tour, there will be no dust thrown into the air, and no full photos of the light beams.
Please note, light beams won't be visible on cloudy days.
Lower Antelope Canyon can also get light beams in the summer months. They can best be seen in June, July and August between 10:30 a.m. and 1 p.m., but they aren't very pronounced and won't have dust in them.
Please keep in mind that the light beams can be overrated. First-time visitors think they are going to be walking down the canyon, turn a corner, and see this: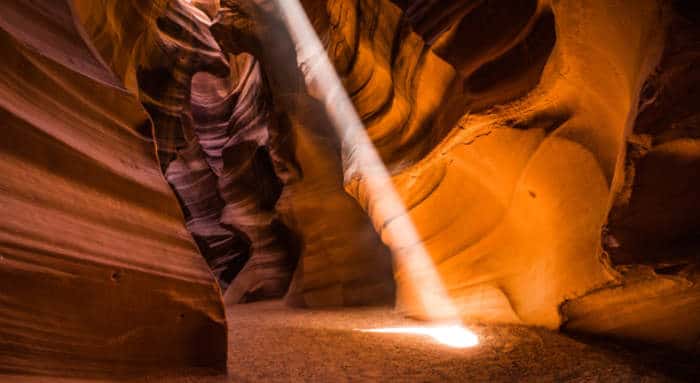 The reality is that shots like this are carefully staged and heavily edited afterward.
Who should choose Lower Antelope Canyon?

People who like adventure, enjoy walking and hiking, aren't scared of stairs, and want great photos of themselves in the canyon without any other people in the shot.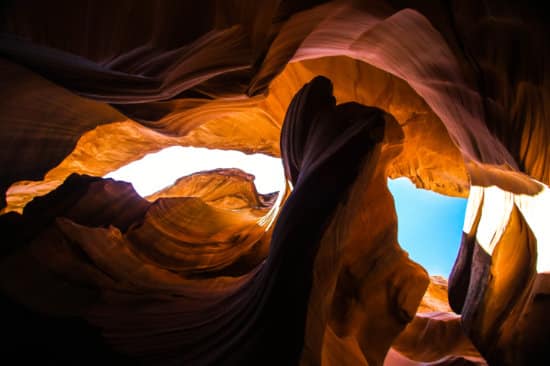 Who should choose Upper Antelope Canyon?

People who have mobility issues or feel unsure on stairs.
The entrance to Upper Antelope Canyon is flat and easy for all guests to access. There are no stairs, and there isn't any elevation change as you walk through the canyon.
If you have trouble with your knees or back and have trouble climbing up or down stairs, Upper Antelope Canyon is the one you should choose.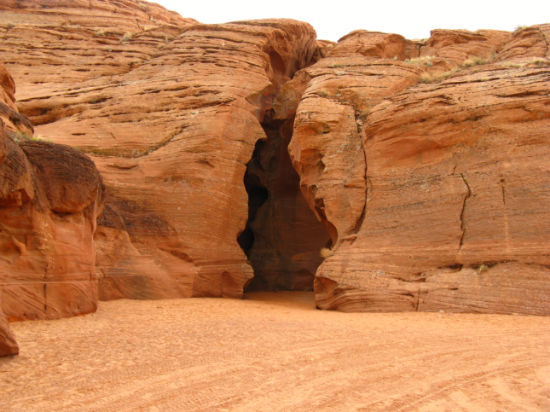 Booking Tickets

Tickets are required to tour Antelope Canyon. These tickets can sell out very early, so it is best to plan ahead and book your tour well in advance.
If tickets are sold out, check back regularly. Tickets usually appear in the weeks and days leading up to a tour.
Be wary of booking tickets through third-party websites and try to book directly with the tour operator, they have burned many travelers. The most secure option is to book direct.
If you are stuck in Page and still don't have any tickets, Lower Antelope Canyon has a pretty good standby list that can get you a spot in a tour if you don't mind waiting for a while.
Here are the options for booking Antelope Canyon tickets directly with the local tour operator:
Lower Antelope Canyon:
Kens Tours:
Dixie Ellis:
https://antelopelowercanyon.com/
Upper Antelope Canyon
Adventurous Antelope Canyon Tours:
https://www.navajoantelopecanyon.com/
Antelope Canyon Navajo Tours:
https://www.navajoantelopecanyon.com/
Antelope Canyon Tours:
https://www.antelopecanyon.com/
Antelope Slot Canyon Tours:
https://antelopeslotcanyon.com/
For an updated list of companies giving tours of Antelope Canyon, this is the definitive source: https://navajonationparks.org/guided-tour-operators/antelope-canyon-tour-operators/
Conclusion

You can't go wrong with a tour to either Lower or Upper Antelope Canyon.
If you are physically fit enough to go up and down the stairs with some moderate walking in between, we definitely think you should choose Lower Antelope Canyon.
If you are passionate about photography or have mobility issues, Upper Antelope Canyon might be a better choice.
ABOUT THE AUTHOR
Matthew Meier
World Traveler. Mandarin Speaker. Founder of MaxTour.