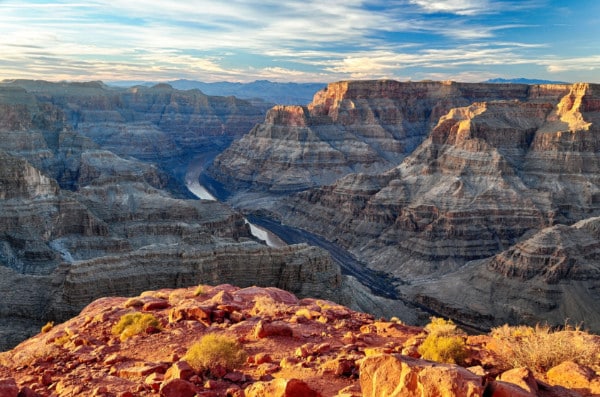 Shortest Grand Canyon Tours
Last Update on
March 09, 2022
Taking a trip to the Grand Canyon doesn't need to be a long, drawn-out trip. There are options to get you up to the Grand Canyon for a day of exploring and back for a night of fun.
There are 3 different rims that you can visit at the Grand Canyon: North Rim (269 miles from Las Vegas), South Rim (278 miles from Las Vegas), and the West Rim (125 miles from Las Vegas). Obviously, if you are trying to make your trip to the Grand Canyon short, the West Rim is the way to go. With only two major stops to visit, the West rim makes for a great quick visit. All major sites can be seen within 2 hours.
When talking about tours to the Grand Canyon, there are 3 main categories of tours: Bus Tours, Small Group/Van Tours, and Air Tours. The price and length can vary greatly among these different types of tours.
Shortest Grand Canyon Small Group Tours
In between cheap bus tours and pricey air tours, there lie small group tours. These tours use SUVs, Jeeps, or touring vans and are usually limited to no more than 14 people. These smaller groups help keep the tour more quick and nimble, photo stops or rest stops can go much faster with 13 instead of 55 people. Here are your best options:
Price: $169
Duration: 9 Hours
While this tour has half-day in the title, it is more like a full day with a late start. All in all, though, this looks is an amazing package and a great value. Direct hotel pickup is included, plus a photo stop at the Hoover Dam. The VIP refers to the Grand Canyon portion of the tour, instead of being forced to use the park's shuttles to get around, you will stay on your tour van and be guided to the different stops.  This tour also leaves later than almost any other, with a 10 AM departure. For more in-depth small group tours that leave earlier, see more Grand Canyon tours here.
Shortest Grand Canyon Bus Tours
In general, a bus tour isn't the way to go to the Grand Canyon if you are trying to make your trip quick. Buses not only move slowly but they are loaded with 50+ people, which makes every stop extremely slow as you wait on everyone to get on and off and get on with their business. Bus tours are notoriously slow during the pickup process as well, having to go around and pick up 50 people, or having to switch busses at a central processing station. That being said, bus tours have one huge advantage: price. Many times you can find tours for less than $90, which is an outstanding deal. So if you are looking for a budget tour to the Grand Canyon that doesn't take the whole day, here are your best options:
Absolute Shortest Bus Tour
Price: $149
Time: 7 Hours
Clocking in at 7 hours, this is one of the shortest tours to see the Grand Canyon if you are limited on time and budget. With 5.25 hours of driving, you will have 1.75 hours to explore the Grand Canyon, which is just enough to check this wonder of the natural world off of your bucket list. As the latest tour to the Grand Canyon, this could also be a good option for anyone who is planning an especially late night the night before their tour.
A Cheaper Short Bus Tour
Grand Canyon West Rim With Hoover Dam Photo Stop From Las Vegas
Price: $97
Duration: 10.5 Hours
While it is hard to classify a tour lasting more than 10 hours as "short", this is the shortest budget tour to see the Grand Canyon. If your two biggest requirements are time and cost, this is the way to go.
Shortest Grand Canyon Air Tours
If you are really short on time and your budget is not a limiting factor, this is the way to go! These airplane and helicopter tours will pick you up at your hotel and take you to the nearby airport, where you will board your aircraft for your flight to the Grand Canyon. There are many different ways to see the canyon from the air, here are the shortest ones in three different categories.
Shortest Fly Over the Grand Canyon Tour
Grand Canyon West Rim Luxury Helicopter Tour
Price: $399
Duration: 3 Hours
This tour clocks in as the absolutely shortest trip to the Grand Canyon. At only 3 hours total, you can fit it in in only half a day. And the trip is amazing, getting to see Vegas, the Hoover Dam, Lake Mead, plus flying over the Grand Canyon for 30 miles! This tour departs from the main LAS airport, which is next to the Strip, so you won't waste precious time on transfers to further airports like some other air tours.
Shortest Land On The Floor Grand Canyon Tour
Grand Canyon Helicopter Tour from Las Vegas with Champagne & Light Picnic
Price: $499
Duration: 3.5 Hours-4 Hours
Another quick and easy way to see the Grand Canyon, this one ups the ante with a landing and picnic on the floor of the Grand Canyon! This tour uses sleek aircraft and looks like a solid option for travelers short on time.
Shortest Grand Canyon Skywalk Tour
Grand Canyon Helicopter and Eagle Point Rim Landing Tour
Price: $532
Duration: 4.5 hours.
This tour gives you a similar expereince as the bus and van tours, minus the whole day sitting in a bus or van! Fly up to the Grand Canyon, where your pilot will land and give you a chance to walk along the rim of the Grand Canyon and go out on the Skywalk for an additional charge. A great option to see the Skwwalk without spending too much time doing it.
Shortest Grand Canyon National Park Tour
Grand Canyon South Rim Air and Ground Tour from Las Vegas
Price: $549
Duration: 9.5 hours
The South Rim of the Grand Canyon is a 5 hour drive, making any ground-tour out there at least a 15 hour day. Trying to avoid that drive? This tour is the answer. An airplane flight from Boulder City to the Grand Canyon National Park Airport is followed by a hummer tour of some of the most majestic points at the South Rim. 
Bottom Line
There are many options to get you out to the Grand Canyon and back quickly. The fastest options are via helicopter but come with a steep price tag. For a more affordable and longer option, try a small group tour to maximize your time and your budget.
ABOUT THE AUTHOR
Matthew Meier
World Traveler. Mandarin Speaker. Founder of MaxTour.