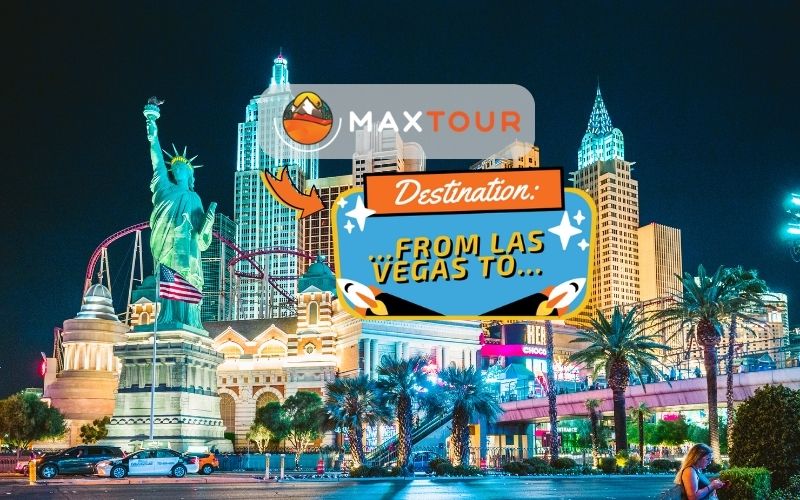 State Parks Near Las Vegas
Last Update on
November 01, 2023
Las Vegas, often dubbed the "Entertainment Capital of the World," is renowned for its vibrant nightlife, world-class shows, and iconic casinos. But did you know that just beyond the neon lights and bustling streets, there are some incredible state parks offering a nature lover's paradise? In this blog post, we'll introduce you to these natural gems and also tell you about our thrilling Bryce, Zion, Antelope Canyon, Grand Canyon, and Monument Valley 3-Day Tour, which explores state parks near Las Vegas..
1. Valley of Fire State Park
If you're in Las Vegas and looking for an easy escape into the wonders of nature, Valley of Fire State Park is a mere hour's drive away. This park lives up to its name with its fiery red sandstone formations that appear to be ablaze under the sun's rays. Explore the vibrant Aztec sandstone and the iconic Fire Wave for fantastic photo opportunities. Witness the petroglyphs at Atlatl Rock, a testament to the park's ancient history.
2. Red Rock Canyon National Conservation Area
A short drive from the Las Vegas Strip brings you to Red Rock Canyon, a haven for hikers, rock climbers, and nature enthusiasts. The park boasts a stunning 13-mile scenic drive, offering countless opportunities for hiking and rock scrambling. Keep an eye out for the famous Keystone Thrust, a geological phenomenon that's not to be missed. Red Rock Canyon's vibrant landscape provides a striking contrast to the city lights.
3. Lake Mead National Recreation Area
Lake Mead offers a refreshing escape from the desert heat. This massive reservoir created by the Hoover Dam is ideal for water-based activities, including boating, fishing, and swimming. The park is also a great place for picnics, hiking, and wildlife watching. With its unique blend of desert and water landscapes, it's a one-of-a-kind destination.
4. Spring Mountain Ranch State Park
Nestled in the Red Rock Canyon National Conservation Area, Spring Mountain Ranch is steeped in history. Once a working ranch and luxury retreat, it's now a park that offers glimpses into the past. Explore the ranch house, walk the trails, and enjoy a picnic amid the picturesque setting. The park frequently hosts cultural events and outdoor theater performances.
5. Toiyabe National Forest
If you're up for an extended adventure, the Toiyabe National Forest is a sprawling natural paradise just outside Las Vegas. This forest covers over six million acres and provides opportunities for hiking, camping, fishing, and wildlife viewing. It's a serene escape where you can reconnect with nature in a variety of ways.
Embark on a 3-Day Journey Through the Southwest
Now that you're acquainted with these incredible state parks near Las Vegas, it's time to take your adventure to the next level. Our Bryce, Zion, Antelope Canyon, Grand Canyon, and Monument Valley 3-Day Tour promises an unforgettable exploration of the region's natural wonders. Over the course of three days, you'll visit the awe-inspiring Bryce Canyon and Zion National Parks, explore the captivating Antelope Canyon, gaze into the abyss of the Grand Canyon, and step into the world of John Ford's westerns in Monument Valley.
Our tour takes you on a journey through some of the most stunning landscapes in the American Southwest. From the red rock formations of Bryce Canyon to the towering cliffs of Zion National Park, the tour is a photographer's dream. In Antelope Canyon, you'll witness the mesmerizing play of light and stone, capturing incredible moments that will last a lifetime. The tour also includes the jaw-dropping vistas of the Grand Canyon and the iconic buttes of Monument Valley.
This three-day adventure is a perfect blend of nature's beauty and cultural richness, and it's your ticket to an unforgettable experience.
Conclusion: From Neon Lights to Natural Delights
Las Vegas offers more than just glittering lights and bustling casinos. The nearby state parks and natural wonders allow you to escape the city's hustle and experience the tranquility and beauty of the great outdoors. Whether you're drawn to fiery sandstone formations, serene lakes, historic ranches, or lush forests, the parks near Las Vegas provide a wealth of opportunities for exploration. And when you're ready to take your journey to the next level, our Bryce, Zion, Antelope Canyon, Grand Canyon, and Monument Valley 3-Day Tour awaits to transport you into the heart of the Southwest's most captivating landscapes. Don't miss the chance to discover the hidden gems that surround Las Vegas, where nature's beauty is as awe-inspiring as any neon-lit spectacle.
ABOUT THE AUTHOR
Marko Milin