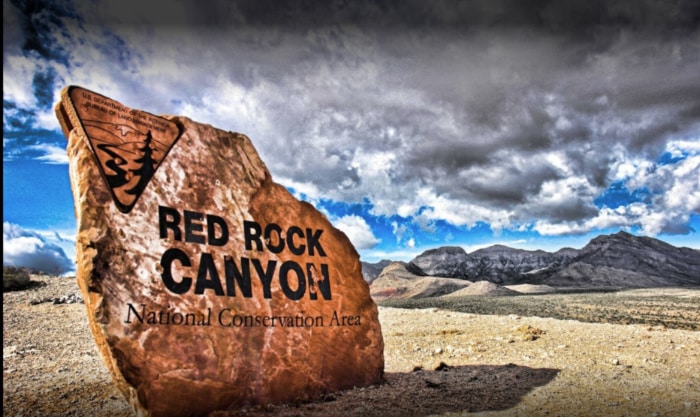 The 5 Best Hikes at Red Rock Canyon
Last Update on
November 16, 2020
If you're in Las Vegas and you'd like to see a beautiful National Park and you don't want to spend hours on the road, Red Rock Canyon is the best place to go. This nearly 800 km2 Park is so popular that over 2 million visitors go there every year.
In fact, Red Rock Canyon isn't technically a National Park - it's a 'National Conservation Area', but the difference here seems to be mostly in the name.
The difference has nothing to do with size since the total size of Red Rock Canyon is bigger than Zion and Acadia National Parks combined! The crucial difference seems to be that National Parks are managed by 'The National Park Service', and National Preserves are managed by 'The Bureau of Land Management'. If these distinctions pique your curiosity, or for any other information on US National Lands and Park distinctions, click here.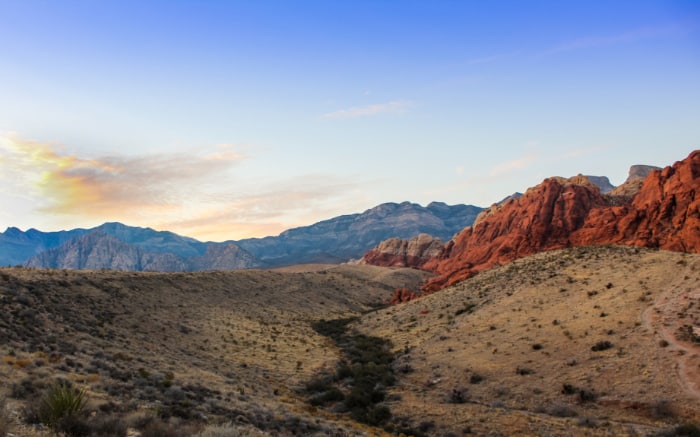 Before you get all excited and hop in your rental car for Red Rock Canyon the first thing that you want to do is to download The Red Rock Canyon Keystone Visitor Guide.
It has a lot of small and pithy information about the entire park; this includes what kinds of animals you can expect to see there, details about all the trails, a map of the park, seasonal info, and some geological history! The only things it won't tell you are the trails that you definitely don't want to miss out on. Lucky for you, we have you covered for Red Rock hiking in this guide.
How To Get There
For hikers, the best way to get to Red Rock is by rental car. You can make the 30-minute drive from the strip, and you can check out all the trails you want.
You pay a 1-time entry fee of $15 per car or you can enter for free using your America the Beautiful National Park Pass.
Make sure that you have enough gas in your car because there are not any gas stations in the park. You will start your trip on the 'Scenic Loop' which is a 21km 1-way loop – which means once you begin driving on it you have to finish the loop; you can't turn around. Because of this, drive slow so that you don't miss anything. Speaking of that, the very first thing you'll see right when you begin the loop are signs for The Visitor Center.
The Visitor Centers at National Preserves/Parks are usually places that people opt to skip given a limited timeframe but we'd advise against that here – this Visitor Center is a must-see stop!
The Visitor Center features both an indoor and an outdoor exhibit.
The indoor exhibit has a short film that you can watch with interesting information about the geological history of the park, a gift shop, and a few Rangers that can answer all of your questions and give you suggestions on what to do there based on your interests.
The outside exhibit has a beautiful view of the Park and has an air, earth, water, and fire theme which includes lots of desert plants & flowers, a history of the Mojave desert, and a live desert tortoise exhibit!
When you leave The Visitor Center and get back on the loop, and start heading to your first hiking destination. Where should that be?
Hiking
In total there are about 26 official trails at Red Rock Canyon, which add up to about 50km in total length. You probably won't have time to do all of them, so I'm just going to tell you about 6 of our all-time favorites here at MaxTour. I'm going to list the hikes in order of where you'll see them as you make your way around the loop. Fortunately, you can find all the best hikes in just 3 areas.
1. The Sandstone Quarry Area
Calico Tanks
The very first hike in our recommendation list is right off of the 3rd stop on the loop (Sandstone Quarry).
This 4km (round trip) hike is one of our favorite hikes at Red Rock because the trail is easy to follow, it's beautiful, and it's easy enough for anyone who's in decent physical shape to do.
Not recommended for younger kids, but older kids with lots of energy and some balance will be fine.
This hike begins in the open sandstone area and then soon directs you towards a closed-off sandstone canyon.
If you have any concerns about navigating this trail click here. You'll know that you've reached the end of the trail when you reach a pit/tank which is seasonally filled up with water (making it look like a small pond).
Turtlehead Peak
You will find this trailhead right next to the Calico Tank Trail.
This is a great 8km (round-trip) trail for anyone looking for a tough trail to traverse (this trail isn't recommended for children). You'll be ascending the trail about 830m to the summit, about 1834m above sea level. Up here you will have a fantastic panoramic view of the entire canyon. If you have any concerns about navigating this trail click here.
Related Reading: The 5 Best Hikes in Las Vegas
2. The Lost Creek / Ice Box Canyon area
Lost Creek Children's Discovery
You can find this next trail near the Willow Spring Picnic/ Lost Creek area.
If it isn't obvious already, this is a very easy trail that people can do with their young kids (it's only about 1.2km round-trip).
There are many trail makers here, along with signage about the local habitat.
Seasonally there is a small waterfall appropriately called 'The Lost Creek Waterfall' at the end of the trail.
If you have children and want them to have more of an educational experience while they're on the trail then you may want to print this out beforehand.
Related Reading: The Best US Websites and Apps
SMYC Trail
If you have small children that have lots and lots of energy but want a longer adventure than the Lost Creek Children's Discovery, then do this trail instead.
The SMYC trail is located right next to the Lost Creek Children's Discovery Trail. We really enjoy this 3.5km (round-trip) trail because the scenery is great, you get to see a lot of desert plants/flowers, and you'll occasionally see some burro's, bighorn sheep, and small lizards along your journey.
If some people in your group want to hike the SMYC trail, and some don't, then the best thing to do is have the hikers begin the SMYC Trail at the northern end of the trail (at Lost Creek) and then work their way southward down the trail until it intersects with the Ice Box Canyon parking area (which it conveniently will).
The person who's feeling lazy (or the volunteer designated driver) can then drive from the Lost Creek Parking area to the Ice Box Canyon area and pick up the hikers!
Ice box Canyon
This trail is also conveniently located in the same region as the above 2 trails - in fact, you can head southbound on the SMYC trail and then pick up the Ice Box Canyon trail midway.
This 4km (round-trip) trail is considered difficult and isn't recommended for young kids (but pets should be fine).
If you're lucky enough and go during the right season(December-April), then you'll get to see a waterfall at the end of your hike! If you're really intent on seeing a waterfall then call the Park ahead of time and ask them if it's flowing. The number is (702) 515 – 5050).
3. Ash Spring / Kraft Boulders Area
The Kraft Mountain Loop
Ironically enough, our absolute favorite trail at Red Rock isn't in the park, it's right outside of the park so if you only wanted to hike this trail, you wouldn't have to pay a fee and drive around the 21km loop.
This 5 – 5.5km loop is difficult if you aren't in shape. As you will see in the link, you begin by hiking up and over the side of Kraft Mountain before you go down into a canyon which takes you around the entire mountain and then back to the parking lot area.
You'll also be going up and down over some boulders so bring your ' A ' game (and your hiking shoes!). The mountains here look otherworldly and present a great photo-taking opportunity.
Concluding Remarks
NOTE: If you want to do anything special at Red Rock Canyon (like rock climbing or camping) then it's in your best interest to call first. The number is (702) 515 – 5050. Looking for a, ahem, grander experience? Check out our Grand Canyon Tours.