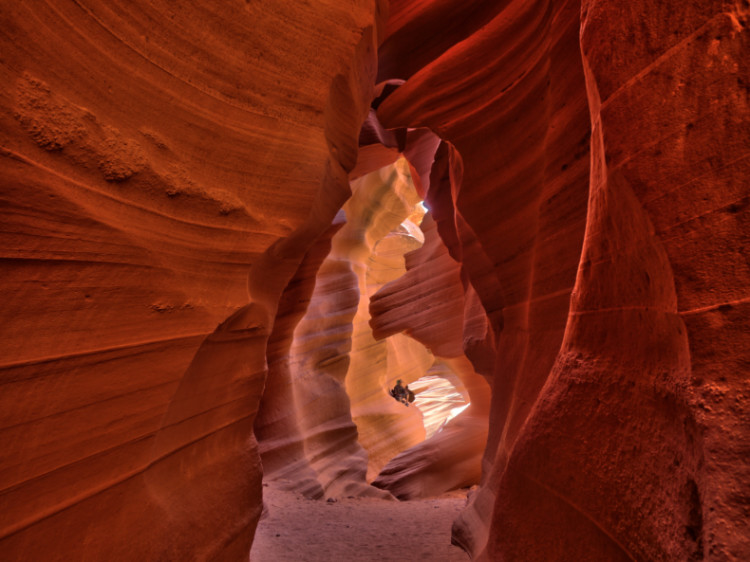 Antelope Canyon Reservation
Last Update on
August 09, 2022
Antelope Canyon is a world-famous slot canyon on the Navajo Indian Reservation in Arizona. The canyon formed due to flash flooding that eroded the Navajo Sandstone in the area.
Antelope Canyon is known for its breathtaking pictures inside the canyons, where the sunbeams shine through and reflect gorgeous coloring on the canyon walls.
Its beauty and uniqueness are second to none, but if you want to visit you will need more information on the various canyons that make up Antelope Canyon and especially how to reserve them.
Antelope Canyon Areas
Five separate canyons make up the whole Antelope Canyon. You need a reservation to tour all canyons. These include:
Upper Antelope Canyon
Lower Antelope Canyon
Snake Canyon
Owl Canyon
Mountain Sheep Canyon
Most visitors stick to the Upper and Lower Antelope Canyons, but each area has its beautiful landscape and would be worth your while to visit.
Since it is on the Navajo land, be prepared to pay a Navajo Nation Fee with your tour ticket price. Here, we will cover the Upper and Lower canyons.
Upper Antelope Canyon Reservations
Upper Antelope Canyon, also known as The Crack, is a very popular location because there is not a lot of climbing required. Many families choose to sightsee in this location. You should know that tour guides are required for this region, but there are a few popular tour guide services for this area. These include:
Antelope Canyon Tours, Inc. 
Tsebighanillini Tours
Antelope Slot Canyon Tours 
Antelope Canyon Navajo Tours 
Each tour has various options like sightseeing tours, hiking tours, and packages including tours of many canyons in the area. Most companies offer services daily. The entry fee is 8 dollars a person as well.
You must reserve in advance, preferably online, and it will cost about $100 per person to sign up for a hike in and out of the canyon. Remember, when you hike in this area, you are on Navajo-owned and operated lands. You must abide by their rules and regulations!
Check the weather before you go on your hike.
Wear layers because the canyon is shaded no matter the season. Wear close-toed boots or shoes on the hike, and always wear your sunscreen. Lastly, be on time and present at the designated meet-up area, so you do not miss your tour!
Lower Antelope Canyon Reservations
Lower Antelope Canyon is not as popular as The Crack, but tours are a little less expensive, so if you are on a budget and still want to experience the wonder of Antelope Canyon's iconic sandstone structures, a visit to the Lower Canyon might be for you.
Here are a couple of businesses that offer reservations to tour Lower Antelope Canyon:
Ken's Tours Lower Antelope Canyon 
Dixie's Lower Antelope Canyon Tours
Both options offer tours of the Lower Antelope Canyon and will cost you about $50 per guest. Fun fact: Dixie's has a 100% refund policy if the park or service closes for any reason!
As with the recommendations for Upper Antelope Canyon, wear closed-toed hiking shoes, dress in layers, and be at your tour meet-up location on time.
Frequently Asked Questions
Read more for the answers to a few FAQs regarding various tours in Antelope Canyon.
How strenuous is the hike during the tour?
Most tours in Antelope Canyon require moderate anaerobic fitness and agility. You will be hiking on an incline, and through small slots in the canyons, so you want to be able to maintain balance during these parts. It is also necessary that you can make it a few miles without needing many rests or breaks to be able to participate in these tours.
When should I visit?
The best time to visit this part of the country is Spring or Fall. During these peak seasons, you should schedule your hike at the beginning of the day or the end of the day to avoid the time of day with the highest heat.
How Can I get there?
To see Antelope Canyon, you need to get to the gateway city of Page, AZ. There are many tours from surrounding cities, a few direct flights, but renting a car is going to be the easiest way to visit Page. If you don't like the idea of driving, check out an Antelope Canyon Tour from Las Vegas.
Can I bring a pet?
Unfortunately, pets are not allowed in the hiking areas of Antelope Canyon. This includes service animals, therapeutic animals, and kenneled animals.
Can I hike without a tour guide?
No, you may not hike without a tour guide. The guide must be present with you and your group at all times throughout the tour.
How do I make a reservation for an Antelope Canyon Tour?
Visit any of the sites we listed in this article or visit the Navajo Nation Parks site to make a reservation online. Rember, the most important part of our tour is making sure you secure tickets for Antelope Canyon.