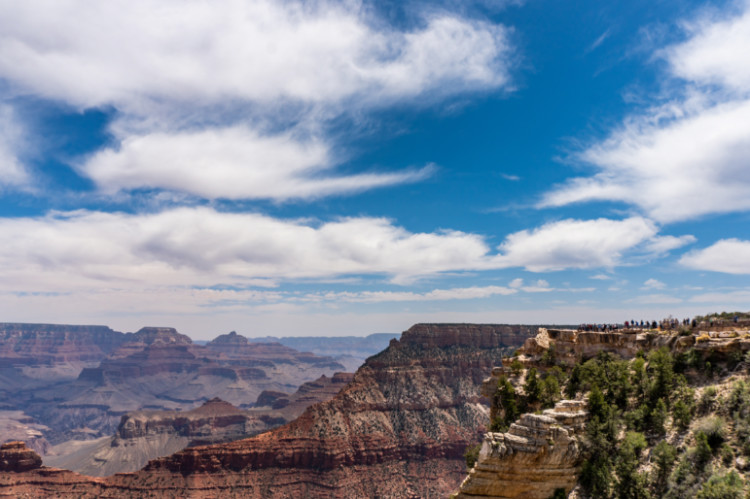 Are Grand Canyon Bus Tours Worth It?
Last Update on
September 29, 2022
The Grand Canyon is full of wonder and mystery, allowing you to take in a most unique and rustic landscape. It is home to colorful rock layers that display millions of years of history and various forms of life found exclusively in the canyon. With changing temperatures and hidden caves to explore, there are so many reasons this is the most visited canyon in the world.
If you're planning your trip to the Grand Canyon and are trying to maximize your time and budget without compromising the experience or touring the Grand Canyon by car, you can book a Grand Canyon half-day tour. 
Small-Group Bus Tour Versus Other Tours
There are many options available when planning a trip to the Grand Canyon. Aerial views are offered through plane tours, while boats are great for exploring the canyon floor. However, both of these options can be expensive. On the other hand, bus tours are more affordable and perfect for indulging in the vast scenic area.
Large bus tours move slowly, as they need to manage the movements and needs of nearly fifty passengers. Needless to say, the size of the bus can also make it more challenging to traverse the area. On the other hand, a small-group bus tour with just a dozen or so passengers can be a more meaningful experience.
What Do I Get Out of a Grand Canyon Bus Tour?
Exclusive Experiences
When you book a small-group bus tour, your memorable trip starts when they pick you up at the hotel where you're staying. Some tours have pickups scheduled as early as 5:30 AM for those morning people, and others are as late as 9:30 AM if you are not a fan of waking up at the crack of dawn.
Small-group tours typically use SUVs, Jeeps, or touring vans that hold a maximum of fourteen passengers to ensure shorter waiting time during pick up and drop off, photo sessions, and rest stops. With a small group setup, you get to enjoy exclusive experiences by exploring hidden scenic spots that large buses can't get to. In addition, you can meet new friends and share unforgettable experiences with them.
Five-Star Quality Service
Your adventure will be thoroughly planned to maximize your time at the Grand Canyon–you will follow a comprehensive itinerary where you will see more in less time. If you're looking for a stress-free tour where you can just enjoy the majestic views, then small-group tours are made for you. Food and snacks are available throughout the trip to keep your energy up, regardless of weather conditions.
Professional and Friendly Tour Guides
MaxTour tour guides know the great spots to take photos, and they are great photographers themselves. More importantly, they are skilled drivers who will get you through the terrain safely while offering their knowledge about the area–nothing is better than feeling comfortable and knowing there's someone nearby whom you can ask endless questions about the Grand Canyon.
Conclusion
You can get your money's worth and save time on your Grand Canyon adventure by choosing to book a bus tour. The small-group setup makes it more manageable and hassle-free, allowing you to get the most out of your unforgettable, and possibly grandest, adventure.
Wondering if you should get a private tour to the Grand Canyon, instead? Take a look at our latest post.