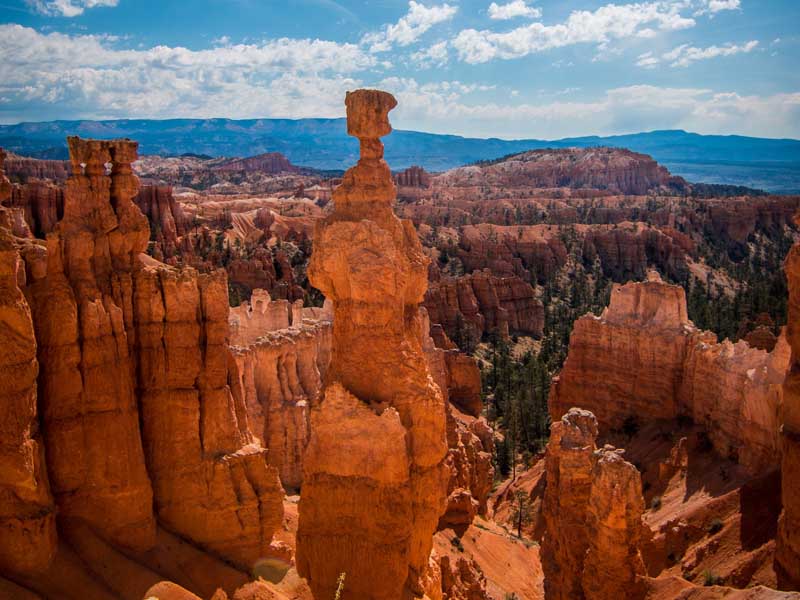 Can You Do Grand Canyon and Bryce in One Trip?
Last Update on
July 07, 2023
Exploring the natural wonders of the American Southwest is a dream for many travelers. The Grand Canyon and Bryce Canyon National Park are two particularly popular destinations.
The good news is that it's indeed possible to experience the grandeur of both parks in one trip. Visiting both in one day, however, is not as feasible unless your accommodation is near one of the two. Consider the distance, transportation, and activities before planning your trip.
Distance Between Grand Canyon and Bryce Canyon
Grand Canyon South Rim and Bryce Canyon National Park are about 280 miles (450 kilometers) from each other. This is a considerable distance — a roughly 5-hour journey — but the scenic drive can become a part of the adventure.
From the North Rim, the less touristy side of the Grand Canyon, the drive is about 150 miles (240 km). That distance usually takes about 3 to 3.5 hours to traverse.
Transportation Options from Las Vegas to Grand Canyon and Bryce Canyon
If you're starting your trip from Las Vegas, you'll have several transportation options to reach both the Grand Canyon and Bryce Canyon.
Renting a car is a popular choice for those seeking flexibility and independence, as it allows you to explore at your own pace. The drive from Las Vegas to the Grand Canyon takes around 4 to 5 hours, depending on traffic and the route you select. You can also fly from Las Vegas to Flagstaff, AZ and then drive from there.
From the Grand Canyon, it takes another 5 hours to reach Bryce Canyon. Keep in mind that driving times may vary, so it's always a good idea to plan for additional time.
If you'd rather not drive, there are Las Vegas tours to Grand Canyon and Bryce, combining both in one trip. Joining a guided tour means not having to worry about planning or transportation. It's a very convenient option for those who prefer a structured, seamless experience.
Another option is to fly into St. George, Utah, and rent a car or join a tour from there to explore the parks. Though St. George is not as popular of a destination as Las Vegas, it offers a more direct route for this trip.
What to Do at Grand Canyon and Bryce Canyon in One Trip
At the Grand Canyon, you can marvel at the awe-inspiring vistas and hike along the rim trails. Don't miss the chance to witness a breathtaking sunrise or sunset, as the canyon's colors come to life.
Consider exploring the inner canyon by hiking down the Bright Angel Trail or taking a helicopter tour for a unique perspective. There is also a visitor center and a museum that offer interesting historical and geological facts about the canyon.
Bryce Canyon National Park is famous for its unique geological formations called hoodoos. Take a scenic drive along the park's rim or venture into the canyon itself on one of the various hiking trails.
The Navajo Loop Trail and the Queens Garden Trail are popular choices, allowing you to get up close and personal with the mesmerizing hoodoos. Try to catch the magical sunrise or sunset, when the hoodoos are bathed in vibrant colors.
Related Reading: When Is the Best Time to Visit Bryce Canyon National Park?
Conclusion
A journey to the Grand Canyon and Bryce Canyon will leave you in awe of nature's power. While the trip is difficult to do in one day, spreading it out over a few days within one trip will make for a memorable vacation.
By taking advantage of the transportation options and planning your time wisely, you can embark on an unforgettable adventure, immersing yourself in the awe-inspiring beauty of the Grand Canyon and the unique splendor of Bryce Canyon.