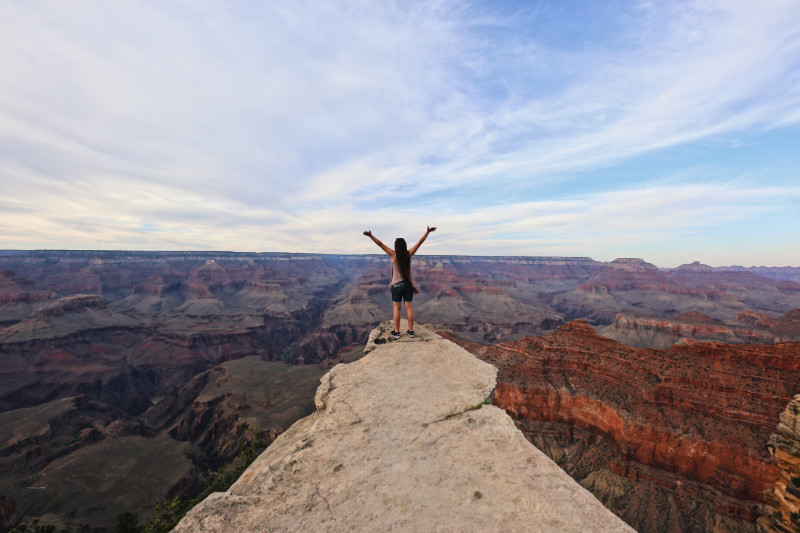 Grand Canyon Tour Packages from Las Vegas
Last Update on
October 13, 2022
Whether you're a Vegas native or an out-of-towner taking a tour of the stunning American Southwest, a visit to the Grand Canyon is a must-do. Booking a Grand Canyon tour in advance can make all the difference during your trip. There is so much rich culture and natural beauty to explore in and around the Grand Canyon—and so many tour options that sometimes finding the right one from Las Vegas can be overwhelming.
Here are comparisons of some of the top Grand Canyon tours. It's up to you to decide if you want a day trip, or a weekend, or more days to spend at this natural wonder. MaxTour offers a wide variety of Grand Canyon tours that fit any schedule.
Bus Tours from Vegas to the Grand Canyon
A luxury bus tour from Vegas to the Grand Canyon is one of the best ways to go if you want someone else to take care of all of the planning and logistics. It might also be worth reading a Grand Canyon South Rim bus tour review before you make your decision.
In the meantime, here are some ideas to consider:
Grand Canyon VIP Half-Day Tour
If you're short on time but want to see as much as possible, a half-day luxury bus tour from Vegas to the Grand Canyon is the way to go. This luxury tour allows you to move at your own pace–they'll pick you up from your hotel at 9:30 AM so you have time to grab your coffee before hitting the road.
Enjoy this small-group tour experience complete with unlimited snacks and beverages; you won't feel lost in a sea of tourists or crammed into a hot bus when you go on this luxury tour. You'll have a chance to snap the perfect photos at the Grand Canyon and the iconic Hoover Dam, while an experienced guide takes you to the highlights of the area. MaxTour even includes bonus stops so you can explore hidden gems along the way. It's hard to believe you can experience all of this excitement in luxury in just one day—but MaxTour knows how to deliver.
Two-Day Grand Canyon Antelope Canyon Tour
Maybe your group is ready for a break from the flashing lights of the Las Vegas strip, or perhaps you just need to hike and get that perfect nature photo. Get your fresh air with this luxury two-day getaway to the Grand Canyon and Antelope Canyon. A small-group van will pick you up and drop you off at your hotel doorstep so you can truly enjoy the ride. Amenities that are part of this tour include unlimited drinks and snacks, as well as some unexpected stops along the way–you'll get to enjoy the historic Route 66 in all its glory and snap memorable photos at spectacular locations.
During the first day of the trip, you'll be able to stretch your legs during a walking tour across the top of the Hoover Dam. You'll also visit the stunning Yavapai Point, Grandview Point, and Lipan Point before resting overnight at a highly-rated hotel.
Day two is also truly unforgettable–you'll hike to the brilliant Horseshoe Bend and experience a one-of-a-kind tour through Lower Antelope Canyon. The Upper Canyon tends to be overrun by tourists, but Lower Antelope Canyon provides a more intimate experience and is more colorful. A local guide will walk you through the canyon, allowing you to experience it through a different cultural lens.
Four Top Designations With a Three-Day Tour
Explore the Grand Canyon, Bryce Canyon, Zion, Antelope Canyon, and Monument Valley in just three days. You don't want to miss these sights and stops during your trip to the Southwest. After you've enjoyed the shows and the glamor of Las Vegas, let MaxTour pick you up from your hotel and sweep you away on an unforgettable tour.
Breakfast is included and views of the Arizona desert and the Virgin River Gorge are part of the package. You'll have a few hours to explore the stunning sights of Zion National Park before heading to Bryce Canyon National Park. At Bryce, you'll have a chance to hike the rim trail and get close to the well-known hoodoos (bewitching rock formations formed over millions of years by erosion).
The trip includes two nights at a highly-rated hotel, and a plethora of activities to give you the full experience of the glorious Southwest. From riding a four-by-four through Monument Valley to a VIP tour of the best overlooks of the Grand Canyon, you'll hardly believe you did it all in three days.
Remember, whether you have only a half-day or a week to explore the natural and historic wonders of the Grand Canyon, be sure to book a MaxTour package in advance to get the full experience–we'll make sure you don't miss a thing!