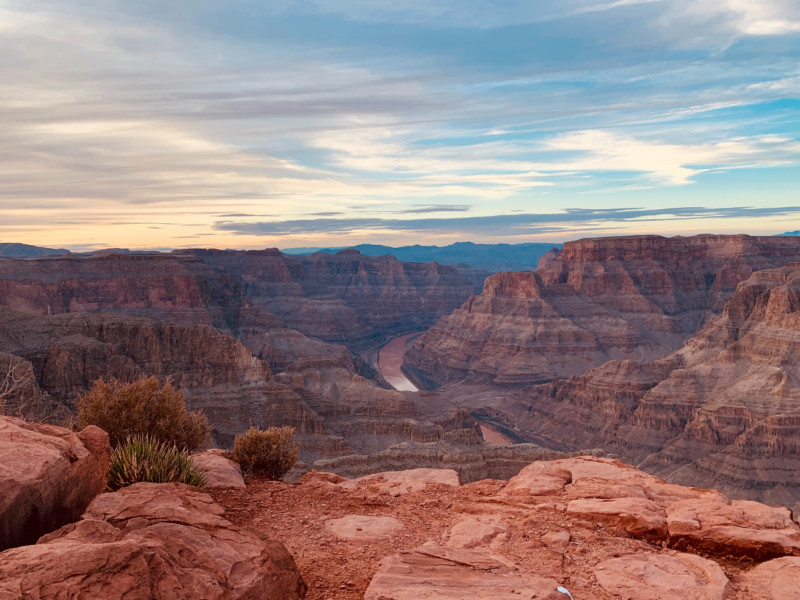 Grand Canyon West Rim Bus Tour
Last Update on
October 05, 2022
It's fair to say that the Grand Canyon is one of the most visited tourist attractions in the United States. It is a vast site, with entry points at the North, South, and West Rims. As a result, traversing the area on foot can be challenging, especially if you want to explore all that the Canyon offers. One of the best ways for a traveler to see as much as possible is to go on a West Rim bus or van tour and then explore the other notable sites.
According to some enthusiasts of the landmark, the South and West Rims are two of the best spots for exploring the Grand Canyon. Fortunately, both are accessible to the public year-round and anyone can easily take a Grand Canyon tour from Las Vegas. The tours consist of many stops so travelers can take in some of the most breathtaking views and awe-inspiring adventures along the way–the key is knowing how to plan your tour. At MaxTour, we recommend that you try our Grand Canyon West Rim van tour so that you can enjoy some of the most stunning, unique features this famous world wonder has to offer.
Why Choose the West Rim Experience?
Based on the type of bus or van West Rim tour package, you will have about four hours to see some of the park's most beautiful areas like Guano and Eagle Point. The well-known Grand Canyon Skywalk is also situated at Eagle point. Seeing these many points of interest would be much more difficult if you were to go on a self-guided Grand Canyon tour.
Visitors on a bus tour of the West Rim can also take an inside look at some of the traditions that have enabled the Hualapai Tribe to maintain its cultural identity and spiritual connection to its ancestors and the land.
What to Expect From a Grand Canyon West Rim Bus Tour
The Grand Canyon West Rim can be explored in various ways, including from the air, on the ground in a van, on foot, or via Grand Canyon private tours. However, to get the whole experience and make your trip worthwhile, you should try MaxTour's van trip–one of the reasons for this, especially if you are a first-timer, is that you will get to enjoy the West Rim and Grand Canyon Skywalk excursion. 
A Grand Canyon Tour With a Difference
Our van tours come with a delicious morning snack and lunch box, and travelers can be picked up and dropped off at their Las Vegas hotel to make your trip to the Grand Canyon as convenient as possible. MaxTour also focuses on safety and quality customer service, so you can rest assured that your needs will be catered to during your van tour.
Our van is fully equipped with air conditioning and a tour guide to answer questions and provide plenty of info about various sites along the way to ensure your trip is smooth, entertaining, and comfortable. Wherever you go, even in the adjacent areas, you will get to see what most people have marveled and raved about for years when it comes to the Grand Canyon. The only thing you need to do is prepare your camera to take plenty of photos, as this van tour of the West Rim will be like nothing you have ever seen or experienced.
Summary
The West Rim has much to offer regarding sites, activities, and experiences for any traveler. That said, there is no better way to take advantage of this than to go on a van tour organized by a company that knows exactly what it is doing, such as MaxTour.