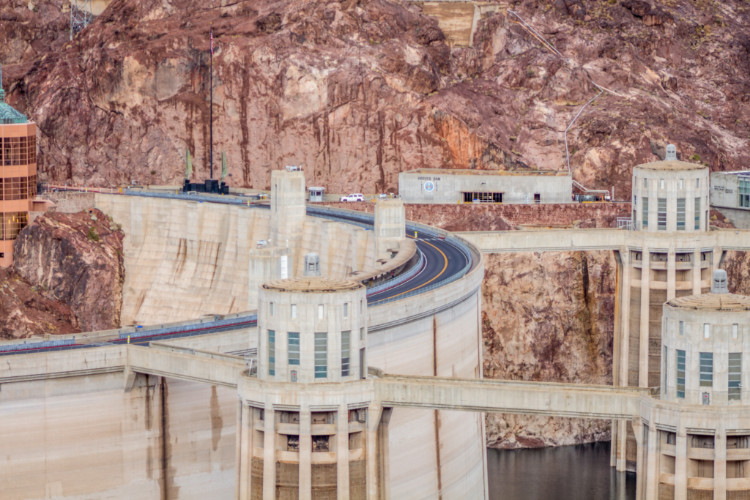 Is the Hoover Dam Tour Worth It?
Last Update on
February 03, 2023
When visiting the area, many are tempted by the chance to travel down to the bottom of the dam to partake in a tour of the Hoover Dam.
There are a few problems prospective travelers discover, though. With the added costs, long lines, and frequent shutdowns of certain sections of the dam, it leads many to ask: is the Hoover Dam tour worth it?
The short answer is: yes, despite the concerns you might have, the chance to visit the Hoover Dam is one that shouldn't be passed up! There are surprisingly a lot of things to do at Hoover Dam. It's affordable, too!
However, even determining what exactly people mean by "tour" in this context can be confusing. Let's start with some definitions, before getting into what makes Hoover Dam tours worth it.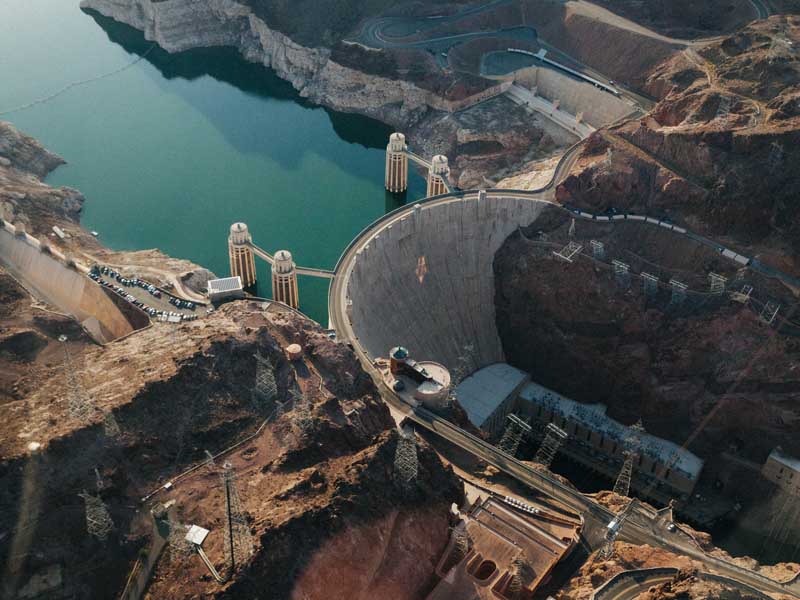 What Kinds of Hoover Dam Tours Are There?
When people talk about "Hoover Dam tours," they're generally talking about one of two things.
First, you can take a Hoover Dam tour from Las Vegas. These types of tours typically pick you up at your Las Vegas Strip hotel or a designated meeting place on the Strip. You're then driven to the Hoover Dam to see many of the main attractions. The tour might also include stops at other nearby attractions.
The second type of Hoover Dam tour refers to the official tours offered on-site. There are three subtypes: the Guided Dam Tour, the Guided Power Plant Tour, and the Self-Guided Visitor Center Tour. They can be booked here.
For a more in-depth answer, let's dive into what each kind of tour is like.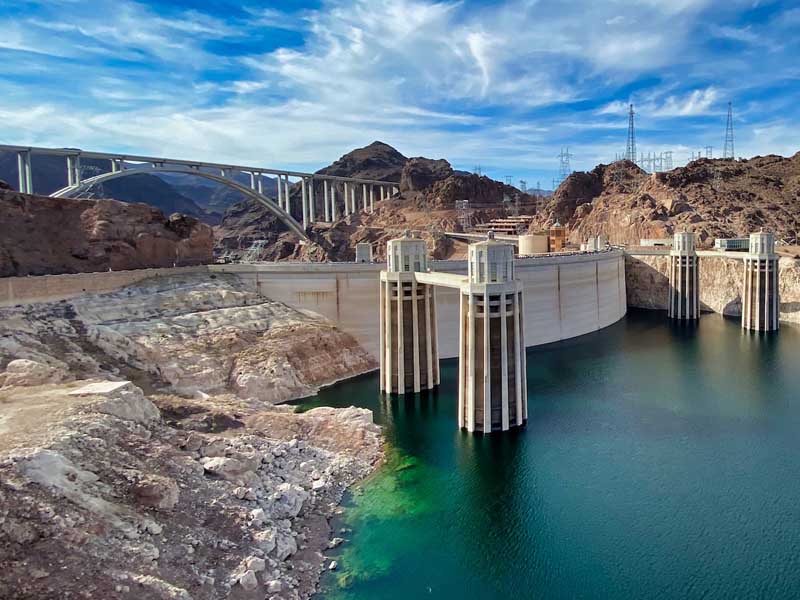 Las Vegas to Hoover Dam Tours
Hoover Dam is only a 45-minute drive from Las Vegas, making it one of the most popular attractions for people visiting the city. Plenty of tour companies in Las Vegas offer half-day and full-day tours to the site. On Hoover Dam tours from Las Vegas, you can get picked up at your hotel and get an exciting 5-hour tour of the Hoover Dam and much more.
You can explore the observation deck, see the dam from Arizona and Nevada, and benefit from your guide's expertise. Beyond knowledge of the Hoover Dam itself, they're bound to know tons about the whole area, as well. That includes where the best places to view the Hoover Dam are!
For maximum flexibility, tours usually depart in the morning and get you back to your hotel in the early afternoon. A guided tour to and of the Hoover Dam is a fantastic way to spend half of a day. It's also a nice break from the madness on the Las Vegas Strip! Here are a few reasons why you should join one of these kinds of tours.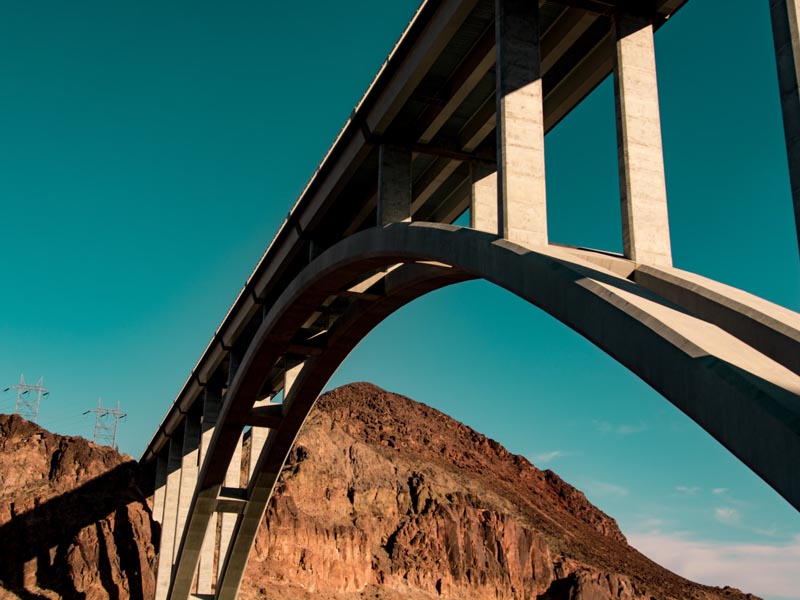 Are Las Vegas to Hoover Dam Tours Worth It?
All Transportation and Planning Is Taken Care Of
Every traveler knows the stress that comes with planning itineraries. It's not the worst thing in the world but it sure is nice to be able to sit back and allow someone else to sort it out.
Driving yourself can also be tedious, especially on longer trips. Hoover Dam is about 45 minutes from Las Vegas. It isn't too far, though many people who visit the dam also stop at other locations, inflating the travel time.
When you book a tour from Las Vegas to Hoover Dam, the details such as admission fees and hotel pickup and drop-off will all be taken care of — all you have to do is enjoy!
You Can Visit Other Nearby Attractions
Hoover Dam is one of the most popular attractions in the area, but it's not the only one! Many Las Vegas to Hoover Dam tours include stops at other places of interest.
For example, we offer tours that include visits to the Grand Canyon, the Seven Magic Mountains, and Boulder City.
When planning your own trips, trying to fit multiple stops into one day can sometimes become a nightmare and lead to disappointment. Professional tour companies have the experience and know-how to make sure that multi-stop itineraries go as smoothly as possible!
Most Tours Are Affordable
Though you'll no doubt find a few companies that are trying to borderline extort people, many tour companies are actually quite affordable!
A Las Vegas to Hoover Dam tour usually runs under $100, including the $30 fee for the on-site Guided Dam Tour. That price tag will also often also include a stop or two at other attractions, as well as amenities such as breakfast and/or snacks.
Tours Are Often Personalized
Many Hoover Dam tours have a personal touch to them. Your guide can point out and even take you to some of their personal favorite spots at and around the dam.
This is especially true for small group tours to Hoover Dam. You might even be able to take a custom tour or add a bonus stop to a pre-existing tour package, the latter of which MaxTour offers.
The Different Kinds of Official Hoover Dam Tours
What about the actual tours offered at the dam itself? There are 3 tours at the Hoover Dam, with different durations and price points. Here's a rundown of each one:
Self-Guided Visitor Center Tour
Costs $10
Takes you through many historical exhibits, as well as the observation deck where you can get a panoramic view of the dam and surrounding scenery
Lasts around 30 minutes
Tickets can be bought online or on-site, and upgraded on-site
Guided Power Plant Tour
Costs $15
Takes you through the construction tunnels and onto the viewing platform where you can see where the magic happens
Also includes the Self-Guided Visitor Center Tour
Lasts about 30 minutes on its own (1 hour including the other tour)
Tickets can be bought online or on-site, and upgraded on-site
Guided Dam Tour
Costs $30
Takes you through historic tunnels and up/down the original elevator, seeing the inner workings of the dam
Also includes the Guided Power Plant Tour and Self-Guided Visitor Center Tour
Lasts about 1 hour on its own (2 hours including the other 2 tours)
Tickets can only be purchased on-site, starting at 9 am
Something that definitely should be mentioned is that the tours can be somewhat of a pain to actually get on. They are closed many times throughout the year due to a variety of reasons, ranging from maintenance to weather.
Tickets for the most popular tour, the Guided Dam Tour, are only sold on-site. This means you have to get there early. Even so, tickets can sell out very quickly during peak season. Then, lines can stretch on for hours just to get inside to join the tour you already booked. You also have to be open to the fact that they can close the tours at any time.
Hopefully, none of that scared you off, because touring the dam really is an awesome experience! Your tour will likely go completely smoothly but you need to be aware of what can potentially happen. With all that out of the way, it's time to discuss what makes the Hoover Dam tours so worth it.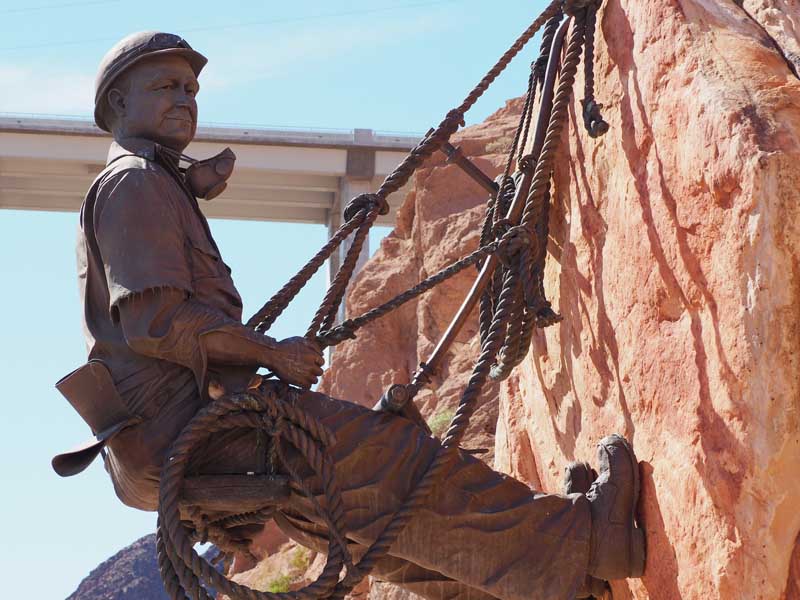 Are Hoover Dam Tours Worth It?
You See A Lot in a Short Time Frame
The Guided Dam Tour, which includes a tour of the power plant and visitor center, is about 2 hours long. That's pretty short for such a big facility but you really get to see a lot! Within those 2 hours, the Guided Power Plant Tour and Self-Guided Visitor Center Tour take about 30 minutes each.
The Hoover Dam is a marvel of modern engineering. Especially when you consider that it was built in the 1930s, it's such an impressive landmark. You'll really be happy to see as much of it as you can while you're there.
It's Relatively Easy to Add Other Stops to Your Itinerary
Being close to Las Vegas, and with the tours not taking too long, you can usually fit another stop into your day. This is especially the case if you visit the dam as soon as tours open (9 am). That being said, remember that you'll probably have to wait in lines for a while, even during the off-season.
It can sometimes be hard to plan around how fickle the Hoover Dam tours are but, once you plan realistically and give yourself adequate buffer times, you can relatively easily fit other attractions into your day.
Alternatively, booking a guided tour from Las Vegas to Hoover Dam (which includes admission for the official Hoover Dam tours), can eliminate that issue entirely, so consider that!
You Get Your Bang for Your Buck
All 3 of the Hoover Dam Tours are worth the price but the Guided Dam Tour is really the best deal.Though it costs the most ($30), it includes the other 2 tours, so it allows you to see both the historical and engineering aspects of the dam at the same time.
The standalone Power Plant tour is great, as well, but it's rather short and you don't get to be inside the actual dam for long.
Without booking a tour, you don't get to really see much other than the outer part of the dam. It would be quite a shame, but let's get into that in the next section!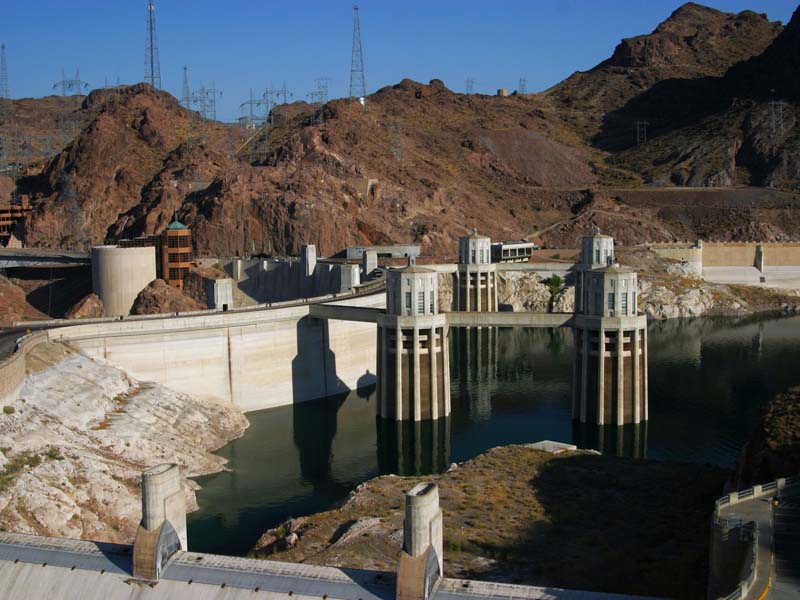 Can You Tour the Hoover Dam on Your Own?
Perhaps you're weighing your options and wondering if you can just tour the Hoover Dam on your own, without a tour guide. The answer is: kind of.
There's the Self-Guided Visitor Center Tour where you can view the exhibits inside the center and look out from the observation deck.
If you're not even interested in that, then visiting the dam is free. Aside from parking, it doesn't cost anything to visit Hoover Dam. You can just walk onto the dam, explore the outside, and take pictures as much as you'd like, essentially making your own self-guided tour.
You won't get to do much else, though. Without paying for a guided tour, you can't walk inside of the dam or view the power plant facility. That's where all the fun is! So, you can visit the Hoover Dam without a guided tour, but you can't actually tour it on your own.
Why Should You Visit Hoover Dam?
Now you know why Hoover Dam tours are worth it, but what makes Hoover Dam itself so special? Is it not just a hunk of concrete? The Hoover Dam is one of the most popular attractions in America; here's why.
It's Close to Las Vegas
The Hoover Dam is a quick 45-minute drive from Vegas, making it the ideal half-day diversion from the Strip's bustle. After spending the morning at the dam, you'll have plenty of time to book a table for dinner or see that much-anticipated show when you return to Las Vegas.
It's a Perfect Destination for Families
Las Vegas may not be the first place you consider when planning a family trip, but that doesn't mean it shouldn't be on your list. There's no doubt that Sin City is perfectly situated for visiting an authentic smorgasbord of family-friendly attractions, including the Hoover Dam. The Hoover Dam is a fun and instructive excursion with various tour options, making it a great choice for your family's Vegas vacation.
It Offers Both Beautiful Architecture and Landscapes
The dam's sloping architecture is magnificent and almost qualifies as art itself (it was built in the Art Deco style, after all), so don't worry if the more complicated mechanics of the Hoover Dam don't interest you.
An important historical site that is frequently overlooked is the area where the dam was dug out. The Colorado River used to wind through this section of the canyon, and the contrast of Lake Mead's vivid blue waters creates an intriguing and picturesque scene.
It Is One of the Seven Modern Engineering Marvels
The Hoover Dam may not seem remarkable to those who have never seen it — photos seriously don't do it any justice. Once you're in front of it, though, it's easy to see why it is regarded as one of the seven engineering wonders of the modern era.
The absolute scale of the Hoover Dam is so impressive. The dam stretches 1,244 feet across Black Canyon and rises 726 feet above the canyon floor. It was the tallest dam in the world at the time it was built and first used in the 1930s.
Due to its "arch-gravity" construction, the Hoover Dam is thicker at the bottom (660 feet thick, to be exact) and thinner at the top (only 45 feet thick). It took 6.6 million tons of concrete to build, and it needed an elaborate, specialized cooling system to do it. The dam would still be cooling and hardening today if not for that cooling system!
It Shows How Nature and Humanity Interact
The Hoover Dam continues to be a superb illustration of American innovation paired with the distinctive beauty of the Southwest US. Few places in the world have a clear meeting point between man and nature, which is one of the many reasons the Hoover Dam is such a popular tourist destination.
Without seeing it for yourself, it's difficult to picture Depression-era engineers modifying the flow of the great Colorado River in such a drastic way. Yet, man and nature managed to come together in such glorious fashion, and continue to do so to this day.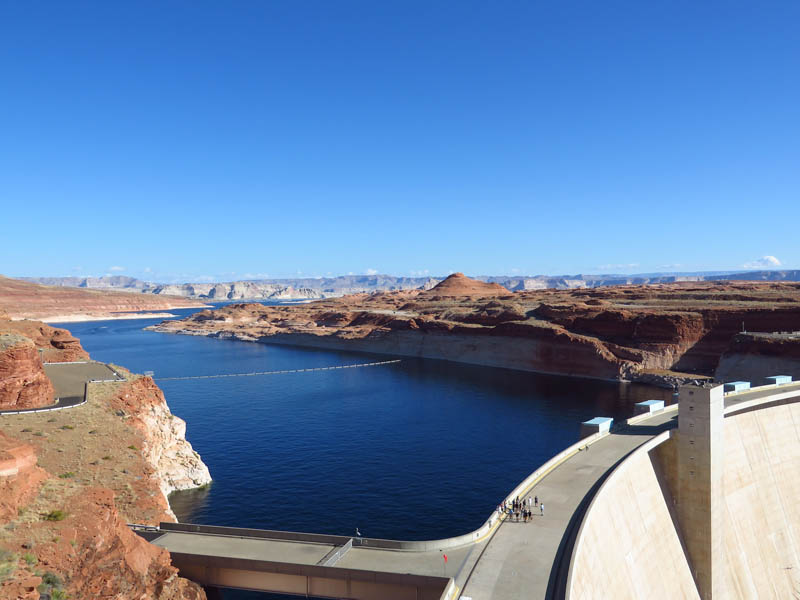 The Bottom Line
Hoover Dam tours are worth every minute. There are plenty of activities for the whole family, ranging from educational to just plain fun. The ticket fees are relatively cheap, which comes in handy if you're on a tight budget.
There are some potential downsides to keep in mind, such as long waiting times even when you get there early. The dam could also close spontaneously. The actual planning portion of the trip can be a hassle, too. Consider booking a Las Vegas to Hoover Dam tour so that you don't have to worry about that at all.
Regardless of how and when you visit, hopefully you do decide to make the journey to the magnificent Hoover Dam!
ABOUT THE AUTHOR
Matthew Meier
World Traveler. Mandarin Speaker. Founder of MaxTour.