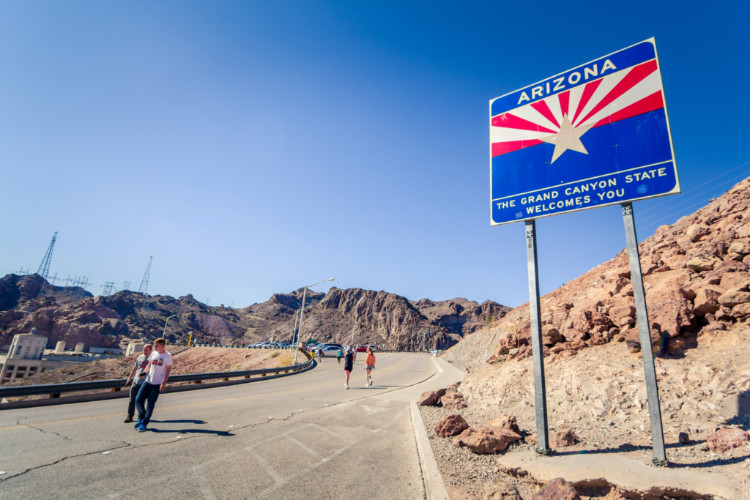 What Is There to See Between Las Vegas and the Hoover Dam
Last Update on
March 01, 2023
Las Vegas is known for everything glitzy and glamorous, but it gets even better when you combine it with something more down-to-earth. Undoubtedly, traveling from the Las Vegas Strip to enjoy the best Hoover Dam tour will take you by surprise.
Is the Hoover Dam tour worth it? Absolutely — you'll be impressed by the engineering, the history, the beauty, and the fact that there are such amazing things to see and do outside of Las Vegas!
Sometimes making just one stop on a trip can feel like not enough, though. If you're wondering whether there are any things to see between Las Vegas and Hoover Dam, the answer is a resounding "yes!".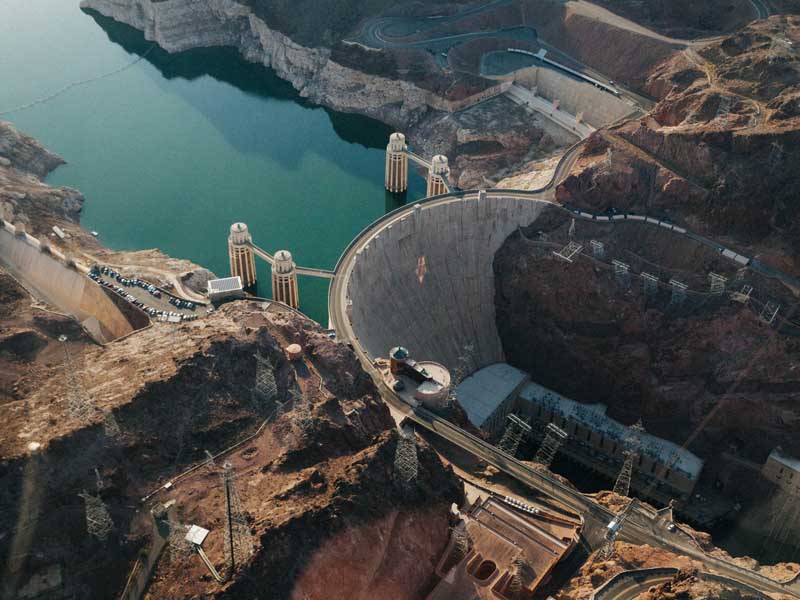 The Las Vegas to Hoover Dam Car Trip
There are several routes you can take when making the trip from Las Vegas to Hoover Dam. The most straightforward one doesn't have that many other attractions to see along the way.
Even if you take a more roundabout route, though, Hoover Dam's proximity to Las Vegas means that the journey won't be a long one. Plus, you'll have plenty of opportunities for exploration and sightseeing, enabling you to fill up your day with activities.
Note that it's advisable to arrive at Hoover Dam early if you want to beat the crowds; the lines often get longer later in the day. Any other attractions you visit will probably be better suited to being seen on the way back to Las Vegas from Hoover Dam. You should also factor in how long the Hoover Dam tour lasts.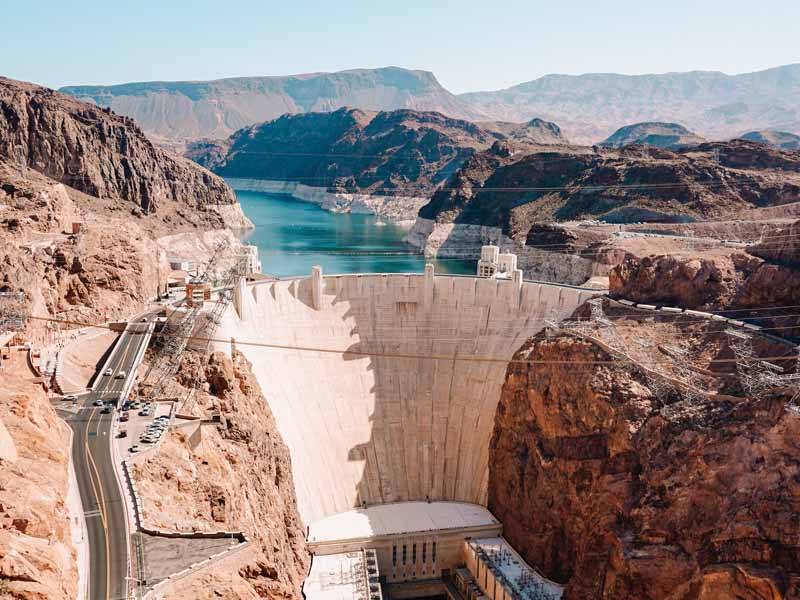 Distance Between Las Vegas and Hoover Dam
The straightforward route from Las Vegas to Hoover Dam covers 37 miles (60 km) and takes about 30–45 minutes. On this trip, you'll be able to see three other attractions: Boulder City, Lake Mead, and the Mike O'Callaghan–Pat Tillman Memorial Bridge. (More info on them later!)
There are, however, many more attractions in the area that people decide to visit on the same trip that they visit Hoover Dam. To see all of the attractions that are listed later on in this article, the road trip would be about 110 miles (177 km) over the course of 2.5 to 3 hours.
Of course, being able to fully explore and experience all of these attractions in one day might not be feasible. Rather, treat the list as a guide to what's available, and you can choose to visit the ones that appeal to you.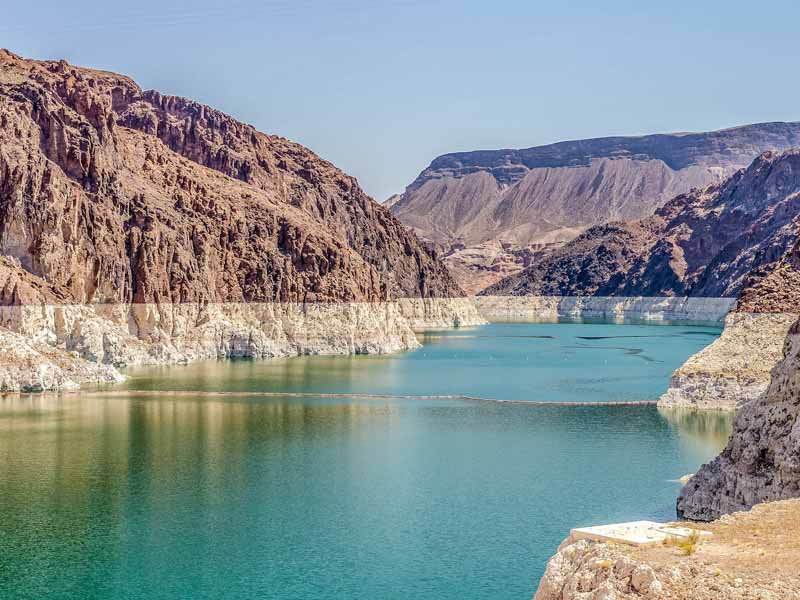 What Can Be Seen Between Las Vegas and the Hoover Dam?
Red Rock Canyon National Conservation Area
Located in the Mojave Desert, the spectacular Red Rock Canyon is a 20 or 30-minute drive west of Las Vegas. It isn't on the way to the Hoover Dam, but it can be combined with a It can be a fun day trip on its own, as it's got dozens of hiking and climbing trails to choose from. There's also a super scenic driving trail, though you have to make a reservation for it during busy seasons.
Hemenway Park
Hemenway Park is located in Boulder City and is home to sweeping views of Lake Mead and a flock of Big Horn Sheep! That is right, if you are lucky you will see wild big horn sheep grazing on the well manicured grass at this city park. Just remember, they are wild animals, so don't get too close!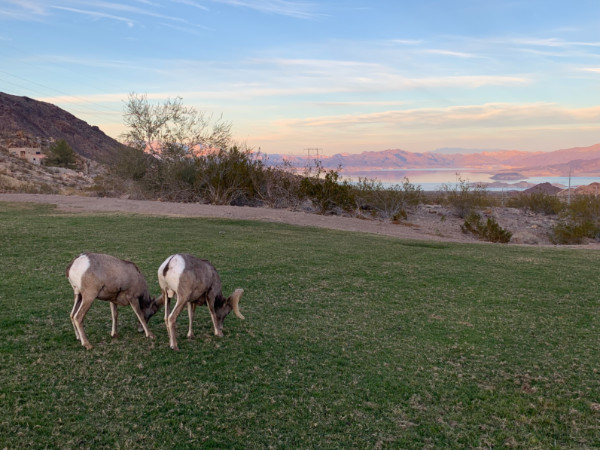 Henderson, NV
To get to the Hoover Dam from Las Vegas, you will pass through the 2nd largest city in the state of Nevada, Henderson! Home to many local parks and eateries, Henderson is a great place to grab breakfast or lunch on your way back from the Hoover Dam. For breakfast, check out Served Global Dining, for lunch we love the lunch specials at Thailicious, and for to go or coffee, The Coffee Class is amazing.
Seven Magic Mountains
30 minutes south of Las Vegas, you'll find a very unique attraction. The Seven Magic Mountains are an art installation in the Mojave Desert, consisting of seven three-story towers made of boulders. It might sound a bit odd but it's absolutely enchanting and makes for an awesome photo op. It's actually a stop we make on our Hoover Dam Walk-On-Top tour!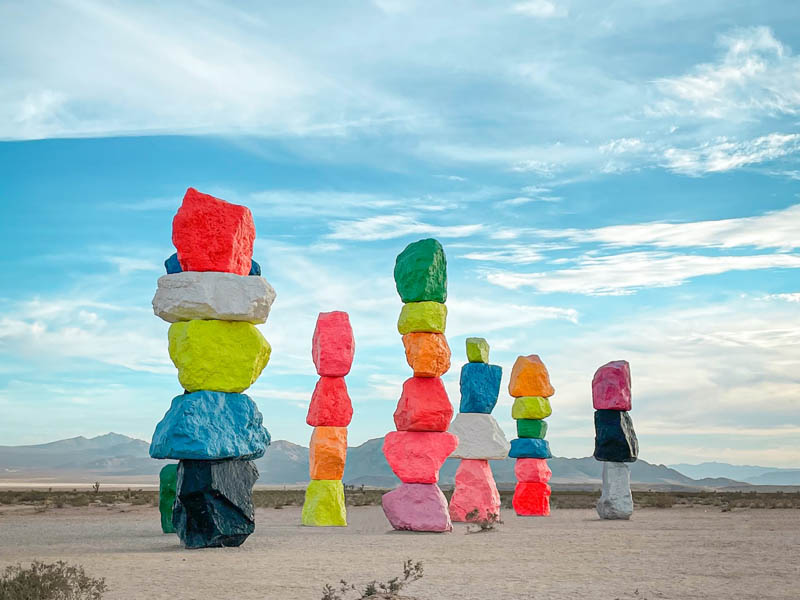 Boulder City
The location of Boulder City provides the best of both worlds. It's the first of three stops that you can see even on the shortest route to Hoover Dam. This picturesque, tree-studded town sits just inside southern Nevada's border with Arizona, perched above Lake Mead National Recreation Area. Boulder City's first residents moved there to create the Hoover Dam.
The trip from Boulder City to Las Vegas takes about 30 minutes. If you are looking forward to hanging out and grabbing a bite, Boulder City has world-class restaurants and provides a host of outdoor activities.
Mike O'Callaghan–Pat Tillman Memorial Bridge
Formerly known as the Hoover Bypass Bridge, the Mike O'Callaghan–Pat Tillman Memorial Bridge is located right across from Hoover Dam. As its former name suggests, it was built to alleviate traffic on top of the dam. It's quite the attraction in and of itself, and you can get some of the best views of Hoover Dam from atop the bridge.
Lake Mead
Hoover Dam is one of America's most iconic tourist attractions but, first and foremost, it's an incredibly useful structure. One of its main purposes is to create a reservoir, which it does in the form of Lake Mead.
Lake Mead provides water to the surrounding area and generates hydroelectricity. Its levels fluctuate due to downstream water discharge, but it always supplies important services. It's also one of the largest lakes in the US.
During your trip, you can easily stop at this stunning man-made lake. It's nice to just look out at it from the dam, but there are also several activities to do there. You can go fishing, boating, kayaking, water skiing, and more!
Valley of Fire
Unlike the other entries on the list, Valley of Fire is actually located past Hoover Dam. This would normally disqualify it, but you can feasibly do Hoover Dam and Valley of Fire in one day. The valley is a great spot for hiking, enjoying a scenic drive, and taking photos. It's about a 1.5-hour drive from the dam or a 1-hour drive from Las Vegas.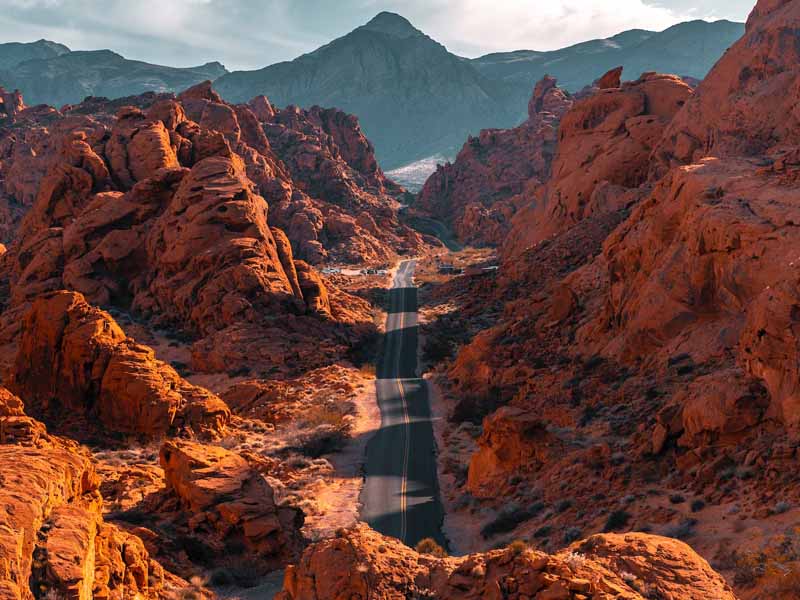 In Conclusion
Las Vegas really hit the jackpot when it comes to attractions. There's so much to do in the city itself, and then it's also surrounded by tons of interesting attractions that will satisfy any kind of traveler.
You have many options for things to do between Las Vegas and Hoover Dam that can be added to your itinerary. Enjoy the changing scenery, varied landscapes, and fun activities along the way, as well as easily stop for a delicious meal. Begin your journey today by booking a trip with MaxTour!