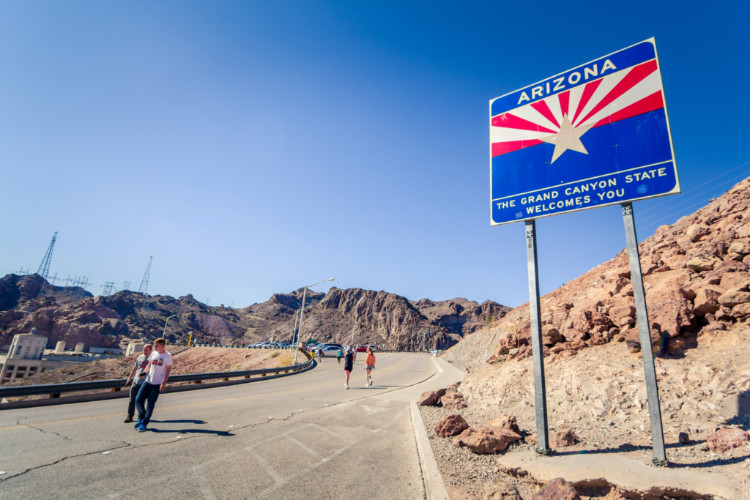 What Is There to See Between Las Vegas and the Hoover Dam
Last Update on
September 19, 2022
Las Vegas is a well-known tourist destination noted for its casinos and showgirls, but it gets even better when you combine the vibrant city with an engineering marvel–the Hoover Dam is around forty-five minutes away from the Las Vegas Strip and thirty-five miles from Las Vegas Boulevard. Undoubtedly, traveling from the Las Vegas strip to enjoy the best Hoover Dam tour will take you by surprise. Is the Hoover Dam tour worth it? Absolutely–you will be impressed by the engineering, the beauty, and the fact that there are so many things to see and do outside of Las Vegas.
The Las Vegas to Hoover Dam Car Trip
The journey isn't a long one, and has plenty of opportunities for exploration and sightseeing along the route.
Distance Between Las Vegas and Hoover Dam
Route 93 North from Las Vegas leads you sixty miles and two hours to Hoover Dam. Depending on traffic, you can complete this road trip in between an hour and a half and two hours. In addition, it is advisable to arrive early if you want to beat the crowds because the lines often get longer later in the day.
What Can Be Seen Between Las Vegas and the Hoover Dam?
Lake Mead
Lake Mead is a man-made reservoir that provides water to the surrounding area and generates hydroelectric electricity. Its levels fluctuate owing to downstream water discharge, but it always supplies important services in addition to being one of America's largest lakes.
During your trip, you can easily stop at this stunning man-made lake.
The Hoover Dam
One of America's most recognizable sights is the Hoover Dam. The Hoover Dam is located on the border between Arizona and Nevada and spans the Colorado River. It forms Lake Mead, a man-made lake with a twenty-nine billion cubic meters capacity. The dam also generates electricity for millions of people via hydroelectric generators.
The Rainbow Bridge near Niagara Falls, Canada, is similar to the Hoover Dam bridge. The water is crystal clear and quiet, creating a serene mood. The Hoover Dam provides a glimpse into the engineering work that went into its construction and operation, and it will leave you speechless. If you want to take a guided tour here, check out our article on how long the Hoover Dam tour lasts.
Boulder City
The location of Boulder City provides the best of both worlds. This picturesque, tree-studded town sits just inside southern Nevada's border with Arizona, perched above Lake Mead National Recreation Area. Boulder City's first residents moved there to create the Hoover Dam.
If you don't look at a map, you may not realize the trip from Boulder City to Las Vegas takes about thirty minutes. If you are looking forward to hanging out and grabbing a bite, Boulder City has world-class restaurants and provides a host of outdoor activities.
There are a lot of attractions between Las Vegas and the Hoover Dam. Visitors can enjoy the changing scenery and easily stop along the way for a delicious meal. Begin your journey today by booking a trip with MaxTour!