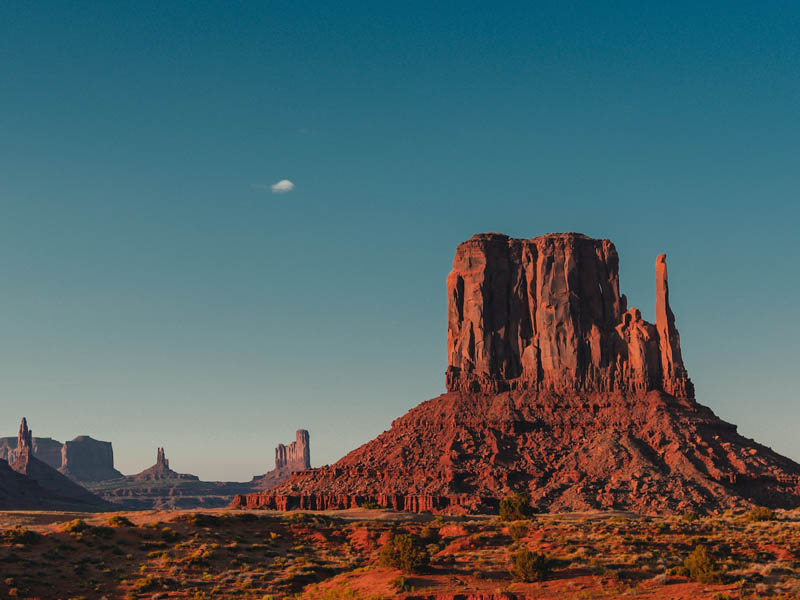 What Is the Best Time of Year for Monument Valley?
Last Update on
September 05, 2023
Monument Valley, with its iconic red sandstone buttes and breathtaking vistas, is a gem of the American Southwest. Located on the Arizona-Utah border, this stunning desert landscape has been featured in countless movies, photographs, and travel brochures.
If you're looking into how to visit Monument Valley, one of the first questions that come to mind is probably: "What is the best time of year to go to Monument Valley?".
Short answer: Spring and fall are the best times of year to visit Monument Valley.
Long answer: It depends on your preferences, but spring and fall offer an ideal intersection of mild temperatures and fewer crowds. Let's explore each season to help you find the perfect time for your adventure!
Spring: Blossoming Beauty
Spring, from March to May, is a magical time in Monument Valley. As the winter chill fades away, the desert comes to life with bursts of vibrant colors. The blooming wildflowers add a touch of softness to the rugged terrain, making it a photographer's paradise.
The temperatures during spring are moderate and comfortable, making outdoor activities enjoyable. There are also fewer crowds. However, some of the most popular activities don't open until summer.
Summer: Sizzling Sun
If you can handle the heat, summer (June to August) can still be a good time to visit Monument Valley. But be prepared for scorching temperatures that can climb to around 100 °F (38 °C)! It's essential to stay hydrated and wear protective clothing, like a wide-brimmed hat and sunscreen.
Despite the intense heat, summer has its advantages. You'll experience longer daylight hours, which means more time to explore the breathtaking landscapes. This is, however, the most crowded season. School is out for the summer, so lots of families visit.
Fall: Golden Grandeur
Fall (September to November) is often regarded as the best time to visit Monument Valley, alongside spring. As the summer heat subsides, the weather becomes milder and more pleasant, creating a comfortable atmosphere for sightseeing and outdoor adventures.
Fall sees fewer tourists compared to the peak summer season, allowing for a more peaceful and intimate experience with nature. Some attractions may be unavailable at this time, though.
Winter: Serene Solitude
Winter in Monument Valley, from December to February, offers a unique experience for the adventurous traveler. The number of visitors decreases significantly. If you don't mind the cold, you'll be rewarded with a sense of tranquility and solitude, especially if you tour Monument Valley alone.
The red rocks adorned with a dusting of snow create a picturesque winter wonderland. Just remember to bundle up in layers and check weather conditions, as temperatures can drop below freezing at night.
Final Thoughts
The best time to visit Monument Valley depends on your preferences and tolerance for different weather conditions.
Spring offers blooming beauty
Summer provides longer daylight hours but with scorching temperatures
Fall presents golden grandeur
Winter comes with serene solitude amidst a winter wonderland.
If you prefer milder temperatures and fewer crowds, consider planning your trip in the spring or fall. However, if you can withstand the heat or the cold, you can still have a rewarding experience during the summer or winter.
Don't forget to check for special events and festivals that might coincide with your travel dates to make your visit even more memorable! You can also be efficient with your time by visiting all the major Southwest US attractions (Monument Valley, Grand Canyon, and more) in a 3-day tour.
No matter when you decide to explore Monument Valley, be sure to respect the land and its people. The Navajo Nation owns and operates much of the valley. It's essential to follow their guidelines and regulations while enjoying this awe-inspiring natural marvel.
ABOUT THE AUTHOR
Sunny Samaroo