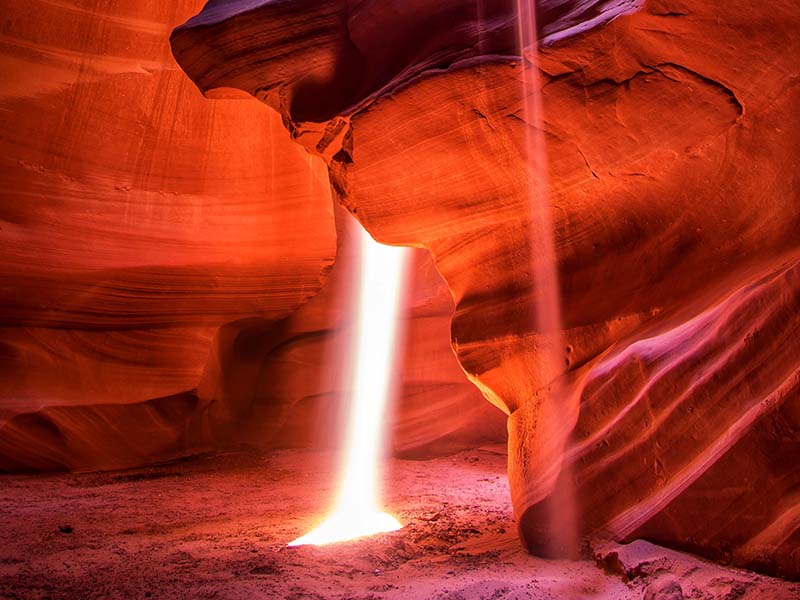 Which Antelope Canyon Tour Is Easiest?
Last Update on
April 09, 2023
With its winding sandstone walls and striking colors, Antelope Canyon attracts visitors from all around the world. However, with so many different tour options available, it can be difficult to decide which one is right for you. In this blog post, we'll break down the various tour options and help you determine which one is the easiest.
First things first: what makes a tour "easy"? When we say "easy," we're referring to tours that are accessible for people of all ages and physical abilities. The main criteria are that they don't require a lot of hiking or climbing, are relatively short, and don't require any special equipment or training. With that in mind, let's take a look at the different Antelope Canyon tour options.
Upper Antelope Canyon Tour
The Upper Antelope Canyon tour is the most popular option. It is also considered to be the easiest of the Antelope Canyon tours. This section of the canyon is known for its iconic light beams and otherworldly colors.
The path taken on the tour involves some gentle inclines and declines but no stairs. It is also at ground level and doesn't have any very narrow passages. Because of this, it's great for people with mobility issues. The tour guides are very experienced and can provide assistance as needed.
Lower Antelope Canyon Tour
The Lower Antelope Canyon tour is also popular but not as easy to traverse as the Upper Antelope Canyon. It's known for its narrow, twisting passageways and unique rock formations.
While it is generally considered to be more challenging than the Upper tour, it is still accessible for most visitors. The tour involves climbing several flights of stairs, but it's generally not a difficult journey. Visitors should still be prepared for some physical exertion.
Antelope Canyon Boat Tour
If you're looking for a more laid-back Antelope Canyon experience, the boat tour may be the way to go. This tour takes visitors through a narrow section of the canyon via boat, providing a unique perspective on the stunning rock formations.
The tour is relatively short (around 30 minutes) and doesn't involve any hiking or climbing. However, visitors should be prepared to sit in a somewhat cramped boat for the duration of the tour.
Photography Tours
For those who are serious about photography, there are a number of specialized photography tours available. These tours are generally longer than the standard tours and allow for more time to set up shots and experiment with different camera settings.
Some photography tours also take visitors to less-visited areas of the canyon, providing even more opportunities for unique shots. That said, these tours may involve more hiking, climbing, and other physical exertion.
Other Slot Canyon Tour Options
It's important to note that Upper Antelope Canyon and Lower Antelope Canyon are the main sections of Antelope Canyon that are accessible to visitors. However, there are a few smaller sections of the canyon that are less known and less frequently visited.
One of these sections is called Canyon X, which is located just a few miles east of Lower Antelope Canyon. It has deep, narrow passageways.
Another lesser-known canyon is called Cardiac Canyon. Visitors to this section must be physically fit and willing to climb over boulders and navigate steep drop-offs.
Finally, there is also a Canyon known as Mountain Sheep Canyon. It's a great option for visitors who are looking for a less crowded alternative to Upper Antelope Canyon, though it does have narrower passages.
The Bottom Line
So, which Antelope Canyon tour is easiest? The tour that fits the bill the best is the Upper Antelope Canyon tour. It is doable even for those with mobility issues. However, none of the main tours are particularly difficult if you are able-bodied. No matter which tour you choose, you're sure to be amazed by the beauty of Antelope Canyon.
To prevent any fatigue before even beginning the tour, consider booking an Antelope Canyon tour from Las Vegas that will take care of all the planning and transportation for you.
ABOUT THE AUTHOR
Sunny Samaroo