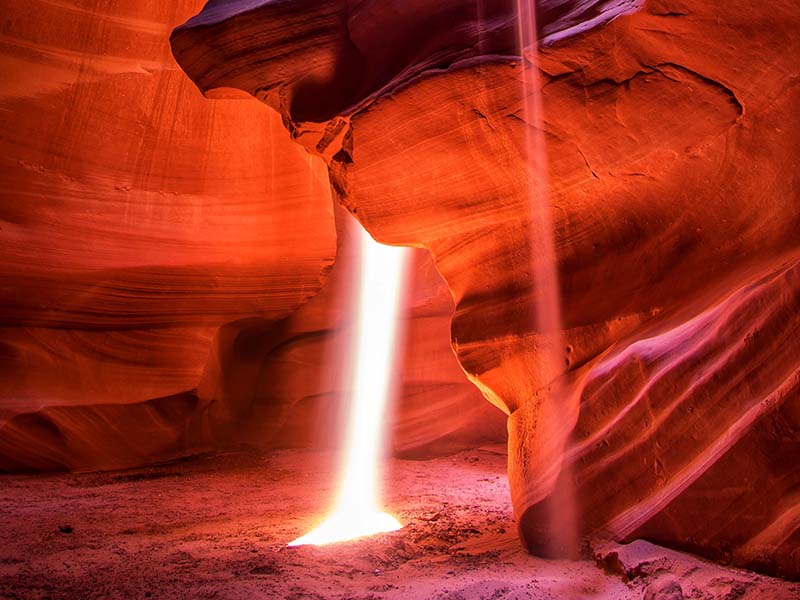 Which Antelope Canyon Tour Is Easiest?
Last Update on
July 09, 2023
With its winding sandstone walls and striking colors, Antelope Canyon attracts visitors from all around the world. However, with so many different tour options available, it can be difficult to decide which one is right for you. In this blog post, we'll break down the various tour options and help you determine which one is the easiest.
First things first: what makes a tour "easy"? When we say "easy," we're referring to tours that are accessible for people of all ages and physical abilities. The main criteria are that they don't require a lot of hiking or climbing, are relatively short, and don't require any special equipment or training. With that in mind, let's take a look at the different Antelope Canyon tour options.
Upper Antelope Canyon Tour
The Upper Antelope Canyon tour is the most popular option. It is also considered to be the easiest Antelope Canyon tour.
The path taken on the tour involves some gentle inclines and declines but no stairs. It is also at ground level and doesn't have any very narrow passages. Because of this, it's great for people with mobility issues. The tour guides are very experienced and can provide assistance as needed. Tours typically last about 1 hour.
Upper Antelope Canyon is also known as the "The Crack" and is shaped like an "A" or an inverted "V." It's wider at the bottom than at the top. Thanks to its shape, this section of the canyon gets bathed in light beams under the right conditions. They enhance the already otherworldly colors.
Since Upper Antelope Canyon is the most popular section, tickets tend to sell out far in advance. This is especially the case during peak season — summer. If it's looking like the Upper Antelope Canyon tour is the one for you, make sure to buy tickets early.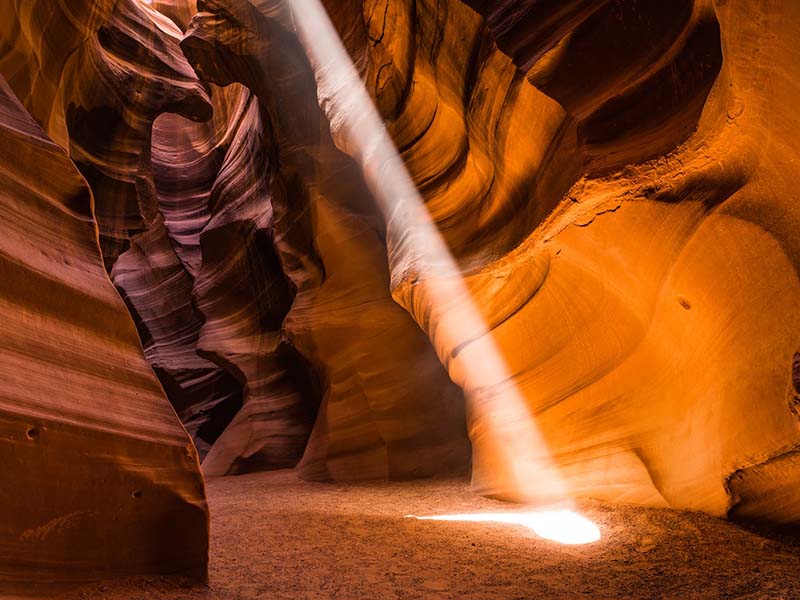 Lower Antelope Canyon Tour
The Lower Antelope Canyon tour is also popular but not as easy to traverse as the Upper Antelope Canyon. Visitors should be prepared for some physical exertion.
While it is generally considered to be more challenging than the Upper Antelope Canyon tour, it is still accessible for most visitors. The terrain is a bit rougher and the tour involves climbing several flights of stairs but it's generally not a difficult journey. The tour is a bit longer than the Upper Antelope Canyon tour — closer to 1.5 hours. That could be a pro for some and a con for others.
Lower Antelope Canyon is shaped like a "V" — the opposite of Upper Antelope Canyon. The canyon floor is narrow and has twisting passageways. This is likely where Lower Antelope Canyon's nickname, "The Corkscrew," comes from.
Lower Antelope Canyon also gets light beams but not as frequently as Upper Antelope Canyon. However, it has incredibly unique rock formations such as the Lion, the Heart, and the Shark.
Antelope Canyon Boat Tour
If you're looking for a more laidback Antelope Canyon experience, the boat tour may be the way to go. This tour takes visitors through a narrow section of the canyon via boat, providing a unique perspective on the stunning rock formations.
The tour is relatively short (around 30 minutes) and doesn't involve any hiking or climbing. However, visitors should be prepared to sit in a somewhat cramped boat for the duration of the tour.
Other Slot Canyon Tour Options
Upper Antelope Canyon and Lower Antelope Canyon are the main sections of Antelope Canyon that are accessible to visitors. However, there are a few smaller sections of the canyon that are less known and less frequently visited. Some of them include:
Canyon X
One of these sections is called Canyon X, which is located just a few miles east of Lower Antelope Canyon. It has deep, narrow passageways.
The tour here is easier than Lower Antelope Canyon since there aren't any stairs or steep inclines. It's not quite as easy as Upper Antelope Canyon, though.
Cardiac Canyon
Another lesser-known canyon is called Cardiac Canyon. As the name might suggest, it's not an easy canyon to traverse! Visitors to this section must be physically fit and willing to climb over boulders and navigate steep drop-offs.
Mountain Sheep Canyon
There is also a canyon known as Mountain Sheep Canyon. It's a great option for visitors who are looking for a similar but less crowded alternative to Upper Antelope Canyon. It has narrower passages but the tour is still quite easy.
Things to Know Before Going on an Antelope Canyon Tour
Antelope Canyon is gorgeous but it's also somewhat out of the way. Aside from the difficulty level, there are a few things you should know before deciding to make the journey:
You can only tour Antelope Canyon with a Navajo guide. Antelope Canyon is on the Navajo Nation's land. It's also a very sacred place to the Navajo people. As such, you can only enter the canyon if you're accompanied by a local Navajo guide.
Pack lightly when visiting Antelope Canyon. Backpacks aren't allowed in some parts of Antelope Canyon. Even in parts where they are allowed, it differs depending on the tour operator. Check with your tour operator but, to be safe, travel light, especially if you won't have a vehicle to leave your belongings in when you get to the canyon.
Antelope Canyon weather varies wildly. Antelope Canyon is very hot in the summer and very cold in the winter, but the temperature can vary a lot depending on the time of day and whether you're actually inside the canyon itself. It's best to wear layers, regardless of the season.
Rain will likely result in a canceled tour. It rarely rains at or near Antelope Canyon but, when it does, your tour may be canceled. Antelope Canyon is very susceptible to flooding.
Tours sell out quickly. Antelope Canyon is very popular, so buy your tickets for Antelope Canyon in advance. This is especially important to do if you want to visit Upper Antelope Canyon and/or if you're visiting during summer (peak season).
The Bottom Line
So, which Antelope Canyon tour is easiest? The tour that fits the bill the best is the Upper Antelope Canyon tour. It is doable even for those with mobility issues.
However, none of the main tours are particularly difficult if you are able-bodied. No matter which tour you choose, you're sure to be amazed by the beauty of Antelope Canyon.
To prevent any fatigue before even beginning the tour, consider booking an Antelope Canyon tour from Las Vegas that will take care of all the planning and transportation for you. Happy travels!
ABOUT THE AUTHOR
Sunny Samaroo