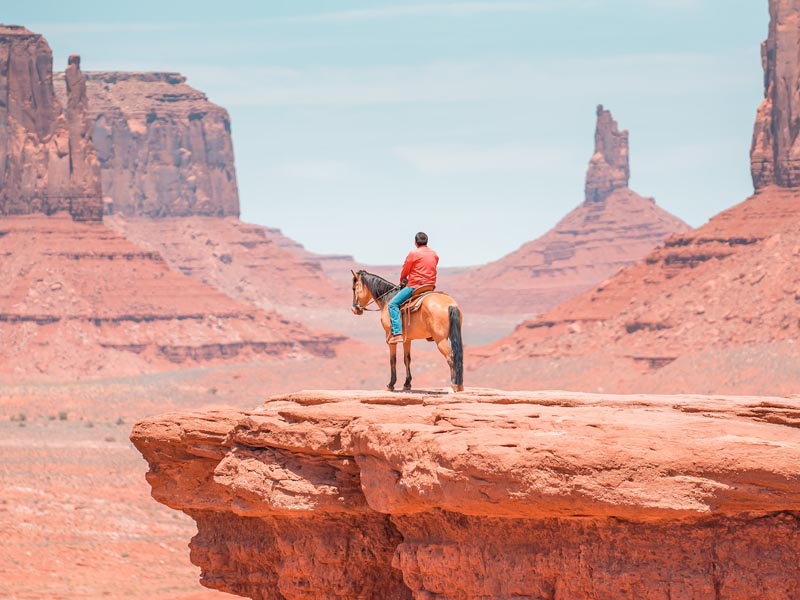 Can You Do Monument Valley and Antelope Canyon in One Day?
Last Update on
September 01, 2023
Monument Valley and Antelope Canyon are two of the biggest names in the American Southwest. These iconic destinations boast breathtaking vistas and towering sandstone formations, attracting people from all over the world.
If you don't have a lot of time for your trip, you might wonder: "Can you do Monument Valley and Antelope Canyon in one day?"
Short answer: Yes, it is possible to visit Monument Valley and Antelope Canyon in one day.
Long answer: While possible, visiting Monument Valley and Antelope Canyon isn't for everyone There are a few factors to consider beforehand, including where you'll be starting your journey from. Let's delve into the details.
How Far Is Monument Valley from Antelope Canyon?
The drive from Monument Valley and Antelope Canyon takes about 2 hours and covers roughly 115 miles (185 km).
These locations are not right next to each other, but they're not too far apart either. If you're staying in a town nearby to one or the other, such as Page or Kayenta (doing both in a day is much more doable.
However, if you're staying in Las Vegas or any other place far from these attractions, you'll have to endure a fair amount of driving. And let's face it, driving long distances can be tiring, leaving you with less energy to fully enjoy the wonders that await you.
If you have two extra days to spare, consider joining a 3-day tour that combines Antelope Canyon, Monument Valley, Grand Canyon, Bryce, and Zion. On this tour, we pick you up from Las Vegas and then stay overnight in Page, Arizona. On day 2 of this tour, we will visit both Monument Valley and Lower Antelope Canyon in 1 day.
The Best Time to Visit Monument Valley and Antelope Canyon
Summer, with its longer daylight hours, provides a more feasible window for visiting both sites in one day. You'll have more daylight to work with, allowing you to squeeze in the activities without feeling too rushed.
On the other hand, attempting this during the winter can be a challenge if you don't budget your time right. With shorter days, you have to make sure you're starting your trip early enough, or else it could lead to a disappointing and exhausting experience.
Monument Valley to Antelope Canyon Road Trip
As you approach Monument Valley, the iconic mesas and buttes will begin to emerge on the horizon. Once you're inside Monument Valley Tribal Park, you can explore the area by car. There are a lot of things to do in Monument Valley — more than you might expect!
Related Reading: Is Monument Valley Worth It
After basking in the beauty of Monument Valley, it's time to hit the road again and head towards Antelope Canyon. The drive from Monument Valley to Antelope Canyon typically takes around 2 hours. By now, fatigue might start creeping in slightly, but keep your spirits high; you're about to witness one of the most enchanting slot canyons in the world.
Once you arrive at Antelope Canyon, you'll have to join a guided tour since visiting the canyon without one is not permitted. There are two sections of Antelope Canyon to choose from – the Upper Antelope Canyon and the Lower Antelope Canyon.
Both sections offer distinct experiences, with the Upper Canyon being more famous for its light beams and the Lower Canyon showcasing intricate formations. Your time here will be limited, so be ready to take in the beauty swiftly.
Final Thoughts
Remember, while visiting both Monument Valley and Antelope Canyon in one day is achievable, it's not always recommended. Consider where you'll be staying the night and whether you're up to all the driving.
To truly make the most of your journey, consider splitting them into two days, especially if you're traveling from somewhere far like Las Vegas. By doing so, you'll have ample time to immerse yourself in the beauty of each location and create memories that will last a lifetime.
Embrace the journey, soak in the sights, and let the magic of the American Southwest surround you. Happy travels!
ABOUT THE AUTHOR
Sunny Samaroo