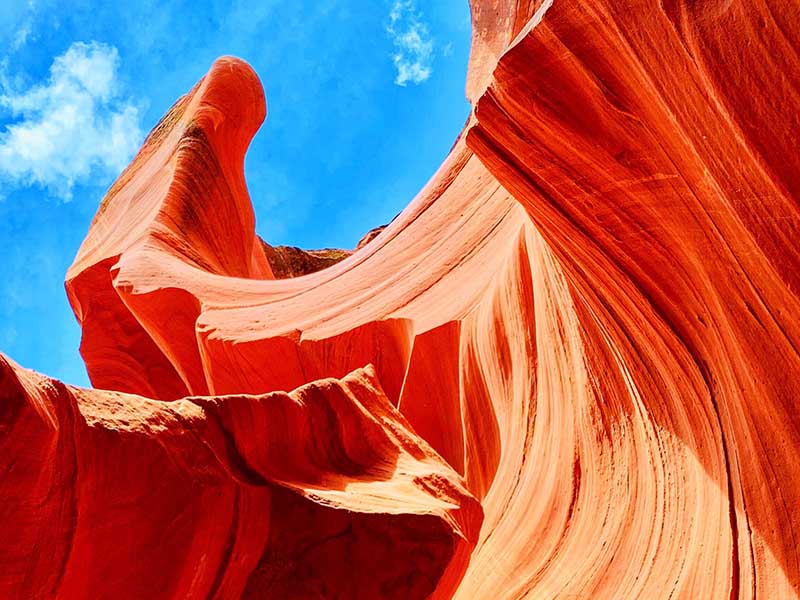 Can I Do Lower and Upper Antelope Canyon in One Day?
Last Update on
May 03, 2023
Antelope Canyon is one of the most stunning natural wonders in the United States. Located in northern Arizona, this slot canyon is famous for its incredible rock formations and mesmerizing colors.
There are two main sections of the canyon that visitors can explore: Lower Antelope Canyon and Upper Antelope Canyon. But can you do both Lower and Upper Antelope Canyon in one day?
Short answer: Yes, you can do Lower and Antelope Canyon in One Day, but it's important to plan your visit carefully.
Long answer: It's possible to do both in one day but, depending on your travel plans, it might be difficult. It helps to know more about what the two parts of the canyon are like and is important to prepare well in advance for the trip.
Our Plan:
8:30: Tour Lower Antelope Canyon with Ken's Tours.
12:25: Tour Upper Antelope Canyon with Antelope Canyon Slot Canyon Tours
This will give you enough time in between the tours and make sure you see each section at the perfect time. Note that these midday tours at Upper Antelope Canyon sell out months in advance. There are 5 different tour operators offering tours to Upper Antelope Canyon and can all help you with your goal of seeing Upper Antelope Canyon.
Differences Between Lower and Upper Antelope Canyon
First, let's talk about the differences between Upper Antelope Canyon and Lower Antelope Canyon.
Upper Antelope Canyon is the more popular of the two. For a slot canyon, it's relatively wide and easy to navigate. It's located at ground level and doesn't require any climbing, plus the floor is fairly even. Even travelers with mobility issues can enjoy it! Upper Antelope Canyon is also famous for the light beams that shine down into the canyon during certain times of the day.
Light beams shine down into Lower Antelope Canyon, too, but not as frequently. This section is also longer and deeper than Upper Antelope Canyon. It's more difficult to traverse, requiring visitors to climb steep flights of stairs and navigate narrow passages. Some people actually find Lower Antelope Canyon to be more fun to explore, though. That is why we exclusively feature it on our Grand Canyon Antelope Canyon Tour.
(If you're concerned about the difficulty of the various canyons, check out our post on which Antelope Canyon tour is the easiest.)
Though Lower Antelope Canyon is less popular overall, it and Upper Antelope Canyon are by far the most popular parts of the canyon. There are a few other sections that are further away, such as Canyon X and Cardiac Canyon. They're much less frequently visited and the tours are longer but the canyons are shorter and the views less spectacular.
How to Do Lower and Upper Antelope Canyon in One Day
You can visit both Lower and Upper Antelope Canyon in one day but it will take careful planning. This is not the case if, like many travelers, you're visiting as a day trip from Las Vegas, as Antelope Canyon is far from Las Vegas. If you want to see both sections of the canyon, you'll need to plan on staying at least one night in the nearby city of Page, AZ.
Both Lower and Upper Antelope Canyon are on Navajo land. Visitors are required to have a Navajo guide to enter the canyon. Spots are limited so we recommend booking your guided tour in advance to ensure availability, especially during peak season.
Guided tours typically last 1-2 hours and include interesting facts and information about the canyon's geology, history, and cultural significance.
You also get ample time to take photos and selfies inside the gorgeous canyon. March to October is the best time for getting good photos of the light beams at Upper Antelope Canyon, especially during the summer months. November to February is the best time to visit to avoid crowds and find lower prices on lodging and transportation.
To see both sections of Antelope Canyon in one day, we recommend starting early in the morning with Lower Antelope Canyon. Lower Antelope Canyon is best in the morning, so we would recommend a tour time between 8-10 AM. After Lower Antelope Canyon, you can head to Upper Antelope Canyon, which is best around mid-day.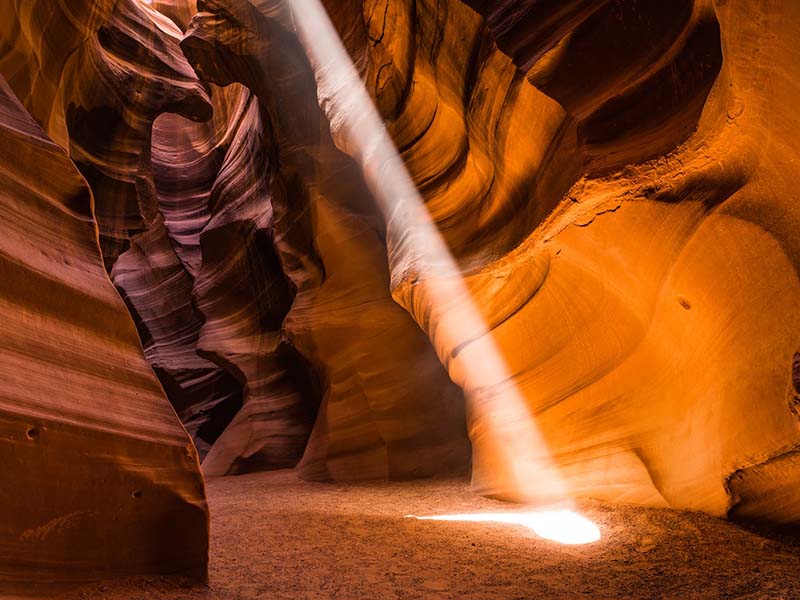 Things to Keep in Mind When Visiting Lower and Upper Antelope Canyon in One Day
If you do decide to do both sections of the canyon in one day, there are a few things you should keep in mind.
Factor in the Travel Time
One of the worst mistakes you can make when planning how much time you'll spend visiting an attraction is forgetting about travel time!
Antelope Canyon is in Page, Arizona. It's far from major cities, being about a 5-hour drive from both Las Vegas and Phoenix. If you're thinking of a day trip, that's 10 hours of driving in a day! You might want to look at the closest airports to Page. The town actually has its own airport but it only receives flights from Phoenix.
Book Your Tickets in Advance
Antelope Canyon is incredibly popular. Also, the guided tours have strict daily capacities, primarily for safety reasons. You should book your tickets for Antelope Canyon far in advance, especially for Upper Antelope Canyon.
If you're visiting outside of summer, peak season, you can be a bit more relaxed, but don't wait too long!
Dress Appropriately for the Weather and Terrain
Antelope Canyon is located in the desert, so it can get very hot during the day but also quite cold at night. It's a good idea to wear layers. Check the weather forecast before you go and dress accordingly.
Also, your visit will require walking on uneven surfaces, especially in Lower Antelope Canyon, wear shoes with good traction.
Bring Plenty of Water and Snacks
There are no food or drink options inside the canyons, so you'll need to bring your own supplies. Backpacks are not allowed at Antelope Canyon, though, so you'll have to keep your things in your vehicle at times. Alternatively, opt to travel light if you'll be visiting without a vehicle that you can leave things in. You can bring any water or snacks inside your pockets if you want to bring them into the canyon.
Be Respectful of the Canyon
Antelope Canyon is a sacred site for the Navajo people. It has deep symbolism as a mark of time and a representation of nature's bounty. It's important to treat it with respect. Follow the rules and guidelines set by the tour companies.
Final Thoughts
It's possible to do both Lower and Upper Antelope Canyon in one day but it's not the most ideal way to experience these natural wonders. But if you're short on time and can only visit for one day, be prepared for a long but rewarding day of exploring the stunning Antelope Canyon.
Antelope Canyon is a truly unique attraction that offers some of the most stunning rock formations you'll ever see. It looks great in photos! There used to be tours specifically for photography but not anymore. Nonetheless, you can still take some awesome photos on your tour.
ABOUT THE AUTHOR
Sunny Samaroo