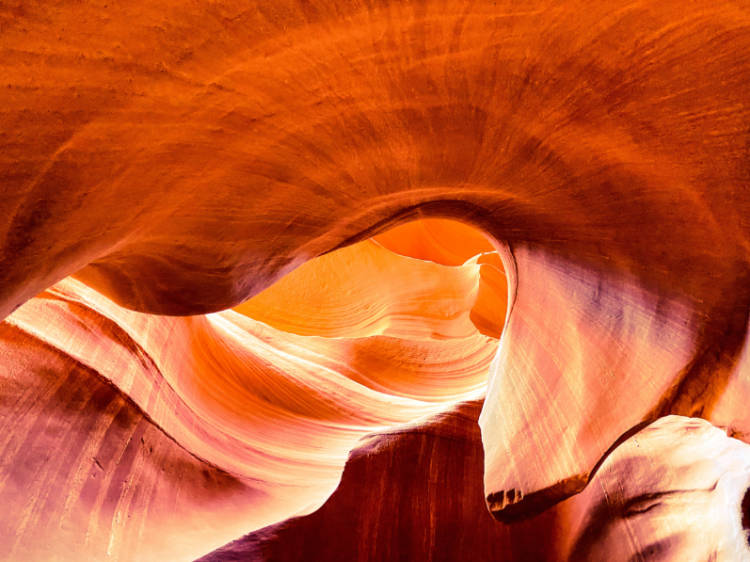 How Far Is Vegas From Antelope Canyon?
Last Update on
February 18, 2023
There are so many intriguing things about Antelope Canyon. How was it formed, what's the history behind it, and why is it called Antelope Canyon?
This mesmerizing slot canyon attracts hordes of visitors from Las Vegas but is it actually easy to get there? If you're planning to take an Antelope Canyon tour from Vegas, you need to know how far you've got to go.
In this article, we'll discuss how far Antelope Canyon is from Vegas, the different ways you can reach it, and the pros and cons of each route so that you can make the best decision!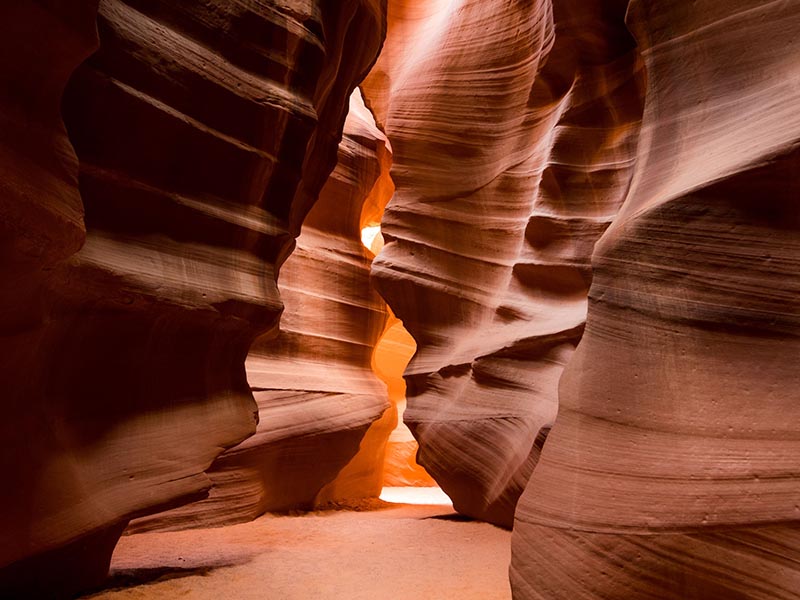 Las Vegas to Antelope Canyon Distance
The distance from Vegas to Antelope is about 280 miles (450 km). If you're planning to drive, the journey will take you approximately 4.5 to 5 hours. That's a total of 9 to 10 hours for the round trip.
It's quite the road trip but driving isn't your only option to get from Vegas to Antelope Canyon. Let's get into all the different ways to make the trip.
How to Get to Antelope Canyon from Las Vegas
The journey from Las Vegas to Antelope Canyon is a long one but don't let it stop you! To get to Antelope Canyon from Vegas, you can use the bus, the Amtrak Thruway, fly, or drive yourself. Let's discuss each option in more detail.
(Quick aside: when planning a trip to Antelope Canyon, you have to be very aware of the weather. Flash flooding is a possibility and the canyon is sometimes closed because of it.)
Taking the Bus From Las Vegas to Antelope Canyon
One option you have is to take a bus from Downtown Vegas to Antelope Canyon. The journey will take you approximately 17 hours, overall and is not recommended. This route is much longer and more expensive than renting a car or taking a tour. If you must, here is how to do it:
The bus will leave downtown Vegas and reach Flagstaff station in around eight hours. From Flagstaff, you'll take another bus, which will drop you at the Grand Canyon National Park Amtrak Bus Stop. This bus runs every four hours and the trip will take around two hours to complete.
Once you're at the Amtrak Bus Stop, you're just a short walk from the GC Village Bright Angel Lodge, where you'll find another bus to take you to Marble Canyon. This journey will take two hours, and once you're at Marble Canyon, you'll have to take a one-hour taxi ride to Antelope Canyon.
Overall, this route can cost you anywhere between $250 and $370. It takes a long time and involves a lot of stops but it definitely works, especially if you decide to take time to visit Grand Canyon National Park and Marble Canyon.
Taking the Amtrak Thruway to Antelope Canyon
The Amtrak Thruway comes in very handy when it comes to traveling to attractions near Las Vegas. This route is similar to the first one, except that you'll use a train to get to Flagstaff.
Your journey will begin with a bus to Kingman, Arizona from Downtown Las Vegas. This journey will take four hours. Once you're at Kingman, you'll take a 3-hour train ride to Flagstaff.
From Flagstaff, you'll take the exact same steps as described above in the section above. This overall route will take you around 17 hours to complete. It's a bit less than taking the bus but still very long. The difference doesn't matter much when considering time alone. The price will also be around the same as taking the bus — between $250 and $370.
Driving From Las Vegas to Antelope Canyon
Driving yourself is perhaps the most affordable and time-efficient way to explore Antelope Canyon. It takes 4.5 to 5 hours and will only cost you only the price of fuel (and snacks).
A big plus is that this option has a lot of room for flexibility. You can plan a whole itinerary around the journey and make stops at other attractions along the way, like Hoover Dam, Zion National Park, or Bryce Canyon National Park. If you plan realistically and then stick to that plan, you'll be able to see a lot!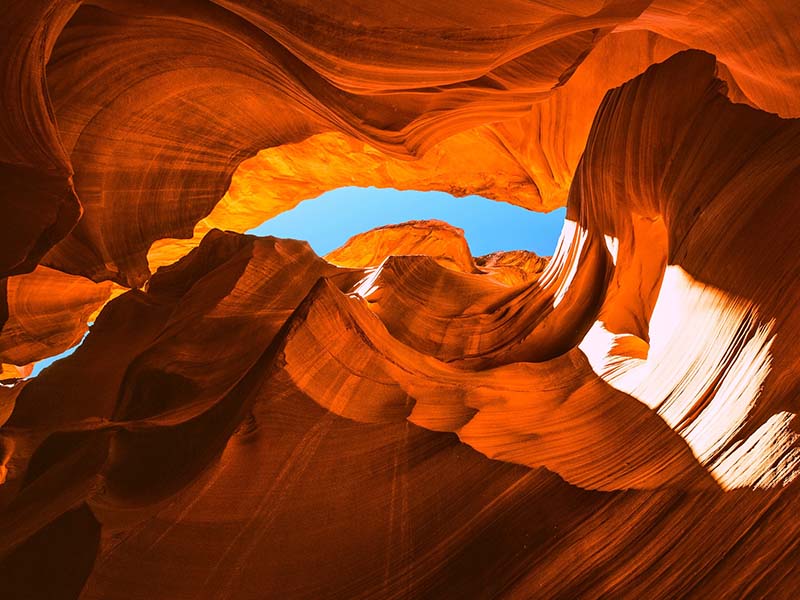 Las Vegas to Antelope Canyon Tours
If you want to travel in comfort and leave all of the planning and transportation to someone else, consider an Antelope Canyon Tour from Las Vegas. You'll have ample time to visit Antelope Canyon, Horseshoe Bend, and Lake Powell all within one day.
This tour costs just $249 and offers the most time spent at the gorgeous Horseshoe Bend than any other Vegas tour. Weather permitting, you're also guaranteed entry to Lower Antelope Canyon, which most tour operators can't promise.
As with driving yourself, guided tours also make it easy to fit other stops into your itinerary. You can take a two-day Grand Canyon and Antelope Canyon Tour. To really fit a lot into a short time, there's even a three-day tour that lets you visit Antelope Canyon, Grand Canyon, Bryce Canyon, Zion National Park, and Monument Valley!
Flying From Las Vegas to Page, AZ
This is the final way to get to the Antelope Canyon from Vegas: taking a 3-hour flight from Las Vegas to Page. This can cost anywhere from $120 and $2500, depending on the season and how early you book your ticket. From Page, it's just a 20-minute taxi ride to reach Antelope Canyon!
This is a great way to save time but it can cost you a lot if you don't manage to get a good deal on your flight ticket. Make sure to plan your trip well in advance if you want to save money and make the most of this option.
Final Thoughts
There are plenty of methods to get from Las Vegas to Antelope Canyon. The best and most cost-effective ways are up to you and your group's preferences and budget.
If time is of the essence and you're able to get a good deal, consider taking a flight to Page. If you want to travel at your own pace in a tried-and-true fashion, you can drive yourself there. To leave the details and driving to someone else, check out Las Vegas to Antelope Canyon tours.
Before you make your way out into the wild, don't forget to learn some fun facts about Antelope Canyon! It's not just a tourist attraction — it's an incredibly interesting and culturally important location.You can also read our recent post on whether Horseshoe Bend is open for tours to get tips on another exciting destination that you can (and should!) explore while visiting Antelope Canyon.
ABOUT THE AUTHOR
Matthew Meier
World Traveler. Mandarin Speaker. Founder of MaxTour.