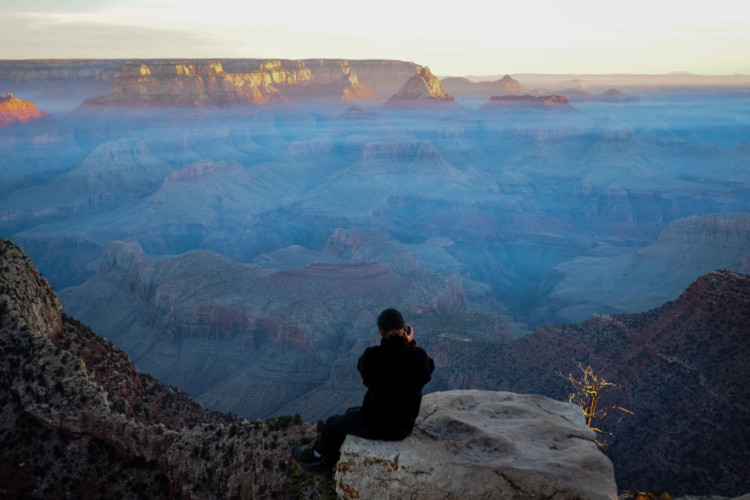 Can You Tour the Grand Canyon on Your Own?
Last Update on
February 15, 2023
Among the most famous tourist spots in the United States, the Grand Canyon welcomes almost six million visitors each year. Many people opt to book a tour to fully experience this majestic phenomenon. What if you want to explore it on your own, though?
Read on to learn how you can tour the Grand Canyon without a tour company or guide, as well as the pros and cons of doing so. To show both sides of the story, we'll also dive into why some people choose Grand Canyon half-day tours and Grand Canyon trip packages in general.
By the end you can make an informed decision as to which one would make your experience more fulfilling: traveling solo or with a tour company.
Can You Tour the Grand Canyon on Your Own?
There are no rules against visiting the Grand Canyon without a tour service. There also aren't any significant barriers to doing so. So, yes, you absolutely can tour the Grand Canyon independently!
To learn specifically how to do this by driving, check out our post on how to tour the Grand Canyon by car.
Can You Enter the Grand Canyon for Free?
The Grand Canyon is not free to enter, except on a few holidays throughout the year. To tour the Grand Canyon on your own, the first step is to get your entrance pass. It can be bought online or in person at any one of the entrance stations.
The passes vary in price depending on how you get there:
$35 per private vehicle (including everyone in it)
$30 per motorcycle (including a passenger)
$20 per individual visitor arriving on foot, bike, public transportation, etc.
How Can You Tour the Grand Canyon Independently?
Whether you've arrived by car, shuttle, helicopter, or your own two feet, your solo tour truly begins once you're inside. The canyon is really your oyster; as for "how to tour the Grand Canyon independently," it's really up to you.
However you decide to go about it, your solo tour of the Grand Canyon National Park will be facilitated by:
The free shuttle bus that takes you around
The park newspaper that shows all the information you need to explore the Grand Canyon park
The Visitors Center where you can ask questions about the park
The rangers stationed across the park who can guide you if you're lost or looking for a specific site
What Are the Pros and Cons of Touring the Grand Canyon on Your Own?
A solo tour of the Grand Canyon might be heaven to some and hell to others. Before you make the decision, weigh the pros and cons to figure out which category you'd fall into. Here are just a few pros:
You have more freedom to explore at your own pace.
If you have a specific list of spots you want to visit or trails you want to hike, you can just do those without any other activities that a tour might add.
Even if you're foregoing full-on guided tours, you can join short, activity-specific tours offered inside the canyon. These include mule tours, rafting tours, and helicopter tours.
You can save money, as self guided travel is usually cheaper than guided tours.
There are, however, some real cons to touring the Grand Canyon on your own, including:
If you only have a short amount of time to experience the canyon, it can be very difficult to know where to go in order to best make use of that time.
With so many options for trails to hike and activities to do, some people get overwhelmed.
If you're a first-time visitor, the above issues are amplified.
You have to do all the driving yourself, and distances are vast in the desert southwest.
Why Do People Choose Tour Companies to Visit the Grand Canyon?
We've established that the Grand Canyon can be toured independently without any issues. Yet, many visitors choose a Grand Canyon half-day tour or full day tour to help them make the most of their experience. Why?
Visitors may choose to go on Grand Canyon tours through a tour company because:
The company does the planning for you, so you can just sit back and follow their lead.
The fees are usually all bundled, so you can pay once at the start of your trip and not have to get your wallet out afterward.
Tour companies offer multiple exciting tour options, such as touring on a helicopter, private airplane, or boat.
Tour guides are usually very familiar with the place and can take you to spots that independent visitors, especially first-time visitors, probably wouldn't know.
Guides keep you informed and entertained with a lot of interesting information and fun facts about the sites you are seeing.
Tour guides often have medical certification in case of an emergency.
Tour companies might provide the needed hiking gear if you don't have it.
Tour companies are fully prepared for the challenges that can arise during trips, so they are equipped to resolve any issues that happen along the way.
To sum it up, visiting the Grand Canyon with a tour company helps you experience the same place in fun and unique ways, while knowing that you're in good, experienced hands.
Which One Should You Choose?
Whether you take a tour of the Grand Canyon on your own or choose to visit with a tour company depends on what you are hoping to get out of your trip
Visiting independently might be the right choice for you if you are:
Hoping to spend some quality time alone or with your friends and family without outsiders
Relatively familiar with the area already
Willing to put in the effort to research and explore by yourself
On the other hand, you should consider going with a tour group if you:
Are looking for convenience and want to have an enjoyable trip without being responsible for figuring out what to see and how to see it
Want the assurance of having an experienced, knowledgeable guide by your side throughout the trip
Don't have much time to visit and want to ensure you make the best use of your time
There's no right or wrong way to tour the Grand Canyon, so don't worry too much about how you decide to experience it. The most important thing is that you enjoy yourself while you're there!
ABOUT THE AUTHOR
Matthew Meier
World Traveler. Mandarin Speaker. Founder of MaxTour.