Millions of Americans visit Las Vegas every year, and hundreds of thousands of those people will also visit the Hoover Dam and the Grand Canyon. But what these people don't know is that just a few hours further is one of America's most stunning natural features, Antelope Canyon. A slot canyon carved into sandstone over millions of years, Antelope Canyon has produced some of the most incredible and unbelievable geological shapes on earth. Some of the best Antelope Canyon tours start in Las Vegas.
Antelope Canyon sits on tribal land belonging to the Navajo People. Because of this, the Navajo Tribe and the canyon are inextricably linked. Let's examine what a typical visit to this Native American treasure looks like and learn a little about the history of the land and its people.
The History of Antelope Canyon
Local legend tells the story of a young farm girl who was out herding one day in the 1930s. She saw a crack in the stone and decided to go inside, and what she found stunned her and generations of visitors ever since. While this myth makes for good storytelling, Antelope Canyon has been known by the local tribes for many years.
Geologically, the history of Antelope Canyon began with a simple crack in the ground. Due to flash flooding, water started carving its way through the rock. As the canyon was carved over millions of years, it slowly exposed layers of rock which now run like the strokes of a paintbrush across the walls of the canyon.
This flooding still occurs today and tours may be suspended if rain is anywhere in the area–even rain as far as ten miles away can cause the canyon to flood. Fortunately, because of the desert climate, rainy days are rare.
Visiting the Canyon
Reaching the canyon is as easy as booking the best Antelope Canyon tours. Despite what many people think, Antelope Canyon is not a national park. Due to its location on tribal land, it is a tribal park and all tours of Antelope Canyon are operated by the Navajo Nation.
Guided tours of the canyon are mandatory and no visitors are allowed to enter the canyon without a guide. Your guide will explain the features of the canyon and show how the canyon was formed by water over the years.
As a bonus, nearly all tours of Antelope Canyon include a stop at the majestic Horseshoe Bend on the Colorado River. This amazing feature is where the Colorado River makes a sharp turn and carves a perfect U-shape into the desert floor. Tours will also often stop for photos at Lake Powell and the Glen Canyon Dam.
After seeing the sights, most tours will take you back to Las Vegas so you can continue on your trip in one of America's most famous, fun-filled cities!
You have a great blog and we have some great tours. If you are interested in joining a tour and writing about it on your blog, please reach out to us so we can get you a discount or a complimentary seat. Email us at:
The Hoover Dam, located in Las Vegas, is a marvel of engineering and a sight to behold for any individual or group. The attraction nets around a million visitors per year. You may wonder when the best time to go is to beat the crowds while enjoying the beauty of the dam. Our knowledgeable tour guides go to the Hoover Dam every day on the best Hoover Dam tours, so we asked them when is the best time to visit.
Best Season
Here we will break down what each season has to offer for a group or individual looking to visit the Hoover Dam.
Spring
Spring is considered one of the better seasons to visit the Hoover Dam due to less traffic and great weather. While some other areas in the United States often have to worry about rain in the spring, this is a rare problem in the desert of Las Vegas. The crowds won't be as small as in the winter, but they will be considerably smaller than the summer or fall crowds.
Summer
Summer is one of the busiest seasons for attractions worldwide (landmarks, theme parks, etc.), and it is no different for the Hoover Dam. Visiting the Hoover Dam in the summer is not recommended because of the crowds and the weather.
The location is in Nevada after all, where the dry heat has been known to sneak up on people who end up overexerting themselves. Try to shoot for earlier in Spring, as this gives you the best chance of small crowds and great weather.
Fall
While the weather is a little more forgiving in the fall than in the summer in Las Vegas, visiting in this season is still not your best bet.
School trips and group outings make this an incredibly busy time of the year for the Hoover Dam. Particularly if you plan to stop by the Visitor's Center, where lines can get very long, you might want to avoid having to take in the view with a giant crowd around you.
Winter
Winter is one of the best, if not the best, seasons to visit the Hoover Dam. The crowds are very minimal during this time, so you can fully enjoy the marvel that is the Hoover Dam without dealing with giant crowds.
In addition, this is great for those who are looking to get excellent photographs of the landmark. You will not have to fight for the perfect spot to snap that pic or have to deal with other people in the side view or background of your photographs. Late winter is considered the best time because the weather is lovely in the area.
Best Month To Visit the Hoover Dam
Choosing the right month to visit the Hoover Dam can also greatly improve your overall experience. Here are some of the highlights for each month to help you choose the best one for you.
January
January is considered one of the best months to visit the Hoover Dam. Attendance is lower during this time, and the weather is quite favorable. Winter is not as cold in Nevada as in states like New York or Michigan, so you will be able to enjoy the weather and the small crowds.
February
Along with January, February is considered the best time to visit the Hoover Dam. Similarly, February is a great month to visit because the weather is fair and crowds are far smaller. That means no waiting in line or dealing with a large group getting in the way of your perfect photographs.
March
March is considered a nice time to visit the Hoover Dam, though not as great as January or February. It is good in terms of the weather, as this time of year in Las Vegas has an excellent climate that will not tire you out like the heat of the summer.
April
Visiting in April will be slightly less ideal than the earlier months of the year. Because crowds start to grow at this point, you may have to deal with a few more people than you would like. 
Related Reading: How Far Is Hoover Dam from Las Vegas
May
In May, many schools and colleges have already let out for the summer, which means additional crowds. You may not suffer from close contact the way you might in June or July, but expect to have to wait in some lines or take turns snapping photos.
June
June may be the worst month to visit the Hoover Dam if you are not a fan of large crowds and hot weather.
July
Along with June, July is one of the less ideal times to visit the Hoover Dam. This is because this is prime summer trip time, and you will be facing some crowds. In addition, July is often the hottest month in Nevada. In recent years, the temperature has shot up to 114 degrees Fahrenheit in July for this area.
August
August is a better month to visit than June or July, especially as kids make their way back to school and the visitor numbers go down a bit.
September
Similar to August, September will come with better weather for visiting the Hoover Dam, but you still may have to fight some crowds.
October
October is when crowds begin to die down, but you may still struggle with the weather. In recent years, as temperatures have risen across the United States, Las Vegas has been experiencing some hot fall seasons, October included.
November
Once you hit November and start making your way into the winter season, it becomes a better time to visit. The November weather in Las Vegas is still pretty ideal, especially if you visit earlier in the morning when the crowds are sparse.
December
December marks a very mild winter in Las Vegas, especially compared to other areas in the United States. For those in the northern and midwestern United States, you will be perfectly comfortable at historic temperatures ranging from the low 50s to the high 60s (in Fahrenheit).
Southerners will be familiar with the warm winters that Las Vegas, Nevada, often has. After January and February, December is most likely your best option for visiting the Hoover Dam.
Conclusion
The best time of year to visit the Hoover Dam is in the winter season in January and February. These times are when crowds are the smallest, and due to Nevada's warm climate, you will not have to deal with any real cold.
Una de las principales preguntas que recibimos de nuestros visitantes es: ¿cuál es la diferencia entre el Antelope Canyon inferior y el Antelope Canyon superior? También quieren saber cuál deberían elegir. La respuesta depende del tipo de experiencia que busques. Sigue leyendo para ver cuál es el mejor para ti.
¿Qué es el Antelope Canyon?
En Antelope Canyon (en español, el cañón del Antílope) es un cañón de ranura en el norte de Arizona, ubicado en una tierra que es propiedad de la Nación Navajo. El Antelope Canyon está dividido en dos secciones: Lower Antelope Canyon (inferior) y Upper Antelope Canyon (superior). Ambas son similares, pero tienen algunas diferencias importantes.
¿Dónde está ubicado el Antelope Canyon?
El Antelope Canyon está ubicado al noroeste de Arizona, justo en las afueras de la ciudad de Page. El Antelope Canyon se encuentra en una tierra que es propiedad de la Nación Navajo.
El Antelope Canyon está bastante lejos de las principales ciudades, a unas cinco horas de Las Vegas, a cuatro horas y 15 minutos de Phoenix y a seis horas de Salt Lake City.
Hay un aeropuerto en Page que tiene vuelos a Phoenix y Las Vegas.
Similitudes entre Lower y Upper Antelope Canyon
¿Diferencias entre Lower y Upper Antelope Canyon?
Una de las preguntas más comunes de quienes visitan por primera vez el Antelope Canyon es: ¿cuál es la diferencia entre el Lower Antelope Canyon (inferior) y el Upper Antelope Canyon (superior)?
Son dos secciones del mismo cañón, pero tienen algunas diferencias importantes.
Hay una gran diferencia en cómo entras a las dos secciones.
El Lower Antelope Canyon tiene cuatro sets de escaleras por las que se debe descender para llegar al fondo del cañón. Hay una salida separada por la parte de atrás del cañón, lo que hace que la excursión por el Lower Antelope Canyon sea un viaje solo de ida.
El Upper Antelope Canyon tiene una boca de cañón grande que lleva directamente al cañón. Esta boca es también la salida del cañón, lo que significa que debes caminar de regreso por donde viniste para salir del cañón. El Lower Antelope Canyon tiene más del doble de largo, con 1,335 pies (unos 407 metros), mientras que el Upper Antelope Canyon es de unos 660 pies de largo (unos 200 metros).
Sin embargo, el Upper Antelope Canyon es más ancho que el Lower Antelope Canyon.

¿Qué significa esto?
Esto significa que las personas que tienen problemas con las escaleras, usualmente eligen el Upper Antelope Canyon (superior).

El Lower Antelope Canyon (inferior) siempre está menos concurrido porque nunca encuentras personas retornando para salir del cañón como pasa con el Upper.
Además, dado que el Upper se recorre como un circuito y el Lower es de una sola vía, siempre habrá menos gente en el Lower Antelope Canyon, en cualquier momento. Esto hace que tomar fotos de ti y del cañón, y que no salga nadie más en la imagen, sea una tarea más fácil en el Lower Antelope Canyon.
También significa que un tour por el Lower es más divertido y aventurero, gracias a sus escaleras, cambios de elevación, pasajes estrechos y longitud en general.
Un tour por el Lower Antelope Canyon será más largo que un tour por el Upper Antelope Canyon
¿Qué significa esto?
El Lower Antelope Canyon tiene más del doble de longitud del Upper Antelope Canyon. Esto significa que caminar a través del cañón toma mucho más tiempo y podrás ver más cosas. Cada giro viene con curvas y formaciones rocosas diferentes para admirar.
¿Quiénes deberían elegir el Lower Antelope Canyon?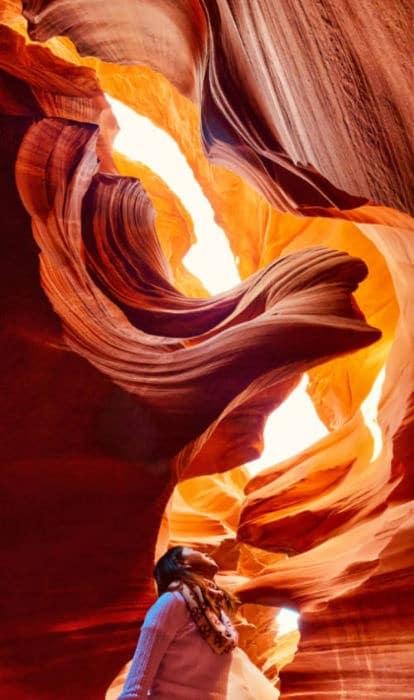 Las personas que gustan de la aventura, que les gusta caminar o hace excursiones, que no les asustan las alturas y que desean fotos grandiosas de sí mismos, sin otras personas en la imagen.

¿Quiénes deberían elegir el Upper Antelope Canyon?
Las personas que problemas de movilidad o que les apasiona la fotografía.
La entrada del Upper Antelope Canyon es plana y de fácil acceso para todos los visitantes. No hay escaleras y ningún cambio de elevación a medida que caminas el cañón.
Si tienes problemas con tus rodillas o espalda, y se te dificulta subir o bajar escaleras, el Upper Antelope Canyon es el que deberías elegir.
Una acotación sobre los haces de luz
Los haces de luz que vienen del cielo son una de las imágenes más reconocibles de Antelope Canyon. Mucha gente está interesada en fotografiar estos rayos de luz. Para verlos, únase a un recorrido por Upper Antelope Canyon entre mayo y septiembre de 10 a.m. a 1 p.m.
No está garantizado que los verá, pero ir a estas horas le dará la mejor oportunidad.
En el Lower Antelope Canyon también se pueden ver haces de luz en los meses del verano. No son muy pronunciados y no se les arroja arena. Se pueden ver mejor en junio, julio y agosto, entre las 10:30 am y la 1:00 pm.
Se tiende a sobrevalorar los haces de luz. Los visitantes por primera vez creen que bajarán al cañón, cruzarán en una esquina y verán esto: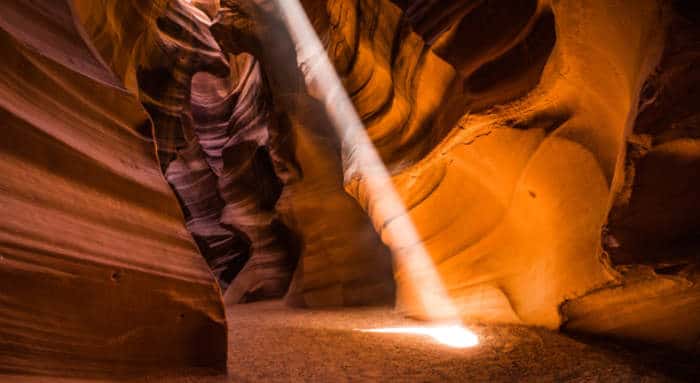 La realidad es que fotografías como esta son preparadas cuidadosamente y muy editadas después.
Tours fotográficos:
En 2018 se dejaron de hacer tours fotográficos en el Lower Antelope Canyon. Para diciembre de 2019, no había más tours de fotografía en el Upper Antelope Canyon.
Compra de boletos
Los boletos son un requisito para unirse a los tours en el Antelope Canyon. Estos boletos se pueden agotar rápidamente, así que lo mejor es que planifiques tu visita con tiempo y reserves tu tour con bastante antelación. Si los boletos se agotan, ten cuidado con la compra de boletos a través de sitios web de terceros, porque esos boletos pueden ser difícil de rastrear algunas veces.
Revisa regularmente los dos sitios web del Lower Antelope Canyon, pues los boletos usualmente aparecen en las semanas y días previos de un tour. Si estás en Page y todavía no consigues boletos, Lower Antelope Canyon tiene una lista de espera bastante buena con la que puedes entrar al cañón, si no te importa esperar un rato.
Estas son las opciones para reservar boletos de Antelope Canyon directamente con el operador turístico local:
Lower Antelope Canyon:
Kens Tours:
Dixie Ellis:
https://antelopelowercanyon.com/
Upper Antelope Canyon
Adventurous Antelope Canyon Tours:
https://www.navajoantelopecanyon.com/
Antelope Canyon Navajo Tours:
https://www.navajoantelopecanyon.com/
Antelope Canyon Tours:
https://www.antelopecanyon.com/
Antelope Slot Canyon Tours:
https://antelopeslotcanyon.com/
Conclusión
Sea cual sea el tour que elijas, al Lower o al Upper Antelope Canyon, seguramente lo disfrutarás.
Si estás lo suficientemente en forma como para subir y bajar escaleras y hacer unas cuantas caminatas moderadas, definitivamente creemos que deberías elegir el Lower Antelope Canyon (inferior).
Si te apasiona la fotografía o tienes problemas de movilidad, el Upper Antelope Canyon (superior) pudiera ser una mejor elección.
The Noodle Man Serves the Best Chinese Noodles in Las Vegas
Of late, Las Vegas's infatuation with Chinese food has burgeoned into a full-fledged love affair. You'll find proof in the sheer number of Chinese noodle shops peppering the valley's cityscape, as well as in the medley of menus they serve. From bold fusion flavors crafted by some of the best-known names in the culinary world to welcoming delicacies that have people queuing up outside Chinatown's hole-in-the-wall outlets, noodle places in Las Vegas pander to every mood, palate, and budget.
For diners like us, who have a soft spot for spicy savories, Las Vegas can be a treat to explore. But while our cravings have taken us to a great many Chinese noodle places across the length and breadth of the valley, we've often found ourselves retracing our steps to one particular restaurant – The Noodle Man.
The Noodle Man doesn't have an address on the Las Vegas Strip, but to us, that's one of its selling points. Over the past few years, the quieter suburbs just off the Strip have become home to a great many Chinese restaurants that make their Strip counterparts appear inauthentic and overpriced in comparison. And while Chinatown remains the go-to place for seekers of traditional and reliable Chinese fare, new off-Strip restaurants like The Noodle Man are rapidly building a reputation for serving delish Chinese food that won't break the bank.
An Uber from the center of the Strip will get you to The Noodle Man in about 10 minutes (and about $13). Part of one of those new strip malls that are characteristic of suburban Las Vegas, the restaurant presents an unassuming storefront, through which you enter its tastefully designed interior. Between the tables and the long noodle bar, there's room for about 30 guests here, but our party of 5 has never had to wait to be seated so far.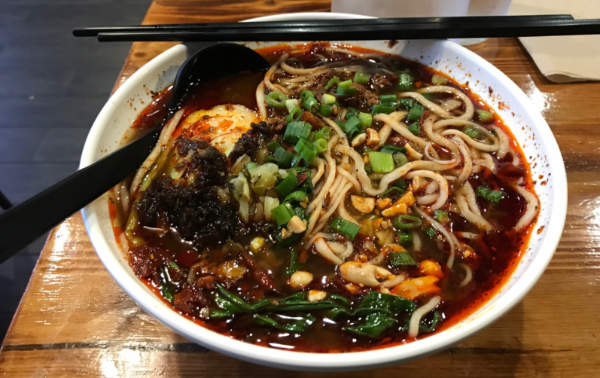 The Best Noodles in Las Vegas
The star of the show, in every one of our visits to The Noodle Man, has been the food. Be it the fresh handmade noodles, the crisp Mongolian pancakes, or the flavorful dumplings, our taste buds have been rewarded whenever we've sampled something new here. The Noodle Man has the kind of menu that encourages you to try a different delicacy every time you visit, but if we had to pick our all-time favorites, the pork dumplings, the Mongolian beef pancakes, and the Shanxi knife shaved beef noodle soup would top the list.
Nice Touches
Dining at The Noodle Man is a pleasant affair, and not just because of the delectable fare on your table. Myriad thoughtful touches add to the ambience and to your dining experience. Extra-large ladle-sized soup spoons, for instance, allow you to quickly load up your bowl without making a mess. And in the brief windows of time when you aren't busy slurping up your noodles, there's a lot to feast your eyes on. The two TVs at the restaurant run Asian travel and cooking shows – a welcome break from the Las Vegas staple of news and sports coverage. More than anything, though, it's The Noodle Man's open kitchen that you'll typically find your eyes wandering to.
Back here, chefs go about mixing flour and water and turning the dough into familiar-looking shapes. For an American brought up on dried noodles, the ringside view of fresh noodles being prepared can be a fascinating sight. The noodles themselves are a revelation when they make their way to your table, serving as an equal counterpart to the meat, sauce, and broth, and proving that authentic Chinese noodle preparations aren't just about the sauce and the flavoring. The extra visual appeal doesn't hurt either – the noodles come in a few different shapes including knife shaved and thin. We particularly enjoyed the knife shaved variant that was part of the Shanxi beef noodles.
3 Keys to a Good Noodle Soup
The perfect bowl of noodle soup demands a fair degree of mastery over three components – the broth, the noodles, and the ingredients. The Noodle Man delivers on all three counts. Every bowl of noodle soup we ordered rewarded us with a deep, rich, and flavorful broth, enriched with beautifully paired ingredients. The Shanxi knife shaved noodles, for instance, had a delectable combination of tender stewed beef and crisp bok choy. And the noodles themselves, as we just mentioned, were the highlight of the bowl.
To us, The Noodle Man's ability to serve these perfect noodle soups is reason enough to visit again, and reason enough to qualify it as the best noodles in Las Vegas. But the restaurant isn't partial to noodle soup purists; the menu has a plethora of other options for when your taste buds crave something different. The service, though not outstanding, won't give you cause for complaint either. We see The Noodle Man as the place to visit when you're in the mood for authentic Chinese fare in Las Vegas but could do without the glitz of the Strip or the hubbub of Chinatown.
The Noodle Man
6870 S Rainbow Blvd #101, Las Vegas, NV 89118
(702) 823-3333