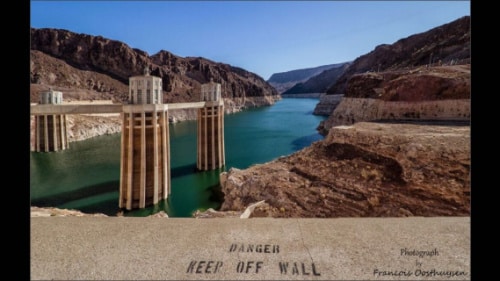 The Best Day Trips From Las Vegas
Last Update on
January 03, 2019
Bright lights, casinos, and extravagance of every variety – Las Vegas pulls out all the stops to guarantee you an epic getaway.
But there's more to this buzzing Nevada oasis than its trademark glitz and glamour.
Surrounded by fascinating works of nature, Las Vegas has numerous day trip opportunities for travelers looking to stock up on fresh air and stunning scenery.
Interested in giving the casinos a break and venturing into the great outdoors instead? Check out our list of the best day trips from Las Vegas right here:
Zion National Park
Zion National Park and its dreamy rock-cut landscapes are among our all-time favorite destinations in the American Southwest.
And most tourists agree, seeing as it also happens to be the 3rd most popular National Park in the US.
Though technically in the state of Utah, Zion National Park is less than a three-hour drive from Vegas, giving you ample time to hike, explore the spectacular ZionValley, or just treat your eyes to the rare sight of lush greenery in this part of the country.
Even if you're short on time, we thoroughly recommend driving through the mile-long Zion-Mount Carmel Tunnel.
There are plenty of hikes of varying length that can be undertaken in Zion, one of our favorites is the 10-minute hike to Weeping Rock where you can see water pouring out of solid rock.
If that is too tame for you and you like more hair-raising adventure on your hikes, the Angels Landing hike is one of the most iconic and breathtaking hikes in America.
All in all, Zion National Park is the best day trips from Las Vegas.
Grand Canyon West Rim
While we overall prefer the South Rim to the West Rim, This section of the Grand Canyon comes in second on our list due to its convenience factor.
The West Rim is just two and a half hours away from Las Vegas, which means that even with less than a day to spare, you can check one of the Seven Wonders of the World off your list. The Grand Canyon West Rim is managed by the Hualapai Reservation, and tickets tend to get pricey.
Even so, you won't regret spending $82 for an entrance and Skywalk ticket.
Walking along the Grand Canyon Skywalk is an experience of a lifetime.
The cantilevered Skywalk extends from the rocks in a sweeping horseshoe shape, its glass bottom giving you jaw-dropping views of the Colorado River 4000 feet below.
There are many activities to try at the west rim, including the Skywalk, a walk through replica Native American Villages, helicopter rides over the canyon, boat rides inside the canyon on the Colorado River, and many scenic vistas of the Grand Canyon.
Hoover Dam
Hoover Dam may not be a work of nature, but it gives every other destination on this list a run for its money.
This iconic engineering masterpiece is located in Boulder City, which is a mere 30 miles from Las Vegas (you can get there from the Strip in under an hour).
The Hoover Dam creates the largest reservoir in the US.  
Lake Mead holds over 28 million acre-feet of water and the green water looks beautiful against the desert backdrop.
Building this man-made marvel in the middle of the desert was no mean feat, especially during the Great Depression. Regular maintenance is still required to keep it running.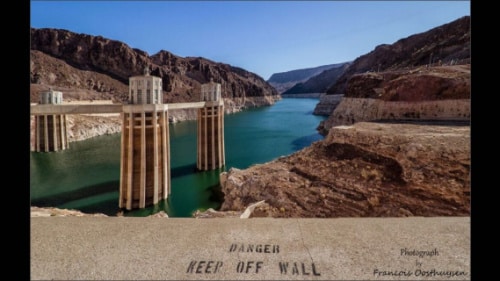 Hoover Dam treats you to a mix of natural beauty and engineering marvel.
While gazing at the breathtaking views over the water, it's impossible not to admire the ingenuity that allowed the reservoir to be built way back in the 1930s.
Spend time up on the deck, or head down to the observation room to understand how everything works.
The Hoover Dam is part of all of our two-day tours to the Grand Canyon, see more Hoover Dam Tours here. 
Red Rock Canyon National Conservation Area
So close to Las Vegas that it's technically part of the city itself, Red Rock Canyon is the first National Conservation Area in Nevada and is frequented by locals and tourists alike.
Its vivid rocks, formed over millions of years, also draw geologists on a regular basis.
Hike or trail through fascinating sandstone landscapes, or take the 13-mile Scenic Drive which is chock-full of photo ops.
For more adventurous visitors, there are hundreds of rock-climbing routes in the area.
The red-and-cream Calico Hills are not to be missed, and depending on when you visit, you may be in for wildflower blossoms or seasonal waterfalls.
Red Rock Canyon National Conservation Area is also home to an assortment of Native American petroglyphs.
Antelope Canyon
A surreal world of layered sandstone corridors and spiral rock arches, Antelope Canyon is one of the most photographed destinations in the world, and well worth the 5-hour drive from Las Vegas. While the sights at Antelope Canyon are as good or better than any other on this list, the long travel time pushes it down in our rankings. 
There's an almost mystical vibe to this spectacular slot canyon, from its discreet desert setting to the fact that you can only visit it with a Navajo tour guide. The canyon has two separate sections – Upper Antelope Canyon and Lower Antelope Canyon – each offering a uniquely dramatic ambience.
The experience of walking through the canyon is magical and the photos you take home will be envy-inducing.  We organize our one-day tour of Antelope Canyon such that our guests can get there when the light is just right for clicking photos, and can also visit a couple of other sights nearby. Check out the details here.
Valley of the Fire State Park
Over 40,000 acres of Aztec sandstone, ancient trees, and Native Indian petroglyphs, Valley of Fire State Park makes for the perfect way to close this list.
One of the most iconic sights of Nevada, the Park is just an hour's drive away from Las Vegas.
Its picture-perfect stone outcroppings were created from shifting sand dunes over millions of years.
On a summer's day, these sandstone formations are brilliant enough to appear as if they're on fire.
Valley of Fire is a place you should ideally experience at leisure, by camping out, hiking, and exploring its spectacular trails.
But if you're strapped for time, you only need a couple of hours to drive through the park and stop at sites such as the Beehives, the Pink Canyon, Seven Sisters, and Atlatl Rock. Drop by the visitor center to learn about the Park's geological and historical significance.
So here's hoping that the next time you're in Las Vegas, you'll consider combining the bustle of the city with the beauty of its natural environs. If you need more information on any of these day trips, or would like to arrange a small group tour, Maxtour will be happy to help. Just leave us a message.