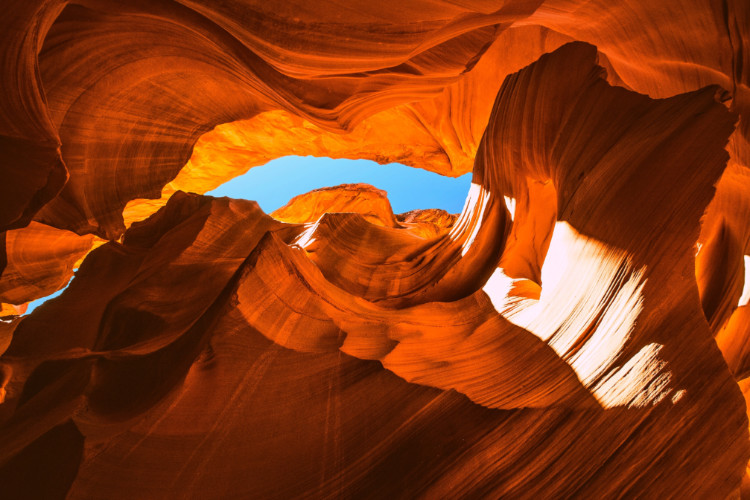 What Is the Best Time of the Day to Visit Lower Antelope Canyon?
Last Update on
July 12, 2022
The best time to visit the Lower Antelope Canyon and experience the spectacular colors of the canyon is early morning and late afternoon year round. The way that the light comes in at an angle during this time brings out the greatest variety of colors, most of those colors get washed out in the midday light. This otherworldly formation might seem out of reach, but it's easy to book Antelope Canyon tours from Las Vegas and other surrounding towns.
Upper Versus Lower Antelope Canyon
Most people don't know there are Upper and Lower Antelope Canyons until they visit. Each section has unique features, but we recommend visiting both to fully appreciate this natural wonder.
The more adventurous should consider Lower Antelope Canyon. Its entrance is at the bottom of the canyon, so it shouldn't pose a problem for any age of hiker, and the walk from the parking lot to the entrance takes only ten minutes. However, be prepared to do a lot of walking, and have a good pair of comfortable walking shoes.
If you prefer to do so, you can descend the eight flights of stairs under the guidance of your tour guide. If your primary reason for visiting Antelope Canyon is to view the light beams, you're better off visiting the Upper Canyon.
The Upper Canyon provides the opportunity to see the light beams in all their glory, and there's a lot of space to take photos and capture a memory of the experience. Upper Antelope is the busier of the two, and there are no stairs.
Is It Difficult to Explore the Lower Canyon?
It depends on who you're asking–if you're adventurous, you shouldn't have trouble descending and ascending the flight of stairs, though the stairs are steep and narrow.
Tours to Antelope Canyon
It's mandatory to have a tour guide to visit Antelope Canyon, so it is advisable to book in advance and arrive on site up to an hour early. The tour guide will teach you some of the canyon's history and help you take breathtaking pictures.
How Long Does the Tour Last?
It depends on your chosen tour—most last between one and two hours. For Upper Antelope, a tour usually lasts around ninety minutes, but the time can vary depending on the number of people on the tour and the particular tour guide.
Planning Your Trip
There are a few things you should keep in mind when planning a trip to Antelope canyon:
Make sure you carry enough drinking water.
Antelope Canyon operates on Arizona Standard Time.
You're not allowed to carry colored bags.
The stairs are narrow and steep.
Children who can't walk should be carried in a front or back carrier.
Upper Antelope Canyon is typically busier than Lower Antelope because visitors flock to take pictures of the light beams. If you're the adventurous type and want more privacy while witnessing a wide array of beautiful sights, you should consider visiting Lower Antelope.
To enrich your visit, make sure you read our article on what the Navajo call Antelope Canyon.