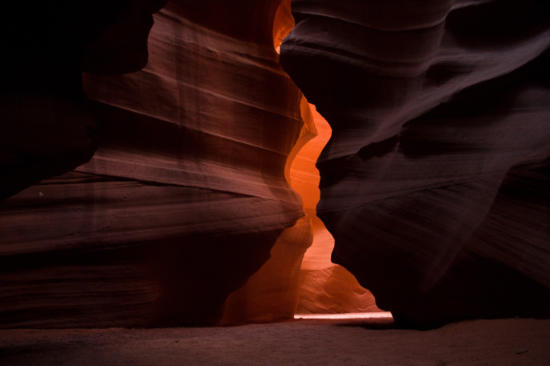 What's the Cheapest Way to Visit Antelope Canyon?
Last Update on
March 03, 2022
Antelope Canyon is as stunning as it is expensive. Budget travelers and backpackers from around the world will want to check off a hike through Upper or Lower Antelope Canyon on a trip to the southwest United States, but doing so without blowing their travel budget can be tricky.
Let's look at what makes a trip to Antelope Canyon so expensive and how you can reduce costs.
Table of contents
Cheap Tickets to Antelope Canyon
Cheapest Upper Antelope Canyon Tickets: Book in January
Cheapest Lower Antelope Canyon Tickets: Book direct, prices are the same year-round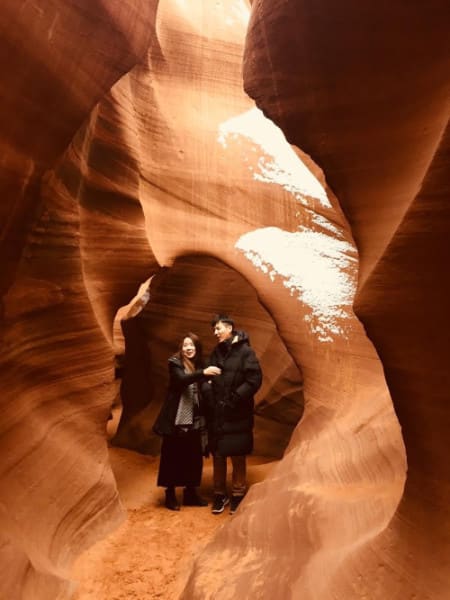 When planning a trip to Antelope Canyon, the first thing you need to take care of is your tickets.
Tickets can sell out early, and one of the best ways to get the best price is to book early. By booking early you will secure tickets at the best price and at your preferred tour time.
Tickets for Antelope Canyon rarely go on sale and the best rates are found by booking directly with the tour operator.
There are two main sections of Antelope Canyon: Upper Antelope Canyon and Lower Antelope Canyon.
Related Reading: Lower vs. Upper Antelope Canyon-2021 Update
Tickets for Lower Antelope Canyon are significantly cheaper than tickets to Upper Antelope Canyon, and this benefits you. Lower Antelope Canyon is longer, more adventurous, and all-around a better experience than Upper Antelope Canyon and is the preferable option for most backpackers and budget travelers. Regardless of price, we recommend Lower over Upper.
Why is Upper more expensive? Upper is more internationally famous, creating more demand for the tickets at Upper.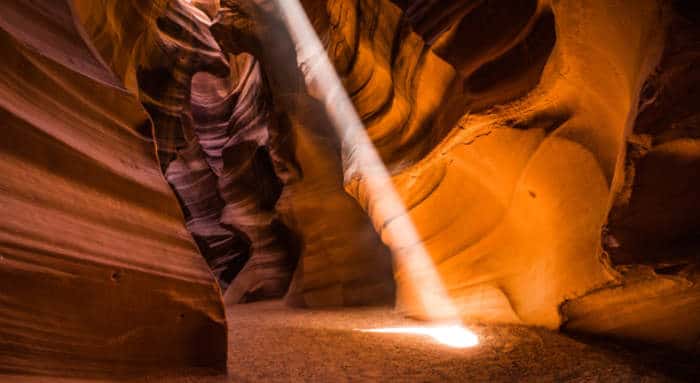 If you really want to see Upper, tickets are the cheapest in January, in January 2020 they were on sale for around $55. Note that in January 2021 they were closed, and in January 2022 they were running tours at half capacity and didn't offer any discounts. There is a good chance that when tours return to full capacity, Upper Antelope Canyon tickets will go on sale in January again. We will keep this post updated.
Unfortunately, you cannot see the famous light beams in January. To see those you will have to visit between May-September and be ready to fork over between $90-$130 for a prime-time tour during the middle of the day.
There are 5 Companies offering tours to Upper Antelope Canyon. All companies offer the same tour to the same section of Antelope Canyon.
Adventurous Antelope Canyon Tours:
https://www.navajoantelopecanyon.com/
Cheapest tickets: $129.25, including all taxes and fees, for a 9 AM or 3 PM Tour
Antelope Canyon Navajo Tours
Cheapest Tickets: $100, including all taxes and fees for all tours except for their 11:40 AM "primetime" tour. The primetime tour is $120
Antelope Canyon Tours
https://www.antelopecanyon.com/
Cheapest tickets: $97.50, including taxes and fees, found during most of their morning and late afternoon tours.
Antelope Slot Canyon Tours
https://antelopeslotcanyon.com/
Cheapest tickets: $103.47, including all taxes and fees. This price is good for all departure times, including primetime(10:20 AM), making this the cheapest primetime tour you will find.
Tsé Bíghanílíní Tours
https://www.tsebighanilini.com/
Cheapest tickets: $108.33, including taxes and fees. This price is good for their morning or afternoon tours.
Lower Antelope Canyon
Tickets to Lower Antelope Canyon are around $64 and never go on sale.
It is best to book direct, two companies offer tours to Lower Antelope Canyon, tickets are the same price at both companies.
Kens Tours
https://www.lowerantelope.com/
Price: $64.66, including all taxes and fees, this price is good for all times and dates
Dixie Ellis
Price: $66.08, including all taxes and fees, this price is good for all times and dates
https://www.antelopelowercanyon.com/tours/
If you cannot buy tickets directly, there are a variety of third-party resellers, however, they will inflate the price and they are not as reliable as booking direct. If all these direct options are sold out, then as a last resort you should try a third-party reseller.
Cheap Transportation to Antelope Canyon
The cheapest way to get to Antelope Canyon: Drive your car or a rental car
Antelope Canyon is far from all major cities, and with the sorry state of public transportation in the United States, getting to Antelope Canyon cheaply is no straightforward task.
Your best option to save money is to rent a car in one of the area's major cities and drive to Antelope Canyon yourself.
Many times Las Vegas will be the cheapest option. Flights will be cheaper to Las Vegas than most other cities, there are a lot of car rental companies to choose from, and it is only 5 hours to Antelope Canyon.
If you are already in the American west, grab a cheap bus or flight from LA, then rent a car in Las Vegas.

For the cheapest car rentals in Las Vegas, check out ACE Car Rentals or FOX Car Rentals. Service won't be the best, but they will have some cheap prices. For a good mid-range option, try Payless Car Rental.

Renting a car in LA could save you an airplane fare or bus ticket, however, car rental rates are cheaper in Las Vegas.
If you have to fly to the area, check out flights to Phoenix or Flagstaff. Flagstaff is one of the closest airports to Antelope Canyon, however flights will be more expensive, it's better to fly into a major airport in Phoenix or Las Vegas.
What Else You Can Do with a Rental car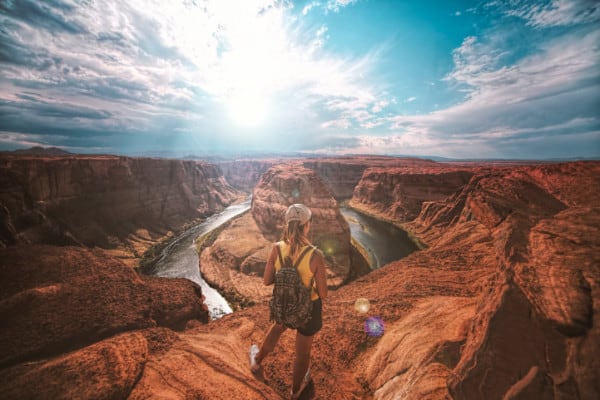 Besides saving tons of money, a rental car will allow you to explore lots of other of the area's attractions, including the Grand Canyon, Zion National Park, Monument Valley, Bryce Canyon National Park, Arches National Park, and more.
Related Reading: Grand Canyon Tours From Las Vegas
See as many of these parks as you can for the road trip of a lifetime!
Eating at Antelope Canyon Cheaply
Cheapest Way To Eat At Antelope Canyon: Go to Safeway and make food yourself
Antelope Canyon is located just outside the city of Page, AZ. Despite being a town that relies heavily on tourism, it is easy to get cheap supplies or a bite to eat in Page.
There is a great supermarket in the center of town, Safeway. This is a great way to pick up supplies for a quick dinner from their hot-food bar or sandwich materials for a few lunches.
If you want someone else to cook for you, there are the usual suspects such as Taco Bell, Burger King, and Subway.
Some local options include RDs Drive-In for Burgers and Fries and Alibertos Mexican Restaurant for burritos and other Mexican fast food.
Additional Reading: 5 Best Restaurants in Page, Arizona
Sleeping at Antelope Canyon Cheaply
Cheapest Way To Sleep at Antelope Canyon: Bring a tent and camp for free
The cheapest option for sleeping around Antelope Canyon will always be camping for free. Whether you are pitching a tent or sleeping in the back of your rental van, finding free campsites will always be the cheapest way to sleep when visiting Antelope Canyon. Here is one option for free camping in the area: https://www.campendium.com/glen-canyon-corral
And you can click here to search for other free campgrounds.
As for cheap lodging, things get expensive during the summer and holidays. Airbnbs are expensive in the area, but there are some decent budget hotels. Our favorites are the Lake Powell Canyon Inn, Travelodge, and Rodeway Inn. Don't expect luxury, but these can be reliable options if you are looking to save money. Most of these will through in a free breakfast too.
Traveling during the off-season can save a lot on lodging. Outside of the holidays, you can land some amazing lodging deals in November through February. Top tier hotels in Page can go for sound $60 a night during this period.
The weather in early November can be beautiful, the prices are low, and the crowds are minimal, making this one of the best times of year to visit Antelope Canyon.
Cheapest Month to Visit Antelope Canyon
Cheapest Month to Visit Antelope Canyon: January
January is the cheapest month to visit Antelope Canyon. Hotel prices are the lowest of the year, and tickets to Upper Antelope Canyon often go on sale. Flights and rental cars are also affordable during January.
Additional Reading: Antelope Canyon Weather in January
Cheap Tours to Antelope Canyon
Cheapest Tours to Antelope Canyon from Las Vegas: Budget Chinese Bus Tours, from $200
If you are staying in Las Vegas and you want to only see Antelope Canyon and get back, there are budget Chinese operators that offer tours for around $70. Be aware that these tours have a lot of hidden costs, around an additional $60 for Antelope Canyon tickets, a mandatory $10 per person for tips, and you will have to buy all your meals. The execution won't always be flawless, but these are the tours to target if you are on a tight budget. 2022 Update: These bus companies are not currently running, they have switched to small group tours and their prices can be found for around $200.
There are other tours offering supposedly cheaper tours to Antelope Canyon from Las Vegas, but many of them will take you to Canyon X, not Upper Antelope Canyon or Lower Antelope Canyon, and they won't include the $60 entrance fee in the listed price.
We covered the partitioned pricing method used by these tours in our massive research project: The Best Hotels in Las Vegas. When you add up all the fees from these budget tours, they save you money, but not as much as you would first believe. We believe the upgrade to an all-inclusive small group tour like our Antelope Canyon Tour from Las Vegas at $249 is well worth it, but, if you are trying to see the canyon cheaply and quickly, the budget Chinese operations can be a workable choice.
ABOUT THE AUTHOR
Matthew Meier
World Traveler. Mandarin Speaker. Founder of MaxTour.