Can You Do Antelope Canyon and Grand Canyon In One Day?
Last Update on
February 14, 2022
The Grand Canyon and Antelope Canyon are two must-visit destinations for any traveler to Las Vegas and the American Southwest.
The thing about traveling the American Southwest is that the distances are vast. To get to Antelope Canyon from Las Vegas is 5 hours, and the Grand Canyon is over a 2-hour drive from Antelope Canyon. That's saying nothing about Horseshoe Bend, which isn't far but adds precious time to your day.
Despite these long distances, many travelers with limited time like to ask us: Can I visit Antelope Canyon and the Grand Canyon in one day?
Quick Answer: Yes, you can visit Antelope Canyon and Grand Canyon in a day.
Detailed answer: There are 24 hours in a day, which leaves a lot of time for traveling. However, because of the long driving time between the Grand Canyon and Antelope Canyon, we highly discourage trying to see both in one day from Las Vegas. If you are staying in Flagstaff, Page, Kanab, or at the Grand Canyon, you can easily see both of them in one day.
Related Reading: Grand Canyon vs Antelope Canyon: How To Choose Between These Two Iconic Destinations
What About A Tour To See Grand Canyon South Rim, Antelope Canyon, Horseshoe Bend in One Day?
There are a few new tours offering to take travelers to these three places in one (long) day.
The main reason these tours should think twice about attempting such a tour (besides the fact that you have to depart at 1:30 AM) is that they don't specify which section of Antelope Canyon they take you to, and actually take guests to smaller, shorter, cheaper slot canyons in the area, not the famous Upper or Lower Canyon.
If you are trying to visit Antelope Canyon, there really is no substitute for Upper and Lower, despite what you may read.
Don't be like this poor fellow:
These tours also give you very little time to visit all the sites, with as little as 20 minutes to view Horseshoe Bend and the Grand Canyon. You deserve better. If choosing a tour to Grand Canyon and Antelope Canyon, make sure it gives you enough time to enjoy the sites, and that it actually takes you to Antelope Canyon, not Canyon X.
How to See The Grand Canyon and Antelope Canyon In One Day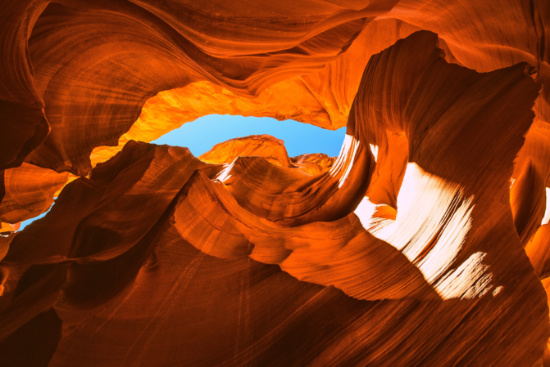 We don't recommend you try to see both of these wonders in one day from Las Vegas, but we know there are some determined travelers who are going to give it a shot. Here is how we would advise them to plan for their trip.
Itinerary:
Depart Las Vegas
Antelope Canyon
Horseshoe Bend
Grand Canyon South Rim
Return
You will need a rental car and a minimum of 2 drivers. If you attempt to do all the driving listed below yourself, you are putting all the passengers in your car in danger. Seriously, don't attempt to see Antelope Canyon and Grand Canyon in one day if you only have one driver.
Long before you depart you need to arrange your Antelope Canyon Tickets.
Related Reading: What To Do If All the Antelope Canyon Tickets Are Sold Out
Try to book your Antelope Canyon time for as early as you can get there. 9 AM is a colorful time to visit Lower Antelope Canyon and would give you time to see the rest of the sights on this exhausting day.
Have your rental car ready, and stock up on drinks, snacks, and pre-made food so you can keep stops to a minimum during your mad dash through the desert.
Related Reading: What To See On The Drive from Las Vegas to Page, AZ
If you got Antelope Canyon tickets at 9 AM, you will need to leave no later than 3 AM. This should get you to Antelope Canyon in time for your tour.
After touring Antelope Canyon, you should have time for a quick hike out to Horseshoe Bend.
After Horseshoe Bend, make a straight line for the East Entrance of the Grand Canyon National Park. You will have a few hours here to explore, recommended stops are Moran Point, Mather Point, and the Rim View Trail.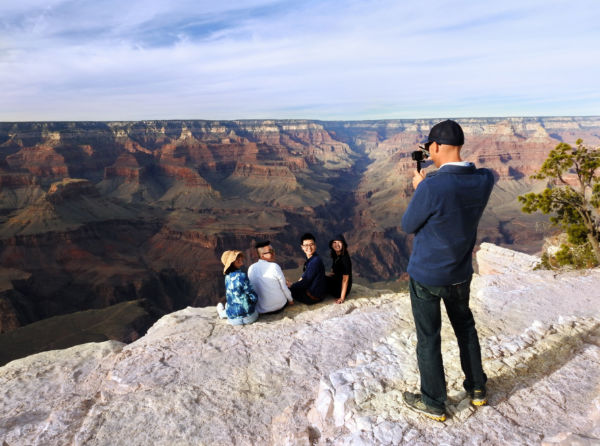 Stay at the Grand Canyon as long as you dare, because it is close to 5 more hours to drive back to Las Vegas.
Recommended stops on the way back include Williams, Seligman, and Kingman.
If you want to fit in all the above in one day, you can hopefully make it to Las Vegas before midnight. All in all, it will take around 20 hours to do the Grand Canyon, Horseshoe Bend, and Antelope Canyon in one day.
What About Lake Powell?
Another stop that really shouldn't be missed is Lake Powell.
Checking Lake Powell off of your list can be an easy 20 minute stop at Waeweap Overlook, or as long as a 5 hour cruise around the Lake.
A Better Plan: A 2 Day Road Trip To Grand Canyon and Antelope Canyon
A much better alternative to the above sleep-deprived dash through the desert is to spend an extra day and stay overnight in Arizona before coming back to Las Vegas. Be aware that spending two days to see them is still going to put you on a tight schedule, you will get up early, get in late, and have a lot of driving to do.
Because of the threat of large animals on the road, it is best to avoid driving at night. Here is our preferred itinerary for a two-day trip to these locations.
Leave Las Vegas in the morning
Stop at Hoover Dam
Stop in Seligman, Arizona
Stop in Williams for Lunch
Tour Grand Canyon National Park in the Afternoon
Take in the Sunset at Mather Point
Stay Overnight inside the Grand Canyon Village
Catch some stargazing over the Canyon
In the morning, depart for Antelope Canyon
Tour Upper Antelope Canyon around 11 AM, 9AM or 3PM if touring Lower Antelope Canyon
Lunch in Page, AZ
Hike Out to Horseshoe Bend in the Afternoon
Drive back to Las Vegas
You are probably reading this because you want to see the Grand Canyon and Antelope Canyon but you have little time. With that in mind, the more time you can take to visit these destinations, the better. Adding a third day to your travels will allow you to see more iconic scenery like Monument Valley or Bryce Canyon National Park.
If the above sounds like too much work or too much planning, we offer One Day Tours, 2 Day Tours, and 3 Day Tours that cover the above itineraries, including guaranteed entrance into Lower Antelope Canyon on all of our tours.
Bottom Line
You can see the Grand Canyon and Antelope Canyon in one day, but you might not enjoy it, and at worst you might put yourself in danger.
Do yourself and your traveling partners a favor and take more time to enjoy your trip to these two breathtaking destinations.
ABOUT THE AUTHOR
Matthew Meier
World Traveler. Mandarin Speaker. Founder of MaxTour.