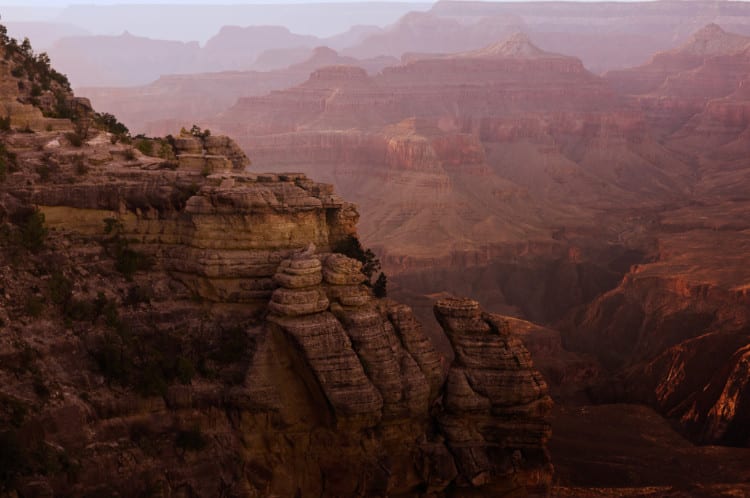 Is It Difficult to Drive From Las Vegas to the Grand Canyon?
Last Update on
May 08, 2023
For many people, taking a trip to Las Vegas is a dream come true. Between the nightlife, entertainment, and cuisine, Las Vegas truly offers something for everyone.
Vegas isn't the only thing to see in the southwest, though. A trip to Vegas offers an opportunity to see one of nature's greatest treasures: the Grand Canyon. The canyon is pretty far from Las Vegas, though, leading many prospective visitors to wonder whether they can handle the drive. So, is it difficult to drive from Las Vegas to the Grand Canyon?
Short answer: Driving to the Grand Canyon can be a bit difficult depending on which rim you visit, but it's absolutely doable.
Long answer: There are three different Grand Canyon rims, each with a varying distance and level of difficulty when traveling from Las Vegas. If you don't mind driving for hours, you'll be fine. Alternatively, you could book a Grand Canyon tour from Las Vegas, which would take care of all the transportation for you.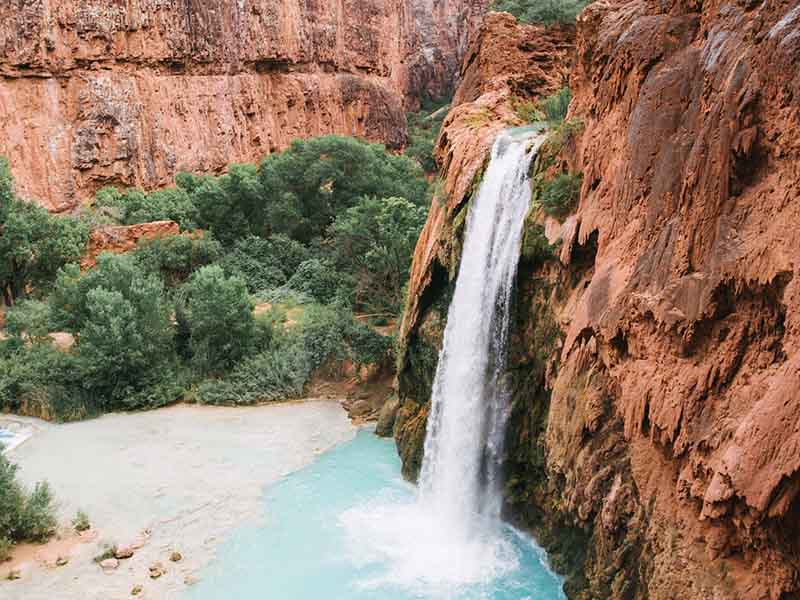 How Far Is Las Vegas to the Grand Canyon?
This is perhaps the most common question from Vegas-goers opting for a Grand Canyon tour. The distance from Las Vegas to the Grand Canyon can vary greatly, depending on which part of the canyon you wish to see: the West Rim, South Rim, or North Rim.
Distance from Las Vegas to the West Rim
The West Rim (also known as the Grand Canyon West) is roughly 130 miles (210 km) from Las Vegas. The drive takes about 2 to 2.5 hours. This route isn't difficult, as long as you're prepared — there aren't many services along the road.
The canyon is over 277 miles (445 km) long, so for most folks coming from Vegas, this means that the easiest area to visit is the West Rim. In fact, if you plan carefully, it's great for a day trip from Las Vegas to the Grand Canyon!
Distance from Las Vegas to the South Rim
The South Rim is the most popular of the Grand Canyon's three rims but it's also the furthest from Las Vegas. On a trip to the South Rim, you'll traverse 275 miles (440 km) over the course of 4 to 4.5 hours.
This drive is more difficult than the drive to the West Rim but it's still all nicely paved interstate highway. Visiting the South Rim is definitely worth it!
Consider making an overnight stop on this trip (the best choice is at Williams, AZ), especially if you want to stop and see other attractions on the way to the canyon.
By the way, if you were wondering if it's better to drive from Las Vegas or Phoenix to the Grand Canyon, visiting the South Rim or North Rim is much easier when driving from Phoenix.
Distance from Las Vegas to the North Rim
The most difficult area of the Grand Canyon to drive to is the North Rim. It is roughly 260 miles (420 km) from Las Vegas and takes about 4 to 4.5 hours to drive to.
Although the distance is a bit less than to the South Rim, the North Rim is less accessible. In fact, the rim and the road leading to it have to be closed for half the year when it snows, from late fall to early spring.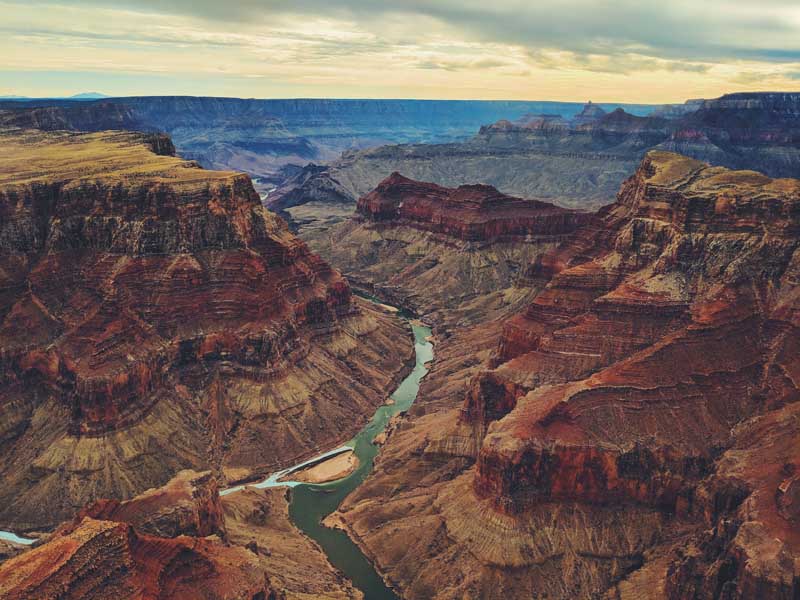 Driving from Las Vegas to the Grand Canyon West Rim
To visit the West Rim, it's about 2.5 hours, or 130 miles (210 km), from Las Vegas. The route is a rather simple one: taking Interstate 215/11 to the southwest, you'll come to the Hoover Dam.
While it's possible to make a brief stop at the dam, you may find it challenging to get a full tour in a short amount of time. You will, however, be able to cross the Mike O'Callaghan–Pat Tillman Memorial Bridge — built in 2010 — which provides a spectacular view of the Hoover Dam.
After crossing over the dam, you'll reach Arizona via Highway 93. Follow that to Dolan Springs, and turn left onto Pierce Ferry Road. After taking a right onto Diamond Bar Road and driving for around 22 miles (35 km), you'll turn right onto Eagle Point Service Road. Within less than a mile, you'll arrive at the West Rim of The Grand Canyon.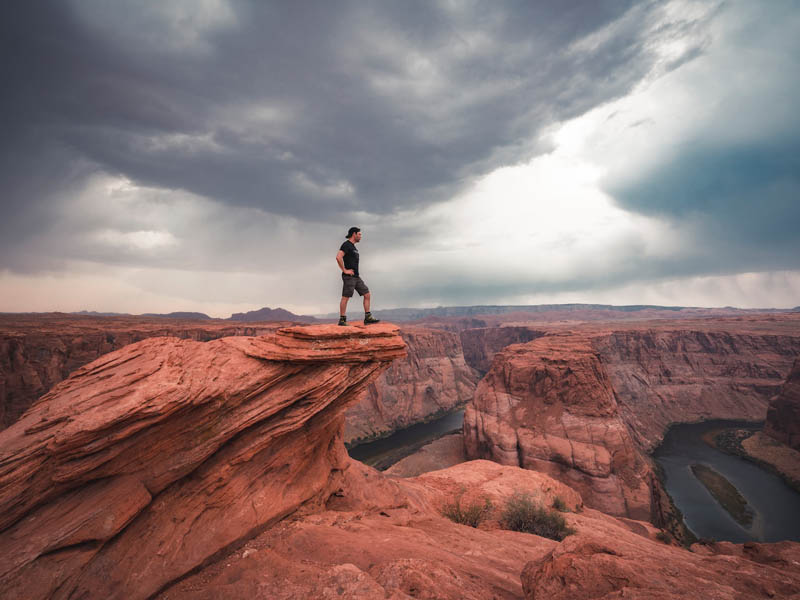 Taking a Tour from Las Vegas to Grand Canyon
While the drive is absolutely doable on your own, one great way to visit the canyon is by choosing to take a tour bus. You'll be able to relax and take in all the sights without the stress of driving and planning itineraries.
On Grand Canyon tours from Las Vegas, you can get picked up right at your hotel and dropped back off at the end of the day. Options include trips to both the West Rim and South Rim, as well as stops at other iconic attractions. These include the Hoover Dam, Antelope Canyon, and Seven Magic Mountains.
If you really want to fit a bunch of activities into a short time, you can join a 3-day tour that includes the Grand Canyon, Antelope Canyon, Monument Valley, Bryce Canyon, and Zion National Park.
Whichever tour you choose, your guide will have driven the route hundreds of times and thus know all of the ins and outs. They'll also be able to point out several different additional sights and interesting facts that you might not otherwise learn!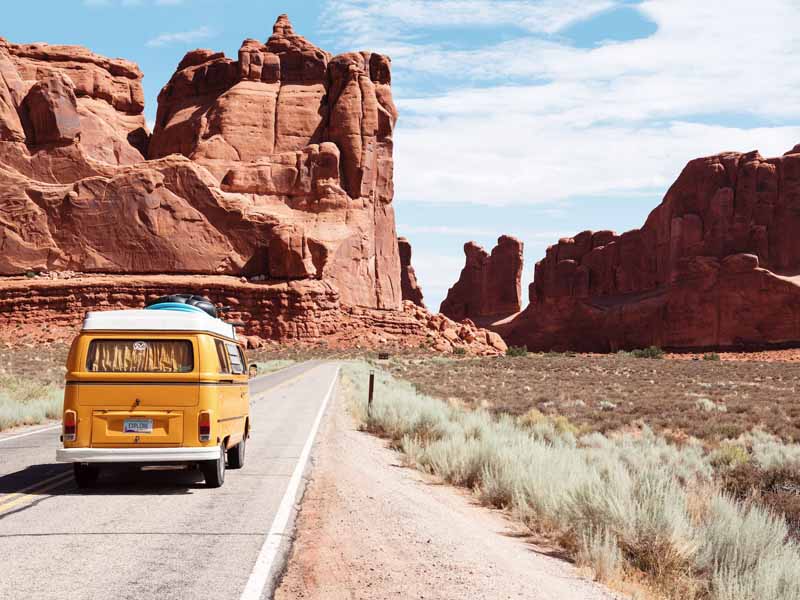 Things to Do at the Grand Canyon West Rim
Take an hour or two to see sights such as the world-famous Grand Canyon Skywalk, a horseshoe-shaped, glass-floored bridge that extends 70 feet (21 meters) over the canyon, where you'll be able to see into the canyon itself from 4,000 feet (1220 meters) high!
Some other options include the Hualapai Indian Visitors' Center, where you can learn about the native tribe that inhabits and manages these lands. All proceeds go to the tribe to help them preserve the area.
You can also visit Eagle Point Lookout, which offers stunning views of the canyon to help you get the perfect photos to show everyone back home. After you've had your fill of the Grand Canyon's beautiful sights, it's time to head back to Las Vegas.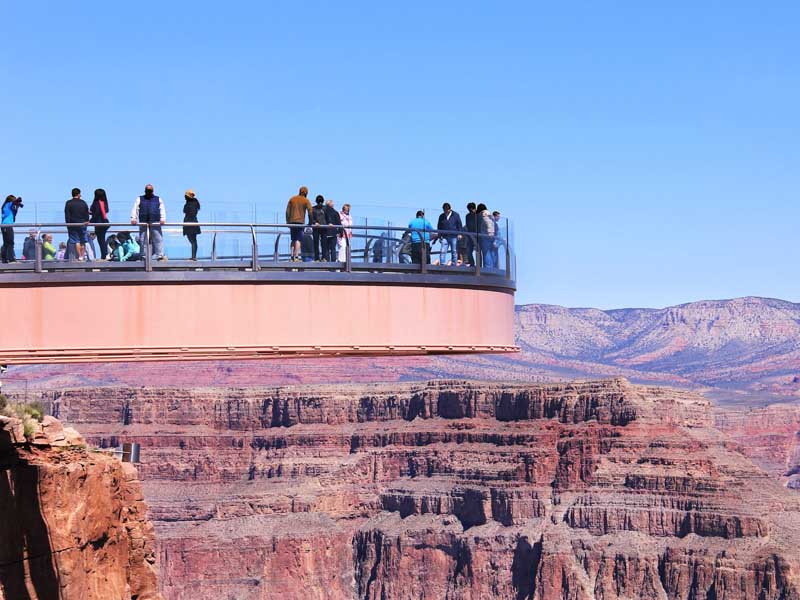 Final Thoughts
Depending on which rim you visit and whether you decide to make an overnight stop, the drive might be a bit difficult.
The West Rim is the easiest and most convenient rim to get to from Las Vegas. Journeying to the South Rim or North Rim requires a bit more dedication and perhaps an overnight stop, too. As long as you're prepared and have planned your trip thoroughly, you'll be fine regardless of where you go.
The road trip itself has a variety of notable things to see, so it's hard to go wrong on a trip between Las Vegas and the Grand Canyon! Fill up your fuel tank, have your map app ready, and get moving!
ABOUT THE AUTHOR
Matthew Meier
World Traveler. Mandarin Speaker. Founder of MaxTour.