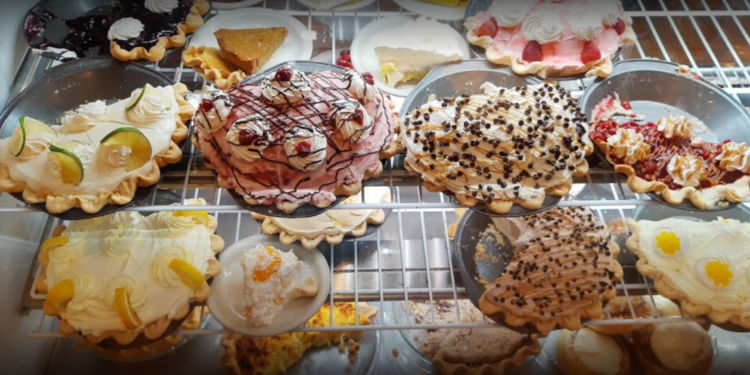 The 5 Best Restaurants in Williams, Arizona
Last Update on
October 22, 2019
Williams, Arizona is a lovely town in the Coconino National Forest.
Also known as the "Gateway to the Grand Canyon", Williams is a town where many Grand Canyon visitors find themselves at some point.
As visitors stroll through the pretty Williams streets, they will notice dozens of eateries enticing them with local delicacies. But how to know which ones to try?
Don't worry, we have tried them all and are here to recommend our favorites.
1. Red Raven
Red Raven is the undisputed king of dining in Williams.
Their combination of great food, good service, fair prices, and a varied menu keeps us coming back again and again.
The Red Raven's interior is expressly upscale, with white napkins, low lighting, and tasteful decorations.
Picky eaters and people with dietary restrictions will all find something that suites their tastes at Red Raven.
The lunch menu revolves around burgers and sandwiches, wraps, salads, and specialties like Baja tacos and fish and chips.
Prices on the lunch menu are considerably lower than the dinner menu; a burger with a side is only $9 and a chicken breast club sandwich with a side is $11.
The dinner menu is markedly more formal, with Pasta, Seafood, Steaks, and Specialties sections.
Specialties include grilled breast of duck and Guinness bistro stew. Prices for dinner better match the classy interior; steaks start at $20 and pastas at $18.
Red Raven
Lunch 11 AM to 2 PM
Dinner 5 to 9:30 PM
135 West Route 66
Williams, AZ
928-635-4980
https://www.redravenrestaurant.com/
2. Grand Canyon Coffee and Cafe (AKA Anna's)
Grand Canyon Cafe and Coffee is also known as Anna's.
This place is the best bet for breakfast, coffee, and informal dining in Williams.
A simple menu offers standard southwest American fare like omelets, pancakes, sandwiches, burgers, and Mexican dishes.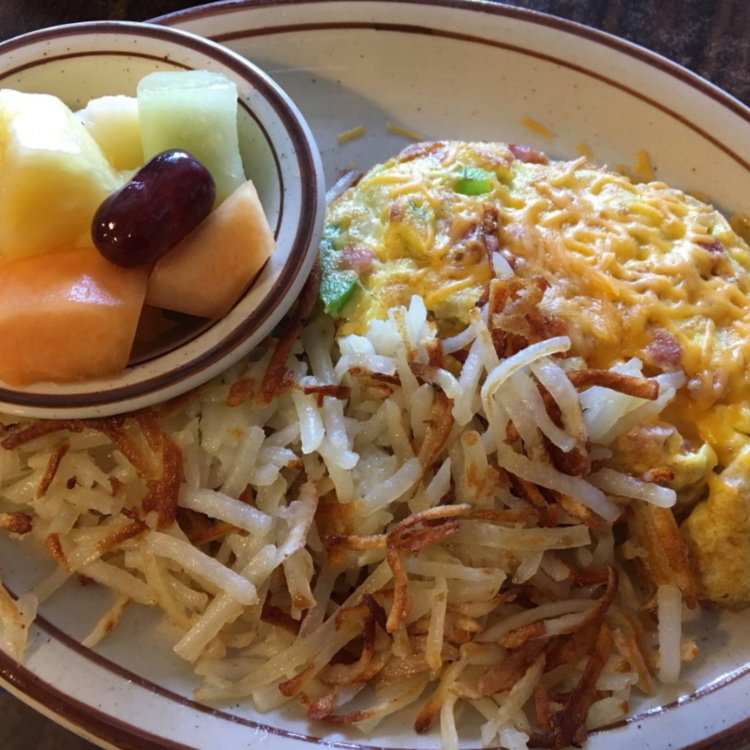 The daily specials are fun takes on breakfast and Mexican food. A pet-friendly patio is an excellent spot for days when you can't bear to stay inside.
Standout menu hits include the Denver Omelet, Anna's Stack, and the Canyon Burrito.

Anna's also has our favorite coffee in Williams, but not the coffee served at the table. Near the restaurant's back door, there is a counter that serves great espresso-style drinks. For a good giddyup, order the Cowboy Coffee, which is an americano with an extra espresso shot.

Anna's is our go-to place before 11 AM when most of the other places on this list are still closed.
Grand Canyon Cafe and Coffee (AKA Anna's)
Open 6 AM to 3 PM daily
137 West Railroad Avenue
Williams, AZ
http://www.grandcanyoncoffeeandcafe.com/
3. Dara Thai Cafe
Ordering Asian food in small-town America can be a risky proposition. See this example of a disappointing meal waiting to happen.
Fortunately for Williams travelers, there is an Asian option worth mentioning: Dara Thai.

Dara Thai is an unassuming restaurant run by a local Thai family. The menu items revolve around the familiar curries, meats, and noodles.

A few words of warning about Dara Thai: They are often closed. They are always closed on Sunday, sometimes closed on Monday, and always closed from 2 PM to 5 PM.
They also are closed at random times throughout the week, particularly during the winter. It is best to call ahead to be sure that they are open before choosing to eat there.

Warning number two: The food is spicy! Thai Spicy, as we like to call it.
If they ask you how spicy you want your dish on a scale from one to five, be careful! We have found that even the second level is quite hot.

To be fair, the food at Dara Thai would have a hard time matching the great Thai food found in larger cities like Las Vegas or Phoenix.
But for noodle-craving Grand Canyon travelers, Dara Thai is the best the region has to offer.
Dara Thai Cafe
Lunch 11 AM to 2 PM
Dinner 5 to 8:45 PM
Monday to Saturday (with some exceptions)
145 West Route 66
Williams, AZ
4. Station 66
The Station 66 Italian Bistro serves high-quality pizzas, pastas, and salads along with a generous selection of beers, wines, and coffees.

The star of the show at Station 66 is the Neapolitan wood-fired pizzas.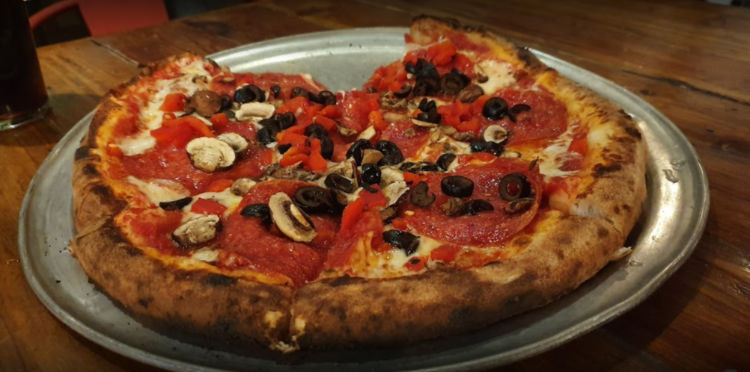 These pizzas come in a variety of flavors and can feed two average stomachs or three smaller appetites.

Recommended dishes include the Romeo and Juliet pizza, fettuccine alfredo with added Italian sausage, the Greco salad, and the classic bruschetta.

A great lunch at Station 66 is a pizza and a salad shared between two. Sometimes they will run lunch specials with two entrees and a salad for two people.

During warmer months, opt to sit outside on the patio or on the rooftop deck so you can soak in the fresh mountain air.

The two downsides to dining at Station 66 are the sometimes-spotty service and the higher prices. But for pizza, pasta, or outdoor drinking and dining in Williams, this place can't be beat.

Station 66 Italian Bistro
Open 11 AM to 10 PM daily
144 W Historic Route 66
Williams, AZ
5. Pine Country Restaurant
It doesn't get more American than Pine Country Restaurant.
From the homemade pies, classic American staples like biscuits and gravy or a bacon cheeseburger, Pine Country Restaurant serves up a slice of America.
A huge dining room has a country feel and the attentive service always aims to please.
Open from 7 AM to 9 PM seven days a week, Pine Country Restaurant is a great choice for breakfast, lunch, and dinner.

Dishes to try include the Eggs-Better-Than-That!, the southwest omelette, Navajo tacos, and the pot roast sandwich.

Pine Country Restaurant has a great gift shop, and we always try to save room for dessert. The dessert menu features a wide variety of homemade pies; their flavors vary by season.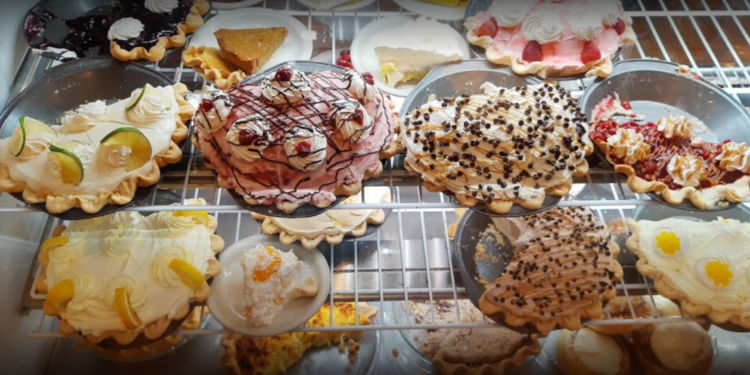 Pine Country Restaurant
Open 7 AM to 9 PM daily
107 North Grand Canyon Boulevard
Williams, AZ
ABOUT THE AUTHOR
Matthew Meier
World Traveler. Mandarin Speaker. Founder of MaxTour.