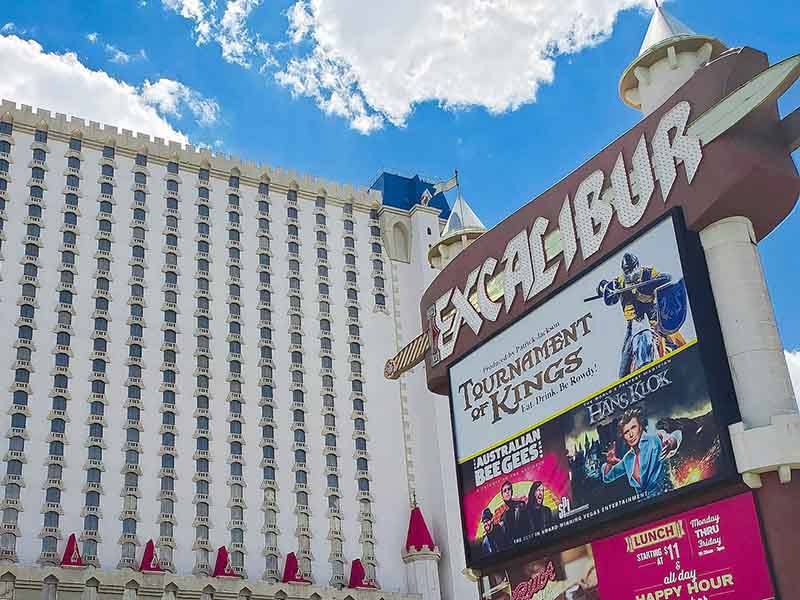 Why Is Excalibur So Cheap?
Last Update on
June 16, 2023
When it comes to Las Vegas, the city of extravagant shows and high-rolling casinos, you might wonder why some hotels offer such remarkably affordable rates. Some catch you with deceptive resort fees, while others are genuinely wallet-friendly.
One establishment that often catches the eye of budget-conscious travelers is Excalibur Hotel. This castle-themed resort beckons visitors with its distinctive architecture and affordable prices.
So, why is Excalibur so cheap? It's due to several factors, including location, rooms, and target audience. Let's dive into the reasons behind its affordability.
Excalibur's Location on the Strip
Location plays a crucial role in determining the price of hotels in Las Vegas. Some luxurious resorts command premium rates due to their prime spots. On the other hand, Excalibur benefits from being a bit further down the Strip.
Its position, though not as central as other hotels, still allows guests easy access to the heart of the action while providing them with more affordable accommodations. By embracing its location, Excalibur is able to offer attractive rates to both first-time visitors and seasoned Vegas enthusiasts.
Room Variety and Value at Excalibur
Another contributing factor to Excalibur's affordability is its diverse range of room options. From standard rooms to spacious suites, this hotel caters to different budgets and preferences.
While the more basic rooms might lack some of the opulence found in pricier establishments, they still provide a comfortable and functional space for guests to unwind after a day of exploring the city.
By offering a variety of rooms, Excalibur ensures that there's something for everyone without breaking the bank.
Is Excalibur Family-Friendly?
In a city often associated with adult-oriented activities, Excalibur stands out as a family-friendly destination. The hotel features a medieval-themed arcade, a fun-filled pool area, and even a tournament of knights.
By catering to families, Excalibur attracts a broader range of visitors, allowing them to offer competitive rates that accommodate both couples and families traveling with children. This family-friendly approach ensures that everyone can enjoy a taste of Vegas without straining their budgets.
Excalibur Entertainment Options
One of the reasons why visitors flock to Las Vegas is for the incredible entertainment options. Excalibur doesn't disappoint in this department. The hotel boasts a wide array of shows, including exciting tournaments, captivating magic acts, and thrilling performances.
By having a variety of entertainment options within its premises, Excalibur enhances the overall guest experience. Additionally, the availability of shows within the hotel reduces the need for guests to spend extra on transportation or tickets, allowing them to enjoy an entertaining night without denting their wallets.
Excalibur Casino and Dining Options
It's no secret that casinos are an integral part of the Las Vegas experience. Excalibur's casino floor provides guests with ample opportunities for gaming excitement. From slot machines to table games, visitors can try their luck without having to leave the hotel premises.
Moreover, Excalibur offers a variety of dining options that cater to different tastes and budgets. From casual eateries to themed restaurants, guests can find affordable meals that still deliver on flavor and quality.
The Bottom Line
Though it's not the absolute best hotel in Las Vegas, Excalibur Hotel stands as a testament to the fact that affordable yet amazing accommodations can be found in Sin City.
By leveraging its location, offering a range of room options, providing entertainment for all ages, and featuring a casino and diverse dining choices, Excalibur caters to budget-conscious travelers without compromising on the Vegas experience.
So, if you want to live like a king in Las Vegas without breaking the bank, Excalibur might just be the castle you're searching for.
The Excalibur is on the Las Vegas Strip, which makes it eligible for direct hotel pickup on our Grand Canyon Tours from Las Vegas.