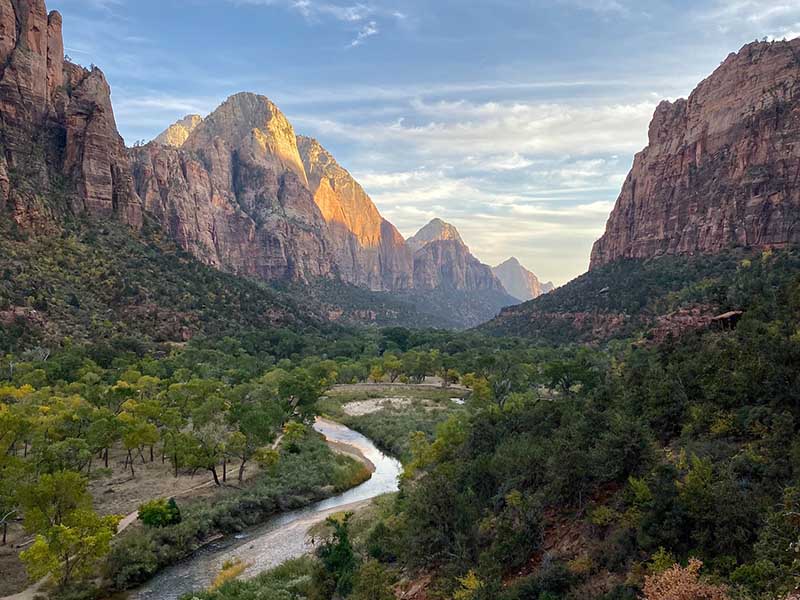 Can You Do Grand Canyon and Zion in One Trip?
Last Update on
July 04, 2023
If you're planning a trip to the American Southwest and are captivated by the stunning beauty of national parks, then visiting both the Grand Canyon and Zion might be high on your list.
Short answer: You can absolutely do Grand Canyon and Zion in one trip, but not necessarily in one day.
Long answer: Visiting Grand Canyon and Zion in one trip is a great idea but visiting them in one day, specifically, is really only feasible if your trip starts at either location. If you add travel time from another location, it will be very difficult to see both in one day.
Regardless of the time frame, it's important to plan your itinerary wisely. Take into account the distance between the two parks, the transportation options, and some useful tips.
Distance Between Grand Canyon and Zion National Park
The Grand Canyon and Zion National Park are both located in the southwestern United States, but they are not right next to each other.
The distance between Zion National Park and Grand Canyon South Rim is approximately 250 miles (402 kilometers) by road. It's a 4 to 5-hour drive, but it's manageable if you're prepared.
On the other hand, if you opt to visit the less popular Grand Canyon North Rim, the distance is only about 120 miles (193 km) over the course of a 2.5 to 3-hour drive.
Related Reading: Grand Canyon South Rim Versus North Rim
Transportation Options from Las Vegas to Grand Canyon and Zion
Las Vegas is a popular and convenient starting point for your journey to both the Grand Canyon and Zion National Park. From Las Vegas, you have several transportation options to reach these natural wonders.
One popular option is to rent a car. Las Vegas is well-connected with major highways, making it easy to drive to the Grand Canyon and Zion.
The drive from Las Vegas to the Grand Canyon's South Rim takes approximately 4 to 5 hours, depending on traffic and the route you choose. To reach Zion National Park from the Grand Canyon, you'll drive northeast for about 3 hours.
Alternatively, if you prefer not to drive, there are tours from Las Vegas that cover both the Grand Canyon and Zion. These tours include transportation, accommodation, and expert guides who can enhance your experience with their knowledge and insights.
Tips for Visiting Grand Canyon and Zion in One Trip
Plan Sufficient Time: Ideally, plan at least two days for the Grand Canyon and another two days for Zion National Park. This will give you ample time to explore the main attractions, go hiking, and immerse yourself in the beauty of these natural wonders.
Choose the Right Season: Both parks can get crowded during peak seasons, so if you prefer a quieter experience, aim for shoulder seasons such as spring or fall. The weather during these times is generally pleasant, allowing for comfortable outdoor activities.
Book Accommodations in Advance: To ensure you have a place to stay, especially during peak periods, book your accommodations well in advance. You have options ranging from campsites and lodges within the parks to nearby hotels and vacation rentals.
Pack Appropriately: Be prepared for outdoor adventures by packing appropriate clothing and gear. Also, check the weather forecast before your trip and pack accordingly.
Be Mindful of Park Regulations: Familiarize yourself with each park's rules and regulations, and practice Leave No Trace principles to preserve the natural environment.
Conclusion
A trip combining the Grand Canyon and Zion National Park is a fantastic opportunity to witness the incredible landscapes and natural wonders of the American Southwest.
While it's difficult to do in just one day, it is definitely feasible to visit both parks in a short trip with proper planning. Consider the distance between the parks and transportation options, and follow the tips provided to make the most of your adventure.
Gear up, get ready to explore, and prepare to be awed by the majestic beauty of the Grand Canyon and Zion National Park.