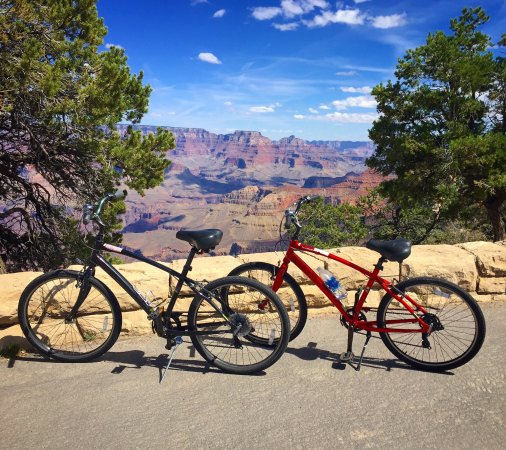 Things To Do at The Grand Canyon
Last Update on
July 02, 2021
Grand Canyon USA is without a doubt one of the most iconic places in the world not only for the one-of-a-kind vistas, but also its activities for travellers of all ages and of all interests. From hikers to instagramers, kayakers to glampers, the Grand Canyon has just about everything to make for a life-changing experience.
So, are you planning a trip and wondering what to do at the Grand Canyon? Here is a complete rundown of things to do at the Grand Canyon for your style and budget.
Hiking at the Grand Canyon
Hiking down the Grand Canyon is almost certainly on the bucket list of every adventure seeker and avid hiker out there. Unfortunately, poor planning and unfamiliarity with the Grand Canyon hiking trails can lead to disaster, and lead to the over 250 hikers that require rescuing from the trails each year.
Depending on how much time you have to spend, there are hike options that take less than an hour all the way up to a 3 day rim to rim hike.
For simple hikes, there are several trails that set out from the South Rim (Grand Canyon National Park) that are friendly for novice and intermediate hikers alike. The friendliest "hike" would be the Rim Trail that runs from Grand Canyon village to Hermits Rest.
The majority of the Rim Trail is flat and paved, and is accessible for children, wheelchairs, and those with mobility problems. This trail does not go into the canyon, but stays on the rim giving you great views of the canyon from above.
Taking the Rim Trail from Mather point to Yavapai Point is always a great starting point, the shuttle access at these two points makes for convenient transportation.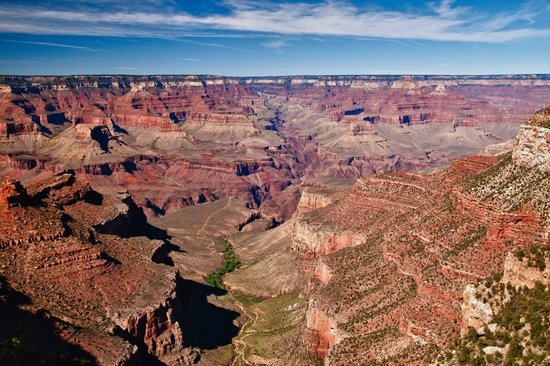 For those looking for a bit more of a challenge, there are several other Grand Canyon day-hikes that you won't want to miss.
Bright Angel Trail, South Kaibab Trail, Hermit Trail, and Grandview Trail all give hikers access below the rim, and are only recommended for experienced hikers, as they are all steep to very steep, have varying conditions and little to no resources along the way.
These hikes range from 6 to 12 miles out and back. For less experienced hikers that still want a view of the canyon from below the rim, a hike for a mile, or as long as you feel comfortable, will give you a different perspective. Just remember that you will have to climb out the same way you came in.
Never hike into the canyon alone, and don't count on having any cell phone service at any point along the trail.
If you are an experienced hiker looking to get all the way down to the Colorado River, or even planning hiking the Grand Canyon rim to rim, you will absolutely have to take more than a day (normally 2-3).
Please note that for any group looking to complete an extended rim-to-rim, or rim-to-rim-to-rim hike must first obtain a Special Use Permit from the Grand Canyon National Park.
Once you have your permit in-hand and are all prepared, there are several hiking trails that can bring you rim-to-rim, the most popular being the North Kaibab/Bright Angel trails.
Starting on the North Rim, you take the North Kaibab trail around 14 miles to the bottom of the canyon, where you meet up with the Bright Angel trail for your return journey.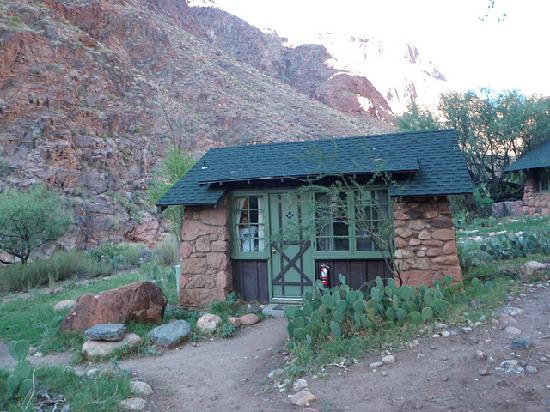 Phantom Ranch is the one option for lodging on a several day hike, but the chances of booking a stay within a year is slim. Plan you trip far in advance, and center it around gaining access to Phantom Ranch. You can enter the lottery here.
Grand Canyon Mule, Donkey, or Horse Rides
Much like hiking, there are a few options when it comes to Grand Canyon donkey riding and horse riding.
Donkey rides in Grand Canyon National Park are only sanctioned by the Grand Canyon National Park Lodges, which means if you're booking a Grand Canyon donkey tour you'll have to head over to www.grandcanyonlodges.com, where you'll find several options.
For those looking for a quick experience, a 2-hour rim vista ride would be best. Whereas for the more adventurous travelers with some extra budget, an overnight to phantom ranch at the bottom of the Canyon with a steak dinner waiting for you is a trip that will never be forgotten. As always with these longer trips, plan your visit far in advance to ensure availability.
For those looking for a Grand Canyon horseback riding experience or mule tours, both the south and north rims of Grand Canyon National Park are options.
For the South Rim, Apache Stables in Tusayan offers many horseback riding experiences both in and around the canyon, and for all budgets.
For Horseback Riding on the North Rim, head to canyonrides.com, where they offer Grand Canyon mule tours both around the rim or descending into the canyon.
Ride a Train to The Grand Canyon
As one of the oldest national parks in America, it's easy to let your imagination run wild with all of the well-documented history that the Grand Canyon has.
One way to truly immerse yourself into the canyon's history is to ditch modern transportation, and take a train ride to the Grand Canyon. A Grand Canyon train vacation can fill you or your kids mind with wonder even before arriving at the park, as the ride is complete with wild west shootouts and old cowboy tunes played out live.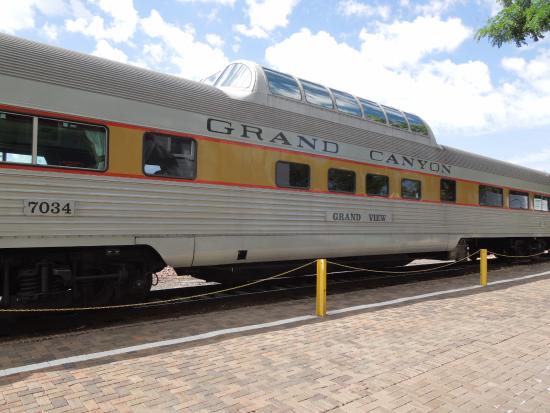 Those wishing to take the train ride to the Grand Canyon need to head to Williams, Arizona, an hour south of the South Rim, where they will find the Grand Canyon Train line.
Although there is an area you can purchase tickets in Williams, we recommend you head to thetrain.com where you can look through all of the different cabin options from coach class to the luxury parlor.
If you happen to be visiting the Grand Canyon around Christmas time, you should definitely check out "The Polar Express", Grand Canyon Railways annual holiday tradition where you can take the christmas-themed nighttime train ride through the snowy ponderosa pine forest that lines the track from Williams to the south rim.
The town of Williams also makes a great base for visiting the Grand Canyon, whether you are traveling by train or car. Williams is only an hour away and hosts a nice variety of hotels, shops, history, attractions, and restaurants.
The fact that you can take the train back and forth to the Grand Canyon every day only adds to the allure of staying in Williams. Most importantly for a lot of travelers, for much of the year, hotel prices in Williams will be more than half of what you would pay in or around the canyon.
Related Reading: The 5 Best Restaurants in Williams, AZ
Grand Canyon Camping / RV Parks
There are only a handful of campsites at the Grand Canyon National Park that allow vehicles. For campsites that require access by foot, check out the Hiking in the Grand Canyon Section.
On the South rim, Mather and Desert View Campgrounds are open year-round. Desert View is first-come-first-serve, whereas you can make reservations in advance at Mather campground. These campgrounds are similar, but Desert View generally seems to be a bit less crowded than Mather.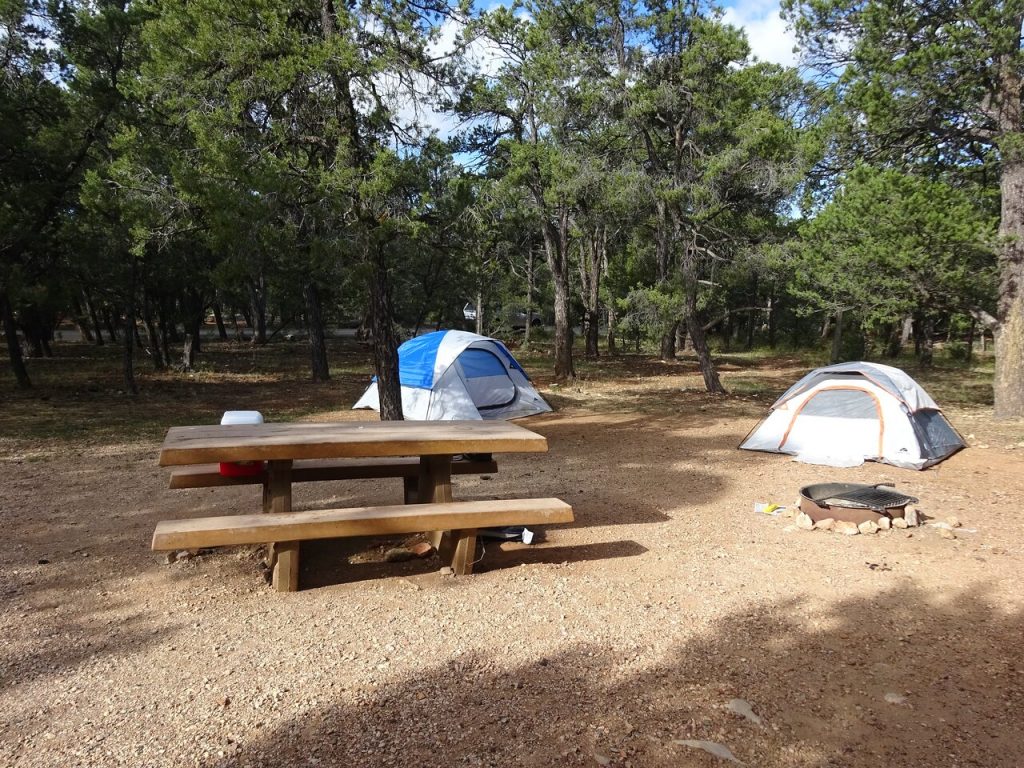 Grand Canyon campgrounds can also be found at the North Rim if you're willing to take the long drive up north. The North Rim Campground is only open from May to October, but provides a bit more of a secluded Grand Canyon camping experience than the South Rim campgrounds. Note that none of these three campground options have RV hookups.
Reservations for these campgrounds can be made at https://www.recreation.gov/. Both Mather Campground and the North Rim Campground book up well in advance. Reservations can be made up to 6 months in advance.
If you're looking for Grand Canyon RV parks, Trailer Village is located in Grand Canyon Village and is the only option for rv camping inside Grand Canyon National Park.
Trailer Village patrons enjoy sweeping desert views on paved sites that can fit RVs up to 50 feet long. Grand Canyon RV camping at Trailer Village has full RV hookups, and best of all is open year-round! We suggest you book your spot early, as this is one of the most desirable RV parks in the entire country.
If you're looking for alternative options, and are willing to distance yourself a bit more from the rim of the Grand Canyon, there are a slew of different camping and RV Park options in Tusayan, Williams, and Flagstaff.
Grand Canyon River Rafting Trips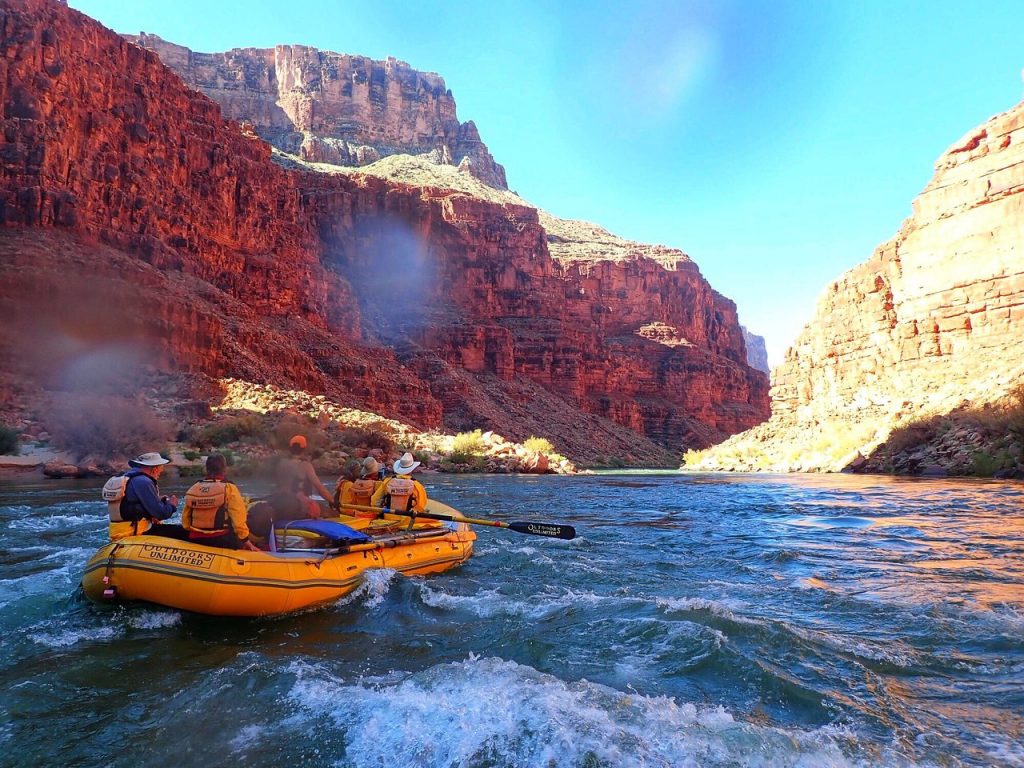 For below-the-rim experiences, perhaps none is as thrilling and as sought after as whitewater rafting. The first question you have to ask before delving into the many rafting options are the amount of time you have, and after that, the amount of thrill you're seeking.
From experienced rafters to those looking for a quaint river cruise, rafters of all backgrounds can surely find something for them on the over 200 miles of canyon-bound river.
For serious and experienced rafters looking to go down the river alone or with a private group, you must first get your hands on a Grand Canyon River Permit. Much like overnight hiking permits, rafting permits are given based on a lottery system, and can take lots of time to secure, so plan on applying well in advance.
If you don't have the necessary background, or don't have time to wait for the Grand Canyon River Rafting permit, you'll have to go down the river with one of sixteen "outfitters" that are approved by the GRCOA to take travelers down the river.
These companies offer an extremely wide variety of options, including different boat types (human-powered, motorized, traditional dorys), and different lengths of trip from over a week to a quick day trip.
Grand Canyon Bike Rides
A great way to ditch the crowds is to hop on one of the many Grand Canyon bike trails. Bike riding trails at the Grand Canyon can be found all around the North and South Rims of the National Park.
Lodges and visitor centers are also very bicycle friendly with bike racks and biking supplies readily available. Please also keep in mind that the shuttles in the Grand Canyon are also capable of storing bikes.
To hop on the trails you'll really only need one thing, a bike! If you plan on hitting the Grand Canyon bike trails on the North Rim, you should plan on bringing along your own bike, as bike rentals at the north rim are only supplied by third party lodges and vendors, and can be seasonal and overall unreliable for Grand Canyon visitors.
Fortunately, If you don't plan on bringing along your own bike there are Grand Canyon bike rentals available at South Rim's Bright Angel Bike Rentals near the Grand Canyon Visitor's center at Mather point. Once you're seated comfortably on your bicycle, it's time to hit the trails!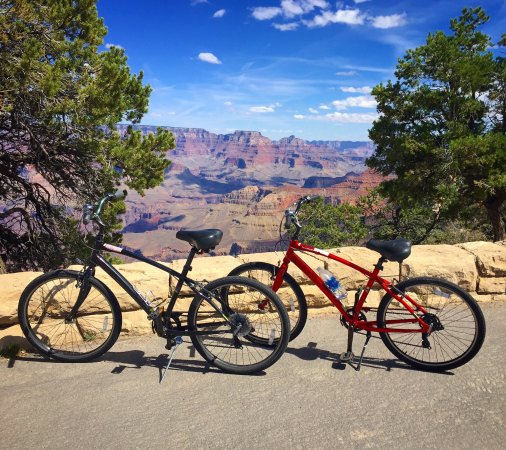 The most basic trails at the Grand Canyon are the Red, Yellow, and Orange trails. Each of these trails have spectacular views of the South Rim, but differ in length and difficulty. You can pick up a map of the trails here, or get a printed copy at the visitors center. Here are some details for the three trails;
Red Trail: An easy 1.5-2 hour ride with downhill or flat surfaces from Hopi Point to Hermits Rest. This trail is most suitable for families with children, or those short on time
Yellow Trail: A 2.5-6 hour ride can be done as a one way or a round trip and tends to be a longer, more strenuous trail with more gain and loss in elevation. This trail is best for those with plenty of time and in good biking shape.
Orange Trail: This trail is very similar to the Red Trail, but on the opposite side of the rim providing different views than the red trail. Able to be completed in 1-1.5 hours, this relatively flat trail is also suitable for children and those with limited time.
For a bit more of a wild biking experience, the north rim provides less pavement and more forest lined paths for adventurous bikers. Bridle Path and Arizona Trail are the two recommended mountain biking trails on the North Rim, each with great vistas and exciting pathways, but Bridle Path's 1.9 miles of trail are significantly shorter than Arizona Trail's 12.1 miles. Point Imperial and Cape Royal trails, much like rim-to-rim hiking, are not recommended for anybody other than extremely experienced mountain bikers.
Grand Canyon Skywalk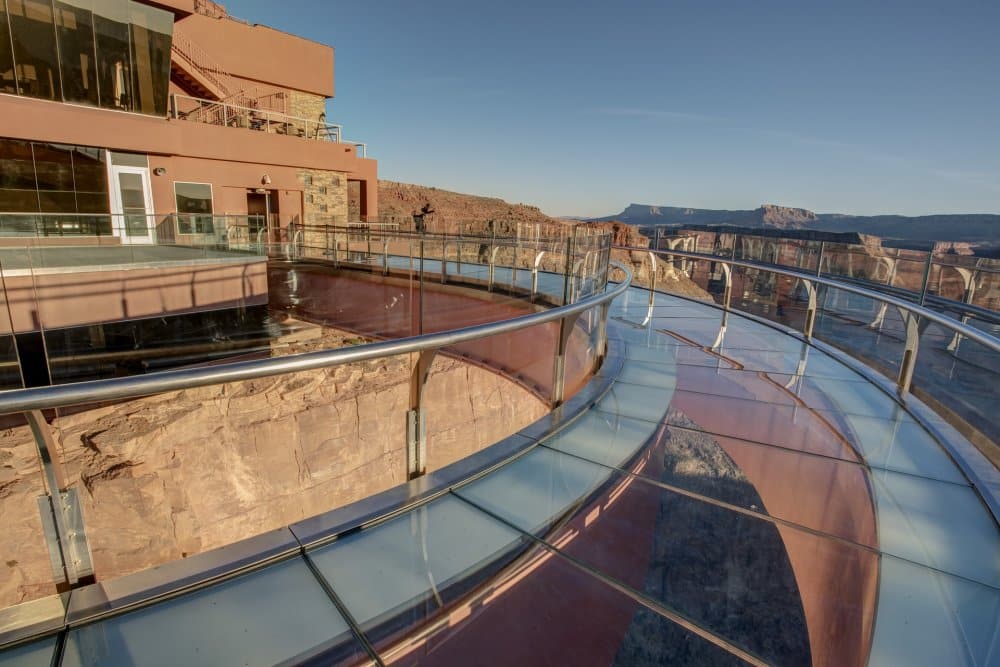 The glass-bottomed walkway jutting out above the Grand Canyon is officially named the Grand Canyon Skywalk. It was built in 2007, and became extremely popular in 2015, when it received over a million visitors within the year.
The Skywalk is located on the West Rim of the Canyon, owned and operated by the Hualapai Tribe, and not affiliated with the Grand Canyon National Park. Since the West Rim is the closest to Las Vegas at just over 2 hours, it tends to be the most convenient and often-visited among Vegas visitors looking to get away from the strip.
Once you've arrived at Grand Canyon West and get on the hop-on-hop-off shuttle at the park, You'll have to get off at Eagle Point to get to the Grand Canyon Skywalk. The Grand Canyon Skywalk cost is an additional $33, plus the $53 to enter the park.
Before you set out on the glass platform, you MUST wear protective shoe covers, and place all your loose belongings in a locker they provide for you. Yes, this includes all cell phones and cameras! Grand Canyon West employees will offer you professional photographs at the end of your time on the Skywalk for $16 for a single photo or $65 for the photo package.
Despite the potential long lines and extra fee, standing on a glass platform suspended thousands of feet above one of the world's seven wonders is truly an unforgettable experience.
A great way to see the Skywalk is part of our Grand Canyon West, Hoover Dam, Seven Magic Mountains Day Tour.
Antelope Canyon Tours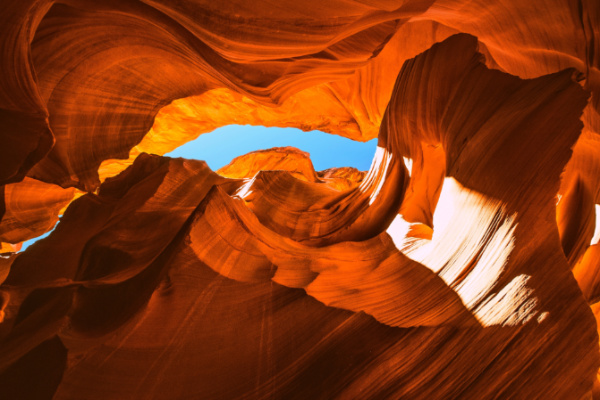 To be very clear, Antelope Canyon is not part of the Grand Canyon, however the canyon's wondrous landscape extends well beyond the canyon limits. Antelope Canyon is a mere 2 hours from the South and North rim of the Grand Canyon, and as our longest serving tour guide lays out in this blog post, it is not to be missed.
Antelope Canyon can be seen as a day trip from the Grand Canyon or as part of a longer southwest road trip. If you are short on time, see Antelope Canyon and the Grand Canyon from Las Vegas on our two day tour.
Related Reading: Lower vs Upper Antelope Canyon
Grand Canyon Helicopter Tour
Las Vegas Helicopter Tours and Grand Canyon Helicopter tours have rightly gained a reputation as one of the most unique and thrilling ways to experience the wonders of the southwest. Luckily, there are quite a few options for both location and type of tour.
The simplest and most budget-friendly way to experience the Grand Canyon by air is to head to the South Rim's Grand Canyon National Park Airport, less than 10 miles from the entrance of the Park. This small airport is the launch point for Maverick Helicopters, Grand Canyon Scenic Airlines, and Papillon, which all provide Grand Canyon helicopter tours. Between these companies and their respective tours, you'll have many options for the type of aircraft, and which parts of the grand canyon you would like to experience.
This 25 minute tour from Papillion is very popular with tour operators from Las Vegas. It will get you in the air and give you a great view of the Grand Canyon. This tour can leave a bit to be desired though, after you spend a few minutes taking off, landing, and getting to a from the Grand Canyon, there isn't much time to actually spend flying over the canyon.
https://www.papillon.com/grand-canyon-national-park/helicopter-air-tours/north-canyon-tour
We always recommend our guests upgrade to a longer tour in a more modern aircraft. The following tour is our number one choice for helicopter rides at the South Rim of the Grand Canyon. With a modern aircraft with better viewing windows and a longer flight time, it will be the experience of a lifetime. https://www.papillon.com/grand-canyon-national-park/helicopter-air-tours/imperial-with-ecostar
If a trip from the Las Vegas area better suits your itinerary, you will have the chance to fly by the Las Vegas Strip and the Hoover Dam en-route to the Grand Canyon. Maverick Helicopters, GC Flight, and Sundance Helicopters are just a few of many aerial tour companies in the Las Vegas area that generally offer hotel pickups along with a variety of tour packages.
The benefits of leaving from Las Vegas is you have the opportunity to see the Las Vegas Strip and Hoover Dam before, and if you have a bigger budget, you can even have the chance to land at the bottom of the Grand Canyon for a champagne picnic!
Grand Canyon Sightseeing
Whether you are driving your own car, joining a Grand Canyon tour, or riding the convenient Grand Canyon shuttle, there will be dozens of sweeping scenic viewpoints to take in. The best rim for sightseeing is undoubtedly the South Rim. There are over 50 viewpoints at the South Rim, all of them accessible by car or shuttle bus. Here are our top 5 favorites:
Yavapai Point
Great for sunrise over the Grand Canyon in late spring, summer, and early fall. Also our favorite place to get your iconic sitting on the edge of the Grand Canyon photo (safely of course!)
Pima Point
Accessible only via the red line of the Grand Canyon shuttle, Pima Point is the best stop along this red line, and offers one of the best views of the Grand Canyon.
Mather Point
Mather point is the busiest viewpoint at the South Rim and one of the most spectacular. Jutting out on a rocky point, Mather has a sturdy railing around the entire point. This allows the less brave of us to get to peer into the depths of the canyon while not fearing a deadly fall.
Grandview Point
Grandview point not accessible via the shuttle system, you will need a car or a tour to reach it. The views are top notch at Grandview Point. You can also learn a bit of the area's history via the signboards explaining early tourism at the Grand Canyon and the Grandview Hotel that used to be on this spot. This is also the start of the Grandview trail, giving you the chance to walk down 5 or 10 minutes and see the Grand Canyon from the inside. It is 5 minutes down this trail where I took one of my favorite all time Grand Canyon photos:
Lipan Point
Less famous than the nearby Desert View, Lipan Point is one of the highest points at the Grand Canyon and our number one recommendation for sunsets. Parking can fill up quickly at sunset, make sure to get there early if trying to catch the sunset during the summer or holidays.
Sunset/Sunrise at The Grand Canyon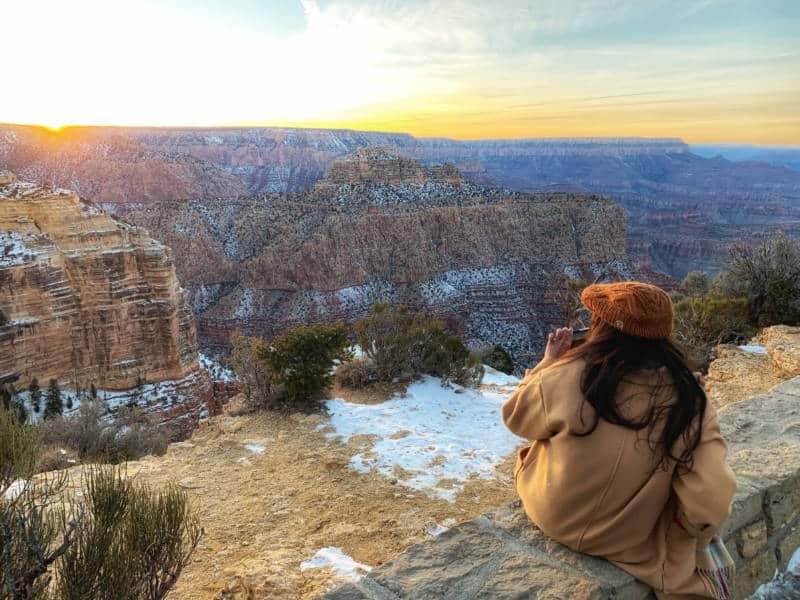 Sunset and sunrise are two absolutely spectacular times at the Grand Canyon. A perfect day at the Grand Canyon will start with a sunrise, followed by hiking and sightseeing, followed by a sunset. Here are our favorite spots for sunrise and sunset, ranked.
Sunrise:
1. Yavapai Point. (Note that the sunrise can't be seen here from November until March)
2. Mather Point
3. Lipan Point
4. Grandview Point (Note: From November until March, this is the best option for seeing a sunrise)
Sunset:
1. Lipan Point
2. Moran Point
3. Grandview Point
4. Mather Point
5. Pima Point
Skydiving at the Grand Canyon
If a helicopter ride over the canyon is too tame for you, there is a new option that is sure to up the stakes in your visit: Skydiving over the Grand Canyon!
A relatively recent activity to be added to the options at the Grand Canyon, first becoming available in 2016.
Get in your aircraft and take around a 20 minute flight with magnificent views of the Grand Canyon.
Ascend to 16,000 feet above the canyon where you and your tandem skydiving instructor will do one last safety check and then help you leap out into the sky. You will free fall through the air, reaching a maximum speed of 136 miles per hour! Your instructor will smoothly deploy your parachute, giving you a chance to relax as you float through the air and soak in the views of the Grand Canyon! If you have been thinking of trying skydiving, doing it over the Grand Canyon is an excellent choice!
No matter which rim or how you experience it, the Grand Canyon is hands down one of the most breathtaking natural wonders on our planet. Once you experience the sights, keep this list of things to do at the Grand Canyon in mind to bring your interaction with the sacred wonder to a whole new level!
Between the West, South and North rims there are no shortage of fun opportunities for all types of travelers to Grand Canyon USA. Aerial tours, skywalk, and river rafting for the thrill-seekers.
Hiking, biking, camping for the outdoor enthusiasts. Mule and donkey rides, train rides, and rv camping for families looking for a fun time. A truly life-changing Grand Canyon experience is waiting there for everybody!
ABOUT THE AUTHOR
Matthew Meier
World Traveler. Mandarin Speaker. Founder of MaxTour.