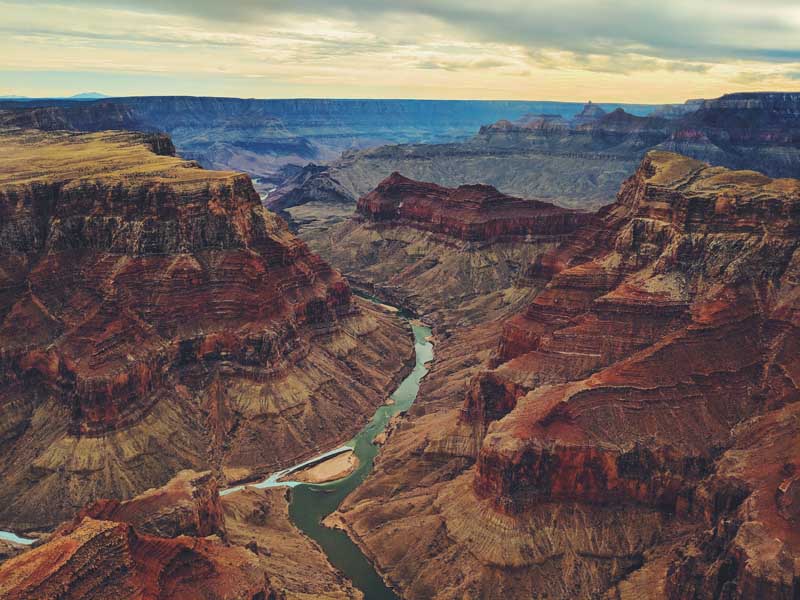 What's the Cheapest Way to Visit Grand Canyon?
Last Update on
June 04, 2023
If you're traveling on a budget, the Grand Canyon is a must-visit destination that offers awe-inspiring views and natural beauty that will leave you speechless.
Many people assume that visiting this natural wonder of the world must come with a hefty price tag, but that's not necessarily the case. With a little planning and some insider knowledge, you can experience the grandeur of the Grand Canyon without breaking the bank.
1. Cheapest Month to Visit Grand Canyon
December, January, and February are the cheapest months to visit the Grand Canyon. However, temperatures drop below freezing, snow is common, and some facilities and services within the park may have reduced hours or be temporarily closed.
If you're looking for a budget-friendly period that still gives you the chance to experience the Grand Canyon at its fullest, visit from March to May or September to November. These months offer pleasant weather, fewer crowds, and lower prices compared to the peak season of summer.
Tip: Regardless of when you plan to visit, book Grand Canyon tours in advance to take advantage of deals and promotions.
2. Getting to Grand Canyon Cheaply
If you're traveling from far, flying into Las Vegas may be the most affordable choice. It's a major hub with numerous airlines offering competitive fares. From there, you can rent a car or take a bus to reach the Grand Canyon.
Another option is to drive directly to the park if you're within a reasonable distance. Traveling with friends or family can help split the cost of gas and reduce transportation expenses.
Related Reading: Is It Difficult to Drive From Las Vegas to the Grand Canyon?
3. Eating at Grand Canyon Cheaply
Eating out at restaurants within the Grand Canyon National Park can quickly eat away at your budget. To save money, pack your own food and drinks for your visit.
Stock up on snacks, sandwiches, and water before entering the park, and enjoy picnics at the designated areas with stunning views. This way, you can enjoy a leisurely and flexible dining experience while surrounded by nature's grandeur without breaking the bank
4. Sleeping at Grand Canyon Cheaply
One of the cheapest ways to experience the Grand Canyon is by camping. The park offers several campgrounds, including Mather Campground and Desert View Campground, and Trailer Village.
If camping isn't your cup of tea, look for affordable lodging options in nearby towns like Tusayan and Williams. These towns often have budget-friendly motels, inns, or vacation rentals that can provide comfortable accommodations at a fraction of the cost of staying within the park.
5. Cheap Tours to Grand Canyon
Tours might instinctively make you think of spending a lot of money but Grand Canyon tours often actually work out cheaper than planning the whole trip yourself.
Local tour guides know the ins and outs of the canyon and where to get deals, including on accommodation. When joining a tour, you might also have some of your meals and activities included in the price.
These tours can help you make the most of your time and money while exploring the vastness and beauty of the Grand Canyon.
6. Free Things to Do at Grand Canyon
Many of the park's most spectacular viewpoints are easily accessible and completely free. Head to Mather Point, Yavapai Point, or the Rim Trail to enjoy awe-inspiring panoramic vistas without spending a dime.
Additionally, the park offers a multitude of hiking trails catering to different skill levels. Lace up your hiking boots and embark on adventures like the Bright Angel Trail or the South Kaibab Trail for an up-close and personal experience with the canyon's mesmerizing beauty.
The Bottom Line
Visiting the Grand Canyon on a budget is more than possible. By following these cost-saving tips, you can experience the breathtaking beauty of this natural wonder while keeping your wallet happy.
Choose the right time to visit
Utilize cost-saving transportation options
Pack your own food
Camping or stay in affordable accommodations
Take advantage of tour packages
Explore the park's free attractions
With a little planning and an adventurous spirit, you can create lasting memories at the Grand Canyon without emptying your pockets.